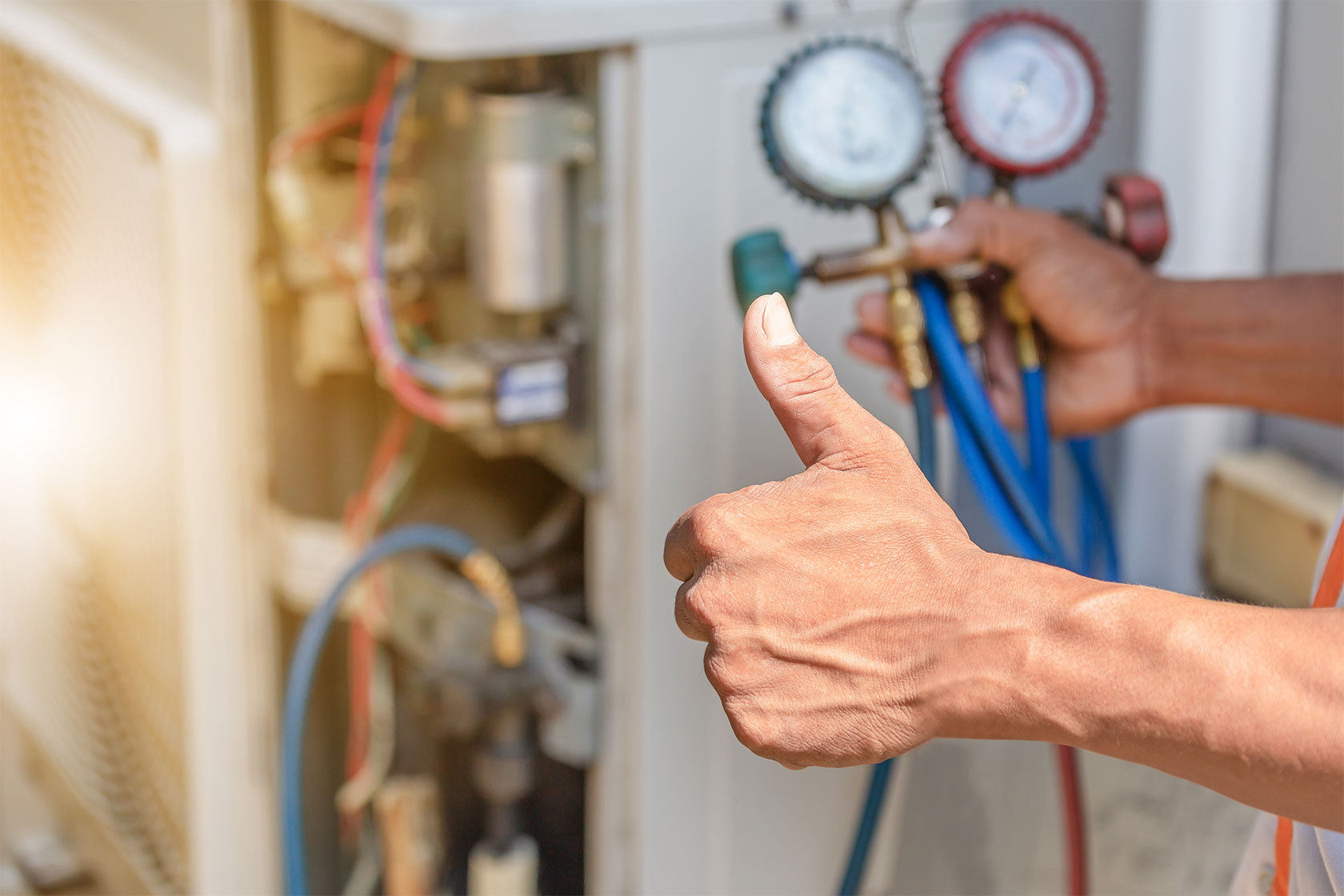 Air Condition Repair Service
HVAC REPAIR
Have you ever felt like your AC isn't working? It is still on, you can hear it humming, you can even feel air coming through the vents, but it's not cold air, your AC is running, just not optimally? Maybe your AC is running, but just not optimally? Leave it to the professionals! Oceanside Appliance Repair Service Center technicians can fix this in a heartbeat in such areas as Fallbrook, Bonsall, San Marcos, Oceanside, Escondido, Vista, Encinitas, and Carlsbad air condition repair service.
AC units are pretty much known for refrigerant leaks over time, and without proper and regular maintenance, a ton of debris and dirt build-up and slow an AC down, making this AC unit work harder than usual with no real result. Oceanside Appliance Repair Service Center technicians perform a thorough 20-point inspection of the AC unit to uncover the source of the malfunction and then repair it with skill and precision.
MAINTENANCE
Our affordable AC maintenance packages that will save you a ton of funds in the long run, will help your AC perform optimally and live longer through the heavy roast of San Diego summers. Calling the Oceanside Appliance Repair Service Center will save your family budget from the sudden cost of having to buy a whole new AC unit during peak season. Just regular maintenance of your AC unit drastically reduces the risk of an unwanted breakdown, which almost always happens when your AC is working double time as it should on the hottest day of the season. Just keep in mind to be proactive and have your AC regularly serviced, at least once per year, and enjoy summer with comfort and confidence.
20-POINT INSPECTION AND CLEANING
  Calibrate thermostat

  Check monitor volts/amps on the fan motor

  Lubricate and inspect bearings for wear

  Clean indoor coil if accessible

  Flush/treat condensate drain with a special detergent (such as anti-algae)

  Inspect the condenser coil

  Monitor the operating pressure of the refrigerant

  Inspect safety devices for proper operation

  Tighten all electrical connections

  Inspect the electrical system for exposed wiring

  Contactors and contact groups for burned, oxidized, and pitted contacts

  Test and inspect capacitors

  Inspect fan blade

  Clean condenser coil and remove debris

  Inspect service valves for proper operation

  Measuring temperature difference between supply/return

  Inspect ductwork for energy loss

  Monitor compressor for proper amperage, power consumption, volt draw, and wiring connections with isolation

  Clean debris around the condenser
WHY CHOOSE US FOR AIR CONDITIONER REPAIR?
Our highly skilled licensed technicians at Oceanside Appliance Repair Service Center are poised, ready to go, 24/7 to repair, replace, and install new AC units because we know the discomfort of a broken AC unit in the middle of summer in San Diego County.
Oceanside Appliance Repair Service Center proudly offers efficient HVAC repair service in San Diego County and the surrounding areas. Our team of experts is well-equipped and ready to handle all types of HVAC repairs no matter how complex they are. We're committed to providing excellent repairs using only the highest-quality spare parts backed by the manufacturer's warranty, so you can depend on your HVAC repair specialist to fix the problem, and ensure your appliance will perform properly for a long time.
100%  GUARANTEE
Our team at Oceanside Appliance Repair Service Center is here to respond to you with fast and efficient service so you can get your appliances up and running in a timely manner. In addition to our affordable and effective HVAC repair services, we also offer guarantees on all of our repair work, and we honor the manufacturer's warranty on all spare parts installed. This adds up to a 100% guarantee to make sure you're completely satisfied with your repair and our service!
Our specialist carries out repairs, works carefully in the process, so as not to leave behind any traces of equipment repairs, and not to spoil the appearance. After the repair is completed, our company will back it up with a 90-day labor warranty. If you encounter the same problem during the warranty period, rest assured we will return to get an appliance back up to perfectly working condition.
$30 OFF ON FIRST TIME SERVICING
Frequently asked questions
What if I have a complex repair of equipment?
Our specialist will come to your home, conduct diagnostics and offer solutions to the problem. And only after your consent, the repair will begin.
Do you have customer support?
Our managers will always listen carefully to you and give you initial recommendations on the malfunction of your equipment to determine the cost of repair. Call:
(442) 291-2244
Is the expert's visit free of charge?
If you order a call to the master through our website, you are guaranteed to get a free diagnosis of your device, and detection of breakage.