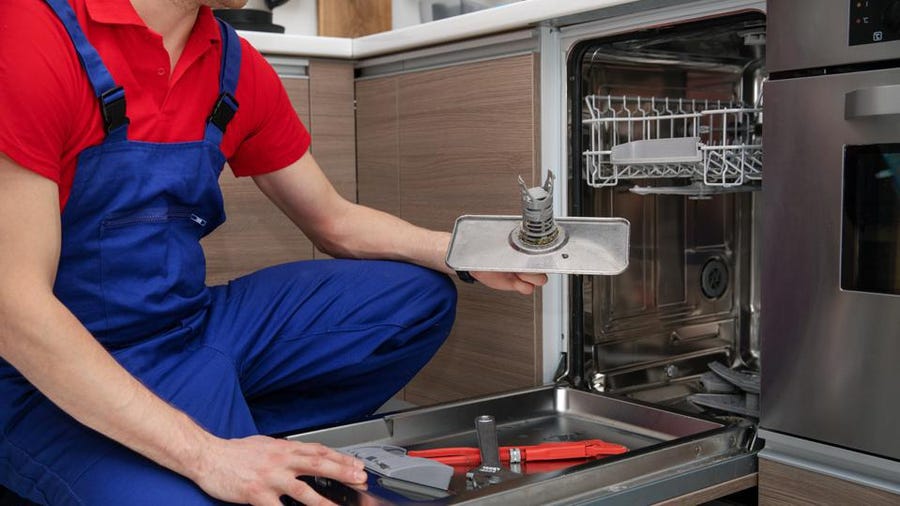 Dishwasher Repair Service
Dishwashers are an item that makes our lives not only more convenient but also much healthier. You don't need to deal with all those detergents and soaps. You don't need to wash each dish, to try to remove all those fat spots. Just put your dishes in a dishwasher, load the needed detergent and turn the item on. Then, just take clean dishes out and arrange them on a shelf. While your dishes are being washed, you can watch a movie or do whatever you need or like. And if your dishwasher breaks down, Oceanside Appliance Repair Service Center specialists will quickly provide repair services anywhere in Oceanside, Vista, Encinitas, Escondido, Bonsall, Fallbrook, Carlsbad, and San Marcos dishwasher repair service.
But what to do if your dishwasher started failing? What should you do if you find a pool under it or if it doesn't drain? Or maybe the dishes aren't dried? We would recommend not to ignore even the smallest signs of malfunctioning because it can lead to a breakdown of your item. If you notice something unusual in its operation, call Oceanside Appliance Repair Service Center immediately. 
Our technicians know everything about dishwashers. Even if you have the rarest model of a dishwasher, we know how to deal with it. Even if it is complicated to find spare parts for the item you use, our specialists know how to handle it. Dishwasher repair in San Diego County is the solution to all problems that might occur with your dishwasher.
We offer not only excellent service. With Oceanside Appliance Repair Service Center, you get a guarantee for all works performed by our specialists. Do not put off the solution for too long. Just call us or place your order online. Our specialist will pass by your location on the same day or in the morning of the next day. However, if you need to repair your dishwasher urgently, you can place an urgent request, and we will come as soon as possible. That will cost you slightly more, but you will get the service within the shortest time. You can call us even if there is a weekend or a day off. We are available to accept your order on all days, including weekends, 24 hours per day.
If your dishwasher leaks, doesn't fill, if you take dishes out, and they are still dirty, if your item makes strange noises – all those can be the signs of a serious issue. If your dishwasher is making an effort to work, but it doesn't heat, it might be an indication that significant maintenance is needed. However, there is no need to worry. Our specialists will fix these issues within the shortest time. Even if it seems that your dishwasher is dead, just try once more, with Oceanside Appliance Repair Service Center. Our specialists can fix even the most complicated cases, maybe yours is just the one that could be handled. 
Our new and returning clients love the quality of our work and reasonable prices even for the most complicated cases. They love that our specialists provide guarantees for most of the repairs they do. From our side, we are eager to provide the best service within the shortest time. That is why we are a leading local dishwasher repair services provider. Do you want to give your dishwasher another life? Call Oceanside Appliance Repair Service Center.
Our specialist carries out repairs, works carefully in the process, so as not to leave behind any traces of equipment repairs, and not to spoil the appearance. After the repair is completed, our company will back it up with a 90-day labor warranty. If you encounter the same problem during the warranty period, rest assured we will return to get an appliance back up to perfectly working condition.
$30 OFF ON FIRST TIME SERVICING
Frequently asked questions
What if I have a complex repair of equipment?
Our specialist will come to your home, conduct diagnostics and offer solutions to the problem. And only after your consent, the repair will begin.
Do you have customer support?
Our managers will always listen carefully to you and give you initial recommendations on the malfunction of your equipment to determine the cost of repair. Call:
(442) 291-2244
Is the expert's visit free of charge?
If you order a call to the master through our website, you are guaranteed to get a free diagnosis of your device, and detection of breakage.