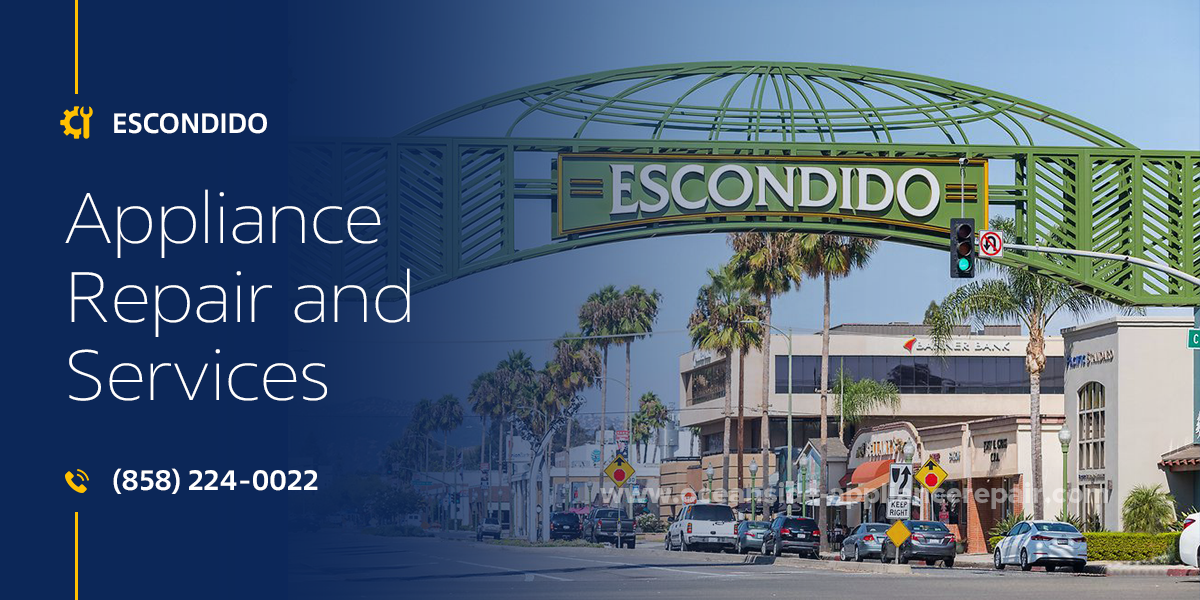 Appliance Repair in Escondido, California
Do you know a place where you can call with no doubt if suddenly your household item has an issue? Oceanside Appliance Service Center has been providing all kinds of Appliance Repair in Escondido, CA since 2001. Our technician will arrive at your place on the same day and will perform appliance repairs within the shortest time.
Why Do Household Appliances Break Down?
In the modern era, manufacturers continue to unveil an array of cutting-edge models for vacuum cleaners, washing machines, televisions, and kitchen appliances. These appliances may boast innovation, reliability, and multifunctionality, but unfortunately, owners still encounter occasional breakdowns. 
Despite their advanced features, maintenance and repair remain an inevitable part of appliance ownership. However, fret not! Expert technicians are readily available to address any issues and restore your appliances to their optimal functionality. With their proficiency and prompt service, you can bid farewell to appliance breakdown woes.
What are the most common causes of appliance breakdowns? Let's highlight a few reasons:
Natural wear of parts. Manufacturers put a certain resource into details, components, and assemblies. For some parts of the equipment, it is equivalent to 12 months and for others to six months. And if you do not change components in time and do not carry out service maintenance, the appliance fails. In this case, only 

Appliance Repair in Escondido, CA

 will help restore the functionality of your favorite devices.

Increased load on household appliances. It often happens that the hair dryer overheats due to the continuous blowing mode at the maximum temperature. The washing machine stops due to loading a large amount of laundry. These are just a few examples of how owners operate their appliances. It is important to follow the manufacturer's instructions exactly. Use devices only for their intended purpose and do not overload them. Then you will not need to urgently call the technician for 

Appliance Repair in Escondido, CA.

Ignoring the manufacturer's recommendations and instructions. Every brand provides its device with instructions and manufacturer's recommendations. By checking the instructions, you will learn everything about switching on, using specific modes, and even cleaning individual elements. Do not try to set up the equipment yourself or use its functionality for other purposes. The device will turn out to be faulty after the very first months of such operation.
Our skilled technicians offer prompt and reliable service. Contact us now for top-notch Escondido Appliance Repair Near You!
Why Do Clients Choose Us?
Our specialists are experts in the field. They give a guarantee for most work done and provide the friendliest Escondido Appliance Repair service. They will not only make your appliance work efficiently again. Specialists will give expert advice on further maintenance to prevent you from possible future problems.
When you detect a malfunction in your household appliances, it's crucial to promptly contact Escondido Appliance Repair. Ignoring the issue and allowing the appliances to continue working will only exacerbate the problem over time. Delaying the necessary repairs will inevitably lead to more extensive damage and costlier repairs in the future. Don't let a minor issue escalate into a major expense. 
Act now and safeguard your appliances by calling the reliable experts at Escondido Appliance Repair. Their timely intervention will save you from unnecessary headaches and financial strain down the line. Trust the professionals to ensure your appliances function optimally for years to come.
We provide the fastest Escondido Appliance Repair service, as well. To place an order, you can just call us or fill in the online form. In a few hours, our specialist will come to provide the best Appliance Repair in Escondido, CA at an affordable price. All our specialists at our Appliance Repair Company always have with them all the necessary sets of tools and spare parts. Therefore, in most cases, we repair appliances and breakdowns of any complexity on the spot on the day of the call.
When consulting by phone, we can announce the approximate cost of the Escondido Appliance Repair and Service. Our master will determine the final cost after the appliance diagnostics. We are interested in our customers contacting us again. Be sure that our specialist will offer the best price and provide high-quality repairs with a long-term guarantee. Oceanside Appliance Service Center is always available here for you!
Our specialist carries out repairs, works carefully in the process, so as not to leave behind any traces of equipment repairs, and not to spoil the appearance. After the repair is completed, our company will back it up with a 90-day labor warranty. If you encounter the same problem during the warranty period, rest assured we will return to get an appliance back up to perfectly working condition.
$30 OFF ON FIRST TIME SERVICING
Frequently asked questions
What if I have a complex repair of equipment?
Our specialist will come to your home, conduct diagnostics and offer solutions to the problem. And only after your consent, the repair will begin.
Do you have customer support?
Our managers will always listen carefully to you and give you initial recommendations on the malfunction of your equipment to determine the cost of repair. Call:
(858) 224-0022
Is the expert's visit free of charge?
If you order a call to the master through our website, you are guaranteed to get a free diagnosis of your device, and detection of breakage.