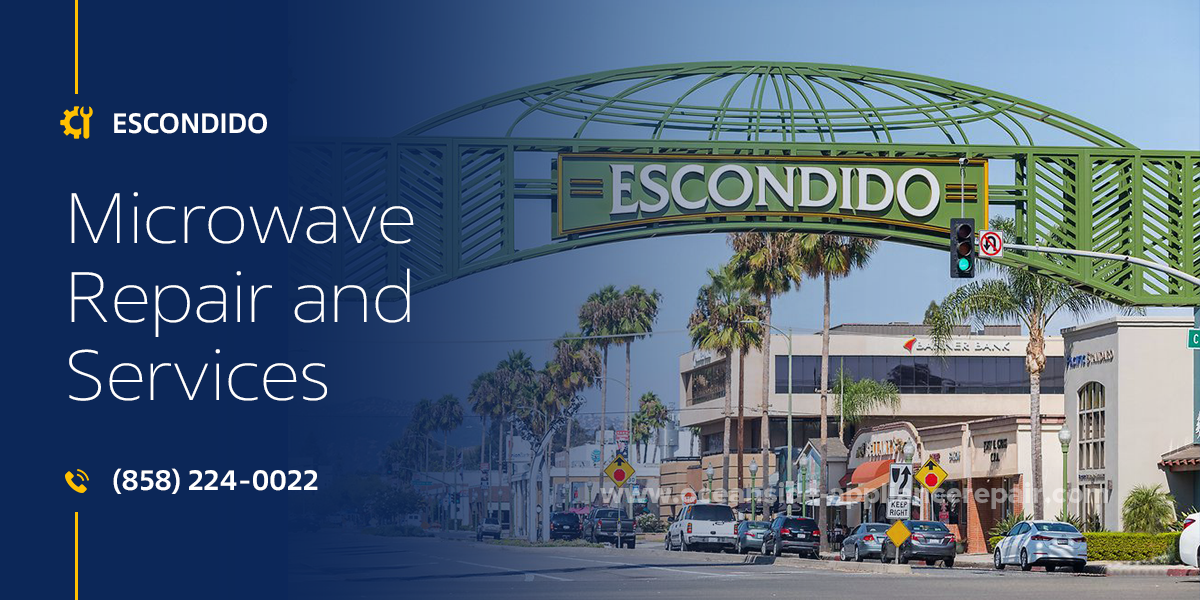 Microwave Repair in Escondido
It is barely possible to find a person who has never used a microwave. This small, quick, and simple appliance has its place and important role in most flats, offices, and other places. And sooner or later it may come a moment when you need to get a reliable Microwave Repair in Escondido, CA for your item. For maintenance and fixing services of any complexity, the best solution is to apply to Oceanside Appliance Repair Service Center. Having over 20 years of experience in it, our team provides the highest quality at the fairest price. We make any microwaves back to normal in the shortest terms!
To pick the most effective solution and plan Escondido Microwave Repair in a convenient way, just contact us. Even if you notice a minor malfunction, it is better to eliminate it before it caused a more serious issue. 
We provide free consultations, so you can get information about working with us and useful advice whenever needed. And to clarify the reason for the breakage when the microwave already failed, we offer remote diagnostics. It helps swiftly define a proper way out and announce its approximate cost.
In some cases, the cost of the needed work may be too high to be expedient. Or the unit may be beyond repair already. If we conclude so, you clearly know why the fixing is not advisable. We offer only cost-effective Microwave Repair in Escondido, CA, and are always honest with our clients. 
You pay the most reasonable price for a decent result and exactly know what you invest in. Plus, we have pleasant discounts for our clients. Returning ones pay 15% less the next time. For online booking, it is $25 off, and for veterans and seniors, the discount is $30.
We can adjust to any budget, and mostly it means flexibility in the choice of the needed components. We store many original spare parts and their analogs, so can pick a perfect match for your microwave. We use only top-quality ones, as they impact much on a smooth and durable performance of an entire unit. Our team is equipped with the best materials and tools for proceeding with any Escondido Microwave Repair and Service. With the deepest knowledge of their structure and functioning, our team easily reanimates microwaves of all brands and models.
Proper details and equipment help us conduct each procedure neatly and accurately. But the main reason for the highest quality of our work is the proficiency of our technicians. They have perfectly refined skills and never stop developing. Regular training and licensing help them be qualified enough to cope easily with luxury and the latest items too. If our responsible and proficient team tackles the problem, you get the most reliable and effective Microwave Repair in Escondido, CA. Regardless of the complexity of the issue, they always find the best solution.
Working with various commercial and household microwaves since 2001, our team has successfully reanimated tons of them. There is no such issue that we cannot cope with. And here is the list of the most common troubles you may face with your microwave.
Faulty hardware components (waveguide, magnetron, diode, drive motor, main control board, high-voltage capacitor or transformer, thermal fuse, thermal protector, cooling fan, vent, heating element, etc.).

Troubles with voltage or electricity supply due to damaged wiring, isolation, or plug.

The appliance shuts off on its own or does not turn on or off.

The control panel functions not the way it should or is completely failed.

You cannot adjust any settings because of the malfunctioning controllers or timers.

The screen or display board shows an error message or improper information or is not glowing.

Touchpads, buttons, knobs, keys, or switchers do not respond or are lost or broken.

The microwave stops heating before the timer goes off or goes on working after the time is off.

The item is not heating at all or is heating slowly, weakly, not evenly, or too much.

The roller ring is not rotating.

It is not possible to close or open the door normally, as its gaskets, joints, lid switches, interlocks, latches, hinges, or springs are out of shape.

The door glass is cracked.

The microwave is buzzing, grinding, hooting, humming, thumping, or making other unusual noises.

The heating tan, air vent, or waveguide cover is blocked with dirt or debris.

The item is smoking, arcing, sparking, or producing an electrical or burning smell.

Damaged details require replacement (controllers, rack mount, coupler, turntable ring, waveguide cover, etc.).

The outside indicator or the bulb inside the microwave is flickering or not shining.
We never doubt the flawless quality and durability of our work. Thus, we back it up with a 1-year guarantee for details and a 90-day one for our labor.
You can rely on us in any situation. Even if you want to get Escondido Microwave Repair right now on a day off or late at night. Our local department is open 24/7 and always ready to assist you. For urgent arrival during non-working periods, we take a small additional payment. But in such a case, you get the swiftest solution, as the technician departs at your address immediately. For regular orders, we also do not like wasting time. An absolute majority of them take us less than a single day to complete!
Our customers are happy with all aspects of our work, starting with quality, and finishing with a friendly attitude. Our client focus helps us find the best solution for everyone. Ones who applied to us for Microwave Repair in Escondido, CA, entrust other appliances to us too. They recommend us to friends because know firsthand that we perfectly deal with any task. We have tons of 5-star reviews from satisfied clients on our Google page. That is the best indicator of our reliability.
If you are looking for the most effective Escondido Microwave Repair and Service, our company is the best option! Oceanside Appliance Repair Service Center offers high-quality maintenance and fixing procedures for your electronics. We know what to do in any situation and are always honest with our clients. All you need to do is just call us or place an online application. We make your microwave run like a clock again in the shortest terms and at an affordable price.
Our specialist carries out repairs, works carefully in the process, so as not to leave behind any traces of equipment repairs, and not to spoil the appearance. After the repair is completed, our company will back it up with a 90-day labor warranty. If you encounter the same problem during the warranty period, rest assured we will return to get an appliance back up to perfectly working condition.
$30 OFF ON FIRST TIME SERVICING
Frequently asked questions
What if I have a complex repair of equipment?
Our specialist will come to your home, conduct diagnostics and offer solutions to the problem. And only after your consent, the repair will begin.
Do you have customer support?
Our managers will always listen carefully to you and give you initial recommendations on the malfunction of your equipment to determine the cost of repair. Call:
(858) 224-0022
Is the expert's visit free of charge?
If you order a call to the master through our website, you are guaranteed to get a free diagnosis of your device, and detection of breakage.