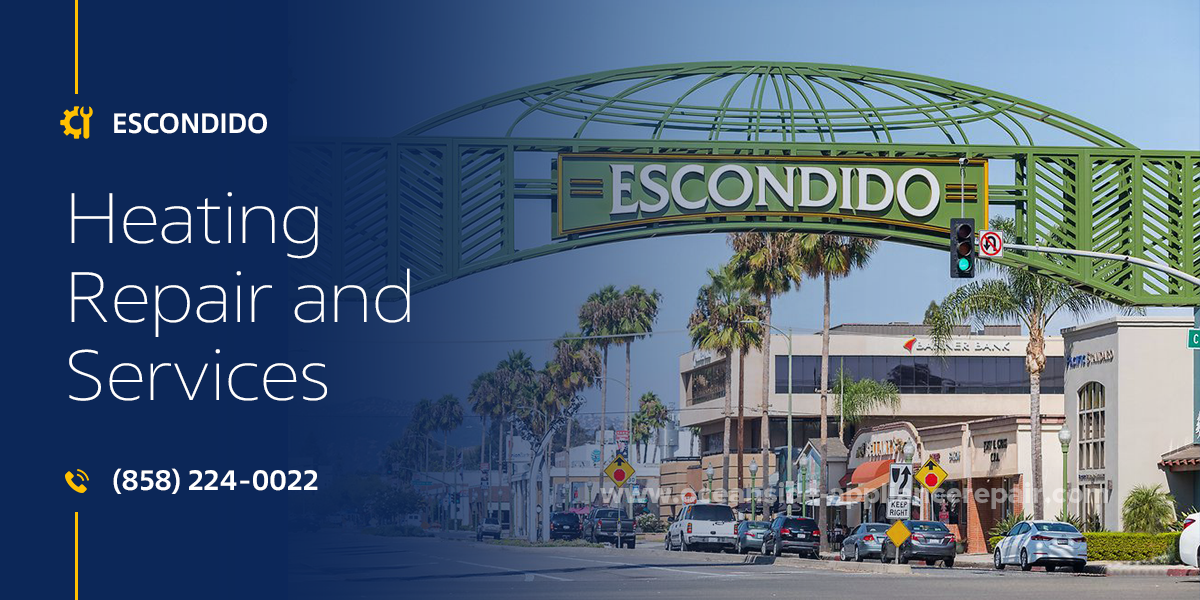 Heating Repair in Escondido
If you want to have an indoor climate always comfortable, you should care for your HVAC appliances. During cold periods, heaters take a special place among them. For proper installation, maintenance, and fixing, anytime apply to Oceanside Appliance Repair Service Center. Our specialists have over 20 years of experience in providing high-quality procedures for all types of heaters. We care about making clients happy and their appliances – functioning perfectly. Thus, our Heating Repair in Escondido, CA is the most reliable, swift, and affordable!
Heating appliances can vary in size, source of heat, mobility, and other characteristics. For any of them, our team has a special approach. We have a huge amount of components from original and alternative manufacturers. Regardless of the model and brand of your unit, we pick perfectly fitting details for any. Our Escondido Heating Repair is always effective and accurate because of the highest proficiency and responsibility of our team. Their extraordinary skills and knowledge get even better all the time. For that, we have regular training and licensing.
We easily deal even with the most delicate luxury and the latest heaters, as have corresponding qualifications. Our technicians prioritize the quality of each Heating Repair in Escondido, CA first. And they always know what to do with any commercial and household unit. We also equip our team with the best tools and materials. It helps in the dustless, precise, and neat completion of any procedure. We are confident in the highest quality of everything we do and want to make you confident in it too. Thus, we back up of work with a 90-day labor guarantee and a 1-year one for the details.
Providing a warranty for the complete job is one of the reliability factors. And in our case, it is not the only one! Since 2001, our company successfully withstands competition with other local providers of Escondido Heating Repair and Service. And the amount of our clients is always growing. It means, that they choose us for the best conditions and brilliant results. Another sign of that is the comments they leave on our Google page. Our clients rate our job with 5 stars, recommend us to others, and apply to us again. We believe that it is the best indicator of a trustworthy company.
Our key goal is to provide customers with the best Heating Repair in Escondido, CA in the most comfortable way. And for many people, the major fear is getting a high bill. If you apply to us, you have nothing to worry about. We have a transparent pricing system, so you always clearly know what you pay for. We do not overcharge or offer useless services just to take more money. With us, you get only cost-effective and rational solutions.
We set the most reasonable and favorable prices for all procedures. Plus, you can get a $25 discount if book the order online. Veterans and seniors have a constant $30 off price. And for returning customers, the next procedures cost 15% less. You also can find out the approximate price of the needed work beforehand.
For that, you can anytime call us and explain the situation. When everything is okay and you are interested in proper maintenance, advice, or instructions, we offer free consultations. And if something goes wrong with your heater, we will swiftly find the reason for the malfunction during remote diagnostics. It is the best way to clarify the situation and plan the most effective Escondido Heating Repair. But if it is not recommendable, we inform you and help pick a suitable replacement.
Not to get the situation irresolvable, you should never ignore any changes in the functioning of your heater. Especially if your item is a gas-type one. And never try to fix it yourself without the special knowledge or supervision (even a phone one) of a specialist. The smartest idea is to contact us as soon as anything goes wrong. There are many various troubles that may happen to your heater. Here is the list of the most common ones.

The appliance does not produce any heat.

It is heating too weakly, too slowly, or not evenly.

The heater goes on and off repeatedly, shuts off on its own, or cannot turn on.

The air is not going out of the registers, has the wrong temperature, smells filthy, or is humid.

While the item is working, it emits a burning, gas, or electrical smell.

You cannot adjust the temperature, time, mode, or other settings.

The control panel malfunctions, the controllers do not respond, or the screen is blank or shows an error message.

The item does not react to the remote control.

Knobs, buttons, keys, switches, registers, fan blades, baffles, duct, leveling feet, belts, seals, bearings, valves, or other details are worn off, broken, or lost.

The ductwork is leaking or obstructed.

The gas supply is unstable or disrupted due to clogged gas lines, faulty gas/reversing valves, or a damaged ignitor/ignition control.

Troublesome wiring, isolation, or plug cause issues with the electricity supply.

The HVAC filters, damper, condensate drain, evaporator or condenser coils, ignition, flame sensor, flue pipe, outdoor unit, air handles, or vents are blocked with dust or grease.

The heat transfer liquid is leaking.

Damaged hardware (motors, vents, sensors, evaporators, condensers, heating elements, heat pumps, thermostats, fans, compressor contactors, limit switches, etc.).

The item operates louder than usual (it is rattling, knocking, humming, buzzing, vibrating, ticking, clicking, popping, squealing, pinging, thumping, etc.).
Our team has dealt with those and other problems many times, so always know how to make them vanish. When we know the situation and its solution, the only thing left is to pick the time for our arrival.
We can easily adjust to any time that is suitable for you. Surely, we prefer to make your heater back to normal as soon as possible. That is why, we complete over 90% of orders within a single day. The reasons for the highest speed are the fluency of our technicians, perfectly customized logistics and management, and convenient location. We are also available during days off and after hours for urgent Heating Repair in Escondido, CA. When you need us immediately, the specialist departs to your address within 15 minutes for a small additional payment.
No matter what happened, Oceanside Appliance Repair Service Center can deal with everything in a stressless way. We have the friendliest, most skilled, and most responsible specialists. They conduct any procedure at the highest quality level, paying attention to your needs and requirements. Just call us or place an online application to get the quickest assistance whenever needed. We provide the most effective Escondido Heating Repair and Service in the shortest terms.
Our specialist carries out repairs, works carefully in the process, so as not to leave behind any traces of equipment repairs, and not to spoil the appearance. After the repair is completed, our company will back it up with a 90-day labor warranty. If you encounter the same problem during the warranty period, rest assured we will return to get an appliance back up to perfectly working condition.
$30 OFF ON FIRST TIME SERVICING
Frequently asked questions
What if I have a complex repair of equipment?
Our specialist will come to your home, conduct diagnostics and offer solutions to the problem. And only after your consent, the repair will begin.
Do you have customer support?
Our managers will always listen carefully to you and give you initial recommendations on the malfunction of your equipment to determine the cost of repair. Call:
(858) 224-0022
Is the expert's visit free of charge?
If you order a call to the master through our website, you are guaranteed to get a free diagnosis of your device, and detection of breakage.