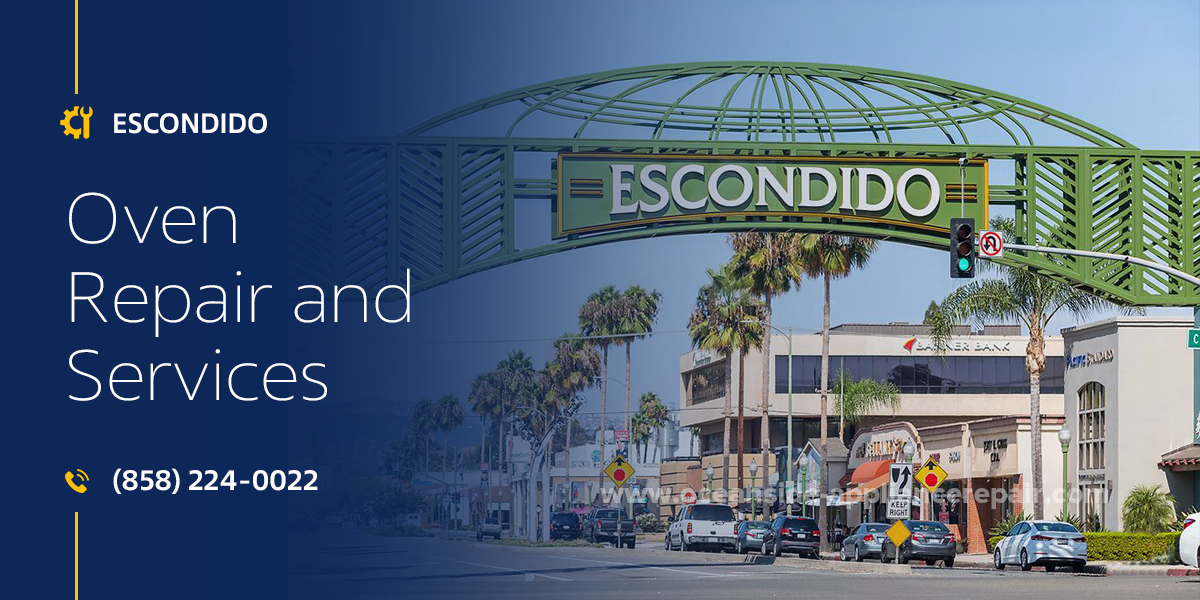 A malfunctioning oven may become a problem for your daily routine or work process. But you do not have to search for alternative cooking solutions, as this problem is easy to eliminate. All you need to do is to apply to Oceanside Appliance Repair Service Center. We are ready to help you not only when the item has already failed. We also offer proper installation, checkup, and maintenance services. Our company deals with any procedures quickly and offers the most reasonable prices. With us, you get top-quality Oven Repair in Escondido, CA in the most comfortable way.
We take pride in our track record of happy customers who have experienced our efficient services firsthand. Their amount is growing daily, together with the number of positive reviews they leave on the net. Clients recommend our Escondido Oven Repair to others because the result of our work is always brilliant. 
As we also adjust to all the requirements of our customers, they get the best solutions in a stressless way. It makes them confident in picking us when other electronics require fixing or care.
Another pleasant thing for our clients is that they get a 15% discount for the next order. If you book the order online, you get $25 off the price. Each veteran and senior get a $30 discount too. We care about setting the most affordable rates and being honest with you. The most fair-priced Oven Repair in Escondido, CA is what you get in any case. Thus, you never face any hidden fees or overcharging. We offer only cost-effective solutions and clearly report the condition of your item and the expenses for its repair. To find out this and other information, feel free to contact us at any moment.
If you need advice, we gladly provide you with a free consultation. When you want to clarify the situation with a dysfunctional oven, we conduct a remote diagnostic. We have a special personal approach towards every client and appliance. It lets us provide everyone with the most efficient and convenient Escondido Oven Repair and Service. 
And in any case, we offer the best solution. Sometimes it means simple phone instructions. In other situations, the only way out is to replace your item. But mostly, after finding the reason for the breakage, we take all the needed tools and make the issue vanish. 
Do not hesitate to contact us facing any changes in the performance of your oven. Below, you can see the most common troubles that may occur to this appliance.
Hardware components are out of order (burners, electrical or induction coils, grills, bake elements, broilers, tans, convection fans, thermostats, control panels, vents, fan motors, thermal fuses, energy regulators, breakers, etc.)

The temperature goes too high or too low and you cannot change it.

The oven cooks the food unevenly.

The item does not heat at all.

While the oven is on, it is buzzing, vibrating, knocking, humming, squealing, buzzing, grinding, clicking, or making other weird noises.

The oven light bulb is not working or is flickering.

Problems with the pilot light or ignition, which does not let burners to heat.

Damaged or obstructed gas lines, gas ports, or safety valves mean a disrupted gas supply.

Worn-off insulation.

The timers are inaccurate or dysfunctional.

Buttons, knobs, touchpads, keys, or switchers are damaged, lost, or faulty, so you cannot control any settings.

The control module requires recalibration.

The screen is not working or is showing an error code.

The self-cleaning feature is not effective or working.

Problematic electrical connections due to spoiled wiring or isolation.

Loose or deformed hinges, springs, seals, joints, lid switches, latches, or interlocks cause issues with closing or opening the door normally.

The door glass, body, or cavity has crackings.

The appliance produces a burning, electrical, or gas smell.

Filters, grates, convention fans, or vent tubes are obstructed with crumbs, debris, or dust.

The body of the unit gets extremely hot while cooking.

You cannot turn the oven on, or it shuts off itself.

The controllers, fan blades, baffles, belts, leveling feet, drawer mechanisms, light assemblies, or other details are damaged or worn off.

The light indicator is blinking red, flickering, or not shining.
Eliminating any of them is an easy task for our technicians. They know how to deal with breakages of any complexity and effectively fix commercial and household ovens since 2001. The skills, knowledge, and qualification of our specialists are rising all the time. They have licenses for coping with any appliances, including luxury and the latest ones. With us, you get top-quality Oven Repair in Escondido, CA regardless of the type, brand, and model of your item.
Each appliance has its own features and subtleties. Thus, we carefully pick the proper details and materials. We stock numerous original spare parts and their analogs to find a match for your oven and budget. The usage of suitable components together with top-rank equipment and tools means brilliant results. Thus, we are confident in the durability and effectiveness of each Escondido Oven Repair we conduct. We also solidify them with a 1-year guarantee for details and a 90-day one for our labor.
Our responsibility reflects not only in the brilliant quality of work but also its highest speed. Our specialists spend minimum time finding and eliminating any problems, as they have 20+ years of experience doing it daily. With the convenient location of our department in your area, the way to your address takes little time too. Thus, we always offer the quickest Oven Repair in Escondido, CA. It means that in an absolute majority of cases, we make your item back to normal within a single day. 
If your case cannot wait even a couple of hours, you can still rely on us! We are available 24/7 to provide you with urgent assistance when needed. Just indicate it when apply and the specialist rushes to your address immediately. This option costs just slightly more but means that your oven performs properly again in the shortest possible time. Even if it is a day off or late at night.
The most reliable company which cares for your electronics is Oceanside Appliance Repair Service Center. Our friendly, competent, and proficient team always knows what do to. We offer a wide range of services for ovens and always offer effective solutions. Regardless of what happened, just call us or place an online application on our website. We shortly provide you with the highest quality Escondido Oven Repair and Service at the fairest price!
Our specialist carries out repairs, works carefully in the process, so as not to leave behind any traces of equipment repairs, and not to spoil the appearance. After the repair is completed, our company will back it up with a 90-day labor warranty. If you encounter the same problem during the warranty period, rest assured we will return to get an appliance back up to perfectly working condition.
$30 OFF ON FIRST TIME SERVICING
Frequently asked questions
What if I have a complex repair of equipment?
Our specialist will come to your home, conduct diagnostics and offer solutions to the problem. And only after your consent, the repair will begin.
Do you have customer support?
Our managers will always listen carefully to you and give you initial recommendations on the malfunction of your equipment to determine the cost of repair. Call:
(858) 224-0022
Is the expert's visit free of charge?
If you order a call to the master through our website, you are guaranteed to get a free diagnosis of your device, and detection of breakage.