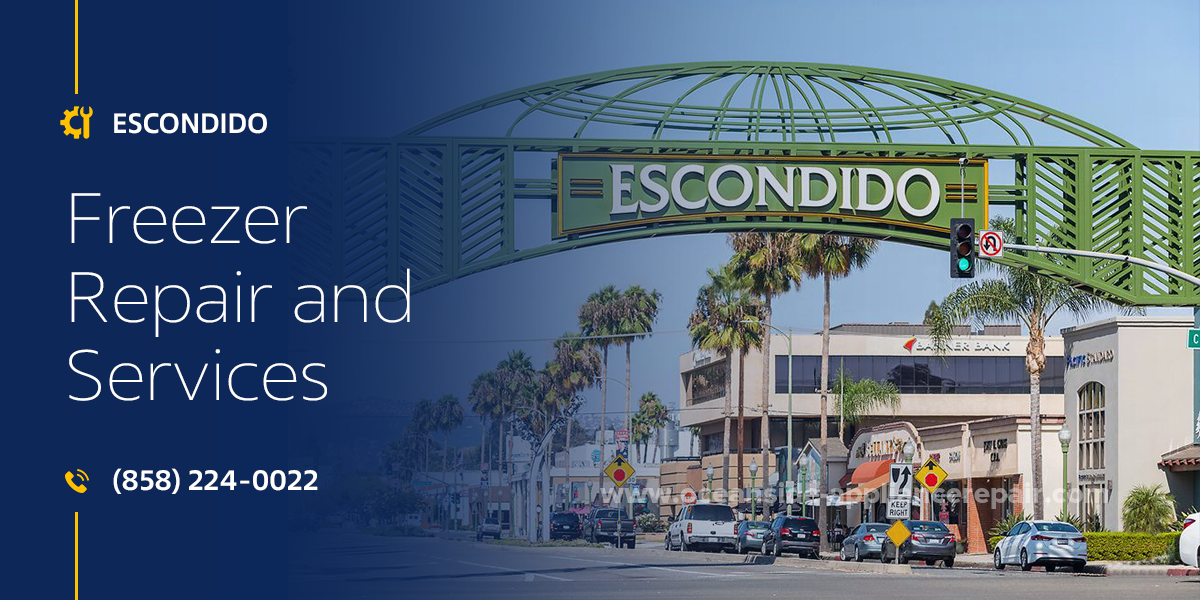 Freezer Repair in Escondido
Many people do not pay attention to the condition of their electronics until they fail. And this mistake may often bring many unpleasant consequences. Like if your freezer suddenly stopped working, you get not only spoiled products but also a puddle of melted ice. To avoid or eliminate such a situation you can always rely on Oceanside Appliance Repair Service Center. Our team consists of top-level professionals who provide any Freezer Repair in Escondido, CA at the highest quality. We conduct the most reliable services swiftly and at affordable prices.
All situations are different. Thus, to understand how to fix yours, the best idea is to get a consultation first. For those cases when you want to schedule maintenance or get advice, we gladly assist you. And when a breakage happened already, we swiftly find the reason and its solution. It lets us arrange the most effective Escondido Freezer Repair in the most convenient way for you. And surely, by saying 'effective' we mean rational and durable solution. We never offer procedures that cost more than a new appliance or if the freezer is beyond repair.
To clarify the situation swiftly, just let us know what happens. Below, you can see the list of the most common troubles with this appliance.
The door has damaged springs, joints, latches, lid switches, interlocks, hinges, or gaskets, so cannot close, open, or latch properly.

Body surfaces, shelves, or doors are cracked or have dents or scratches.

The appliance stopped freezing.

It has an improper temperature or freezes not evenly.

The item produces loud vibrations or indistinctive sounds, like thumping, grinding, knocking, squealing, humming, buzzing, etc.

It stopped defrosting automatically.

The refrigerating coolant is leaking or requires refilling.

Water drops are collecting under the item or dripping out.

The appliance goes on and off repeatedly, turns off itself, or cannot turn on or off.

A snow-like accumulation, pieces of ice, or ice mold covers the inner walls, products, or evaporative/condenser coils.

The drain pan, drain tube, or defrost drainer is clogged.

Timers and controllers do not function properly.

You see an error message on the screen/display, or it is not glowing at all.

Handles, leveling feet, buttons, keys, switches, knobs, seals, belts, water inlet valves, hoses, compressor mounts, or other details are damaged or worn off.

The software is faulty, and the control module requires recalibration.

The appliance emits an electrical or burning smell or has a foul odor inside.

Dysfunctional control pad, overload protector, expansion device, fuse, compressor relay, relay switch, compressor motor, evaporator or condenser fan or coils, thermostat, defrost heater or timer, icemaker, vents, or other components.

Interior lamps or exterior indicators are going on and off or not shining.

The power supply is disturbed because of damaged wiring, isolation, or plug.
Many troubles happen because of spoiled hardware or details. Thus, we carefully pick perfectly suitable ones for each appliance. With the use of proper components, we make your ice maker perform smoothly for a long. And for all of them, we provide a 1-year guarantee. For conducting each Freezer Repair in Escondido, CA accurately and tidily, we equip our team with top-notch tools and materials. It plays an important role in the highest quality of our work.
But what matters even more is the outstanding proficiency of our technicians. They are responsible, friendly, and hard-working, which means the best approach to each client and appliance. Each of them has over 20 years of experience in serving commercial and household units of all brands and models. Thus, they fluently and swiftly conduct any Escondido Freezer Repair and Service. Our team is insured and licensed, so can safely and properly deal even with luxury and the latest items. We back up their labor with a 90-day warranty.
We are confident in the professionalism of our team. And our clients do not doubt it too! Everyone who applied to us for Freezer Repair in Escondido, CA, or other services is happy with picking us. We are attentive to all the wishes of our customers, so offer convenient and comfortable conditions. Our team always brings brilliant results, so our clients often return to us to fix any electronics they have. They also recommend us to friends and share their own experiences on the net. Thus, you can visit our Google page and see tons of 5-star reviews there.
Not the main but important and pleasant benefit of applying to us is the most reasonable rates we have. We adjust to any budget and clearly inform you what you pay for. For returning clients, we also have a 15% discount! Veterans and seniors pay $30 less. And if you book an order online, you get a $25 off price. With us, you pay the fairest price and get the most effective Escondido Freezer Repair. No overcharging or hidden fees!
We care also about your time. And with us, you never waste it. Our team finishes over 90% of tasks the same day you apply. Our office is conveniently located, and our team is greatly managed. Thus, we provide you with the swiftest Freezer Repair in Escondido, CA in any situation. It also means that you can rely on us during days off and non-working hours. For a small additional payment, the specialist rushes to your address within 15 minutes.
Oceanside Appliance Repair Service Center offers the best assistance for any issues with electronics since 2001. With our friendly attitude, client focus, and responsibility, each customer gets the best results in comfortable conditions. We make any freezer perform perfectly again in the shortest term. Our team offers the highest quality Escondido Freezer Repair and Service at the best price. You can be sure that with us, your electronics are in reliable hands.
Our specialist carries out repairs, works carefully in the process, so as not to leave behind any traces of equipment repairs, and not to spoil the appearance. After the repair is completed, our company will back it up with a 90-day labor warranty. If you encounter the same problem during the warranty period, rest assured we will return to get an appliance back up to perfectly working condition.
$30 OFF ON FIRST TIME SERVICING
Frequently asked questions
What if I have a complex repair of equipment?
Our specialist will come to your home, conduct diagnostics and offer solutions to the problem. And only after your consent, the repair will begin.
Do you have customer support?
Our managers will always listen carefully to you and give you initial recommendations on the malfunction of your equipment to determine the cost of repair. Call:
(858) 224-0022
Is the expert's visit free of charge?
If you order a call to the master through our website, you are guaranteed to get a free diagnosis of your device, and detection of breakage.