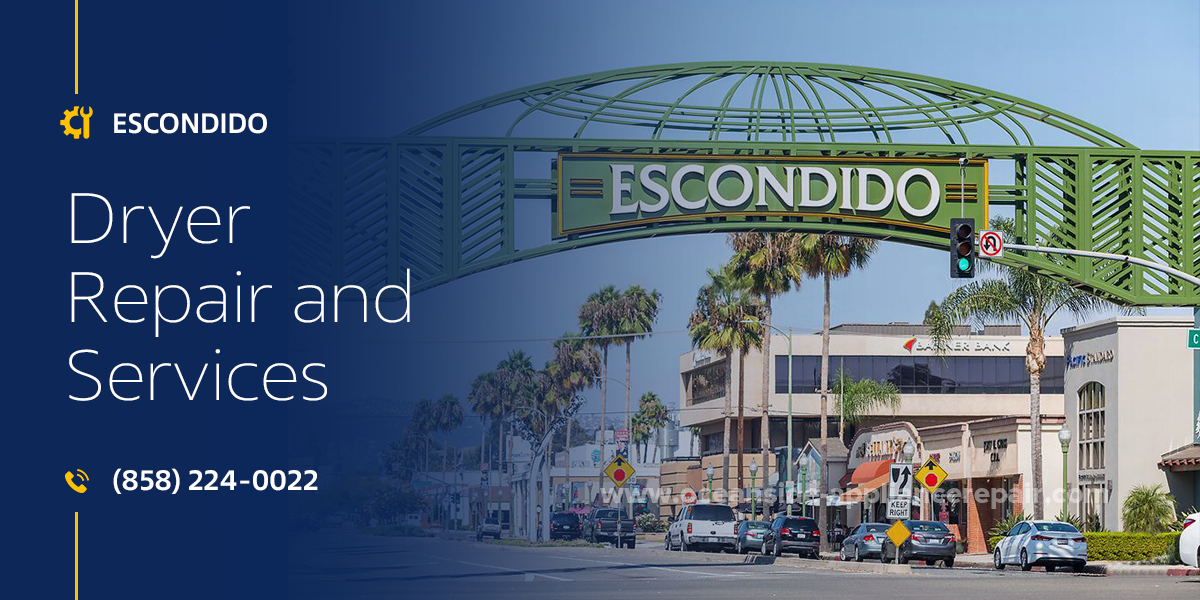 Dryer Repair in Escondido
Owners of dryers never want to experience handing clothes around again. Thus, they have an important mission – to care for the proper condition of this appliance. The most effective and stressless solution for that is to apply to Oceanside Appliance Repair Service Center. Our team has over 20 years of experience dealing with various household and commercial dryers. We perfectly know how to install, maintain, and fix them properly, ensuring the highest quality of each procedure. With us, you get the best Dryer Repair in Escondido, CA swiftly and at a reasonable price.
There are various kinds of dryers, with different sources of heat and their own features. And regardless of the type, brand, or model of the item, our team knows what to do with it. They are perfectly aware of all possible subtleties of working with luxury and the latest dryers too. Our technicians are competent and highly qualified, which always means the highest quality for each Escondido Dryer Repair. They have regular training and licensing to stay up to date with all the newest technologies in the field.
Constant development also influences the speed of our work. Our team always knows what to do, so eliminates any issues swiftly and fluently. We also have a convenient location, brilliant management, and logistics. 
Therefore, we provide each client with the fastest Dryer Repair in Escondido, CA. We complete over 90% of orders the same day when get an application. And if you want to speed it up even more, we offer an urgent arrival for a small additional payment. It is available on days off and after hours too and means that the technician leaves the office immediately.
There are rare cases when we do not have to arrive to help you. To fix some small issues, it may be enough to follow our instructions, which we are happy to share. Or we may detect that it is more cost-effective and rational to replace your dryer with a new one. Surely, when you have no specific knowledge, it may be difficult to understand what happened. Thus, you can contact us anytime and get any needed information.
To plan the most effective Escondido Dryer Repair and Service and figure out its approximate cost, just call us. We offer free consultations and remote diagnostics.  After those short talks, you know everything needed about cooperation with us and the condition of your item. Our technicians are proficient enough to find the problem and the best solution even without touching your appliance! 
You only need to let us know what goes wrong. And there are many signs that your dryer requires professional assistance. Below, you can see the most common troubles that happen to this appliance.

It shuts off while working or cannot turn on at all.

The washing cycle pauses midway, goes on and off repeatedly, cannot start or complete, takes too long, or runs non-stop.

The body of the item gets excessively hot while it is on.

The dryer does not heat at all or heats worse or unevenly.

Some of the hardware components are dysfunctional (start switch, fuse or circuit breaker, thermal resistor, cycling or high-limit thermostat, heating element, igniter, timer, blower wheel, motor, etc.).

The drum/tub is unbalanced, misplaced, or damaged.

The drum is not spinning.

The appliance produces loud and/or unusual noises, like knocking, rumbling, thumping, buzzing, humming, squealing, hooting, grinding, buzzing, gurgling, vibrating, clicking, etc.

Clothes remain wet (fully or partially) or go out damaged.

The door cannot latch, close, or open properly, as its lid switches, interlocks, latches, gaskets, joints, hinges, or springs are out of shape.

The door glass or body surface is cracked.

The control panel is defective or requires recalibration.

The controllers do not respond, have a loose connection, or are damaged.

You cannot pick the needed mode, speed, temperature, time, etc.

The screen is blank, shows an error message, or does not glow.

Spoiled, worn off, or lost details, like handles, knobs, buttons, keys, switches, glides, drum support rollers, belts, leveling feet, fan blades, baffles, pipes, hoses, duct, wiring, etc.

The tub smells filthy inside.

The appliance produces a gas, burning, or electrical smell.

Troubles with power or gas supply.

The gas lines, pipes, hoses, valves, duct, exhaust vent, lint filter, or moisture sensor strips are obstructed or dirty.

The installation was not proper.

The LED indicator is blinking red, flickering, or not shining.
Since 2001, we make any of those and other problems vanish in the most comfortable way for our clients. And for many people, the most stressful aspect is the price of work. You do not have to worry about it if apply to us. We have the fairest rates for any Dryer Repair in Escondido, CA. 
Our company can adjust to any budget and offer an affordable solution for you personally. You can also get a $25 discount if book the order online. For veterans and seniors, we have a $30 off price. And returning clients have a 15% discount.
The cost of work often depends on the price of the needed details. We let you know if they are too expensive and getting them has no sense. Our specialists use only top-rank original and alternative spare parts which perfectly fit your appliance. Therefore, after our Escondido Dryer Repair, the item performs smoothly for a long. To conduct each procedure accurately and neatly, we also use the best professional tools, equipment, and materials.
A special approach to each situation always brings brilliant results. Therefore, our clients are happy for applying to us when needed Dryer Repair in Escondido, CA, or another service. Our friendly and proficient team provides the most comfortable solutions in each situation. Thus, our customers entrust other electronics to us too. They recommend us to friends and leave numerous positive comments on our Google page. Their opinion is the best indicator of the reliability of our company.
By applying to Oceanside Appliance Repair Service Center, you can be calm about your dryer. Once it gets to our caring hands, we do our best to make your item run like a clock for a long. With our client focus, we never make you stress about anything related to your electronics. Just contact us any suitable way and we offer you the swiftest solution at a favorable price. Applying to us, you get the most effective and high-quality Escondido Dryer Repair and Service in any situation!
Our specialist carries out repairs, works carefully in the process, so as not to leave behind any traces of equipment repairs, and not to spoil the appearance. After the repair is completed, our company will back it up with a 90-day labor warranty. If you encounter the same problem during the warranty period, rest assured we will return to get an appliance back up to perfectly working condition.
$30 OFF ON FIRST TIME SERVICING
Frequently asked questions
What if I have a complex repair of equipment?
Our specialist will come to your home, conduct diagnostics and offer solutions to the problem. And only after your consent, the repair will begin.
Do you have customer support?
Our managers will always listen carefully to you and give you initial recommendations on the malfunction of your equipment to determine the cost of repair. Call:
(858) 224-0022
Is the expert's visit free of charge?
If you order a call to the master through our website, you are guaranteed to get a free diagnosis of your device, and detection of breakage.