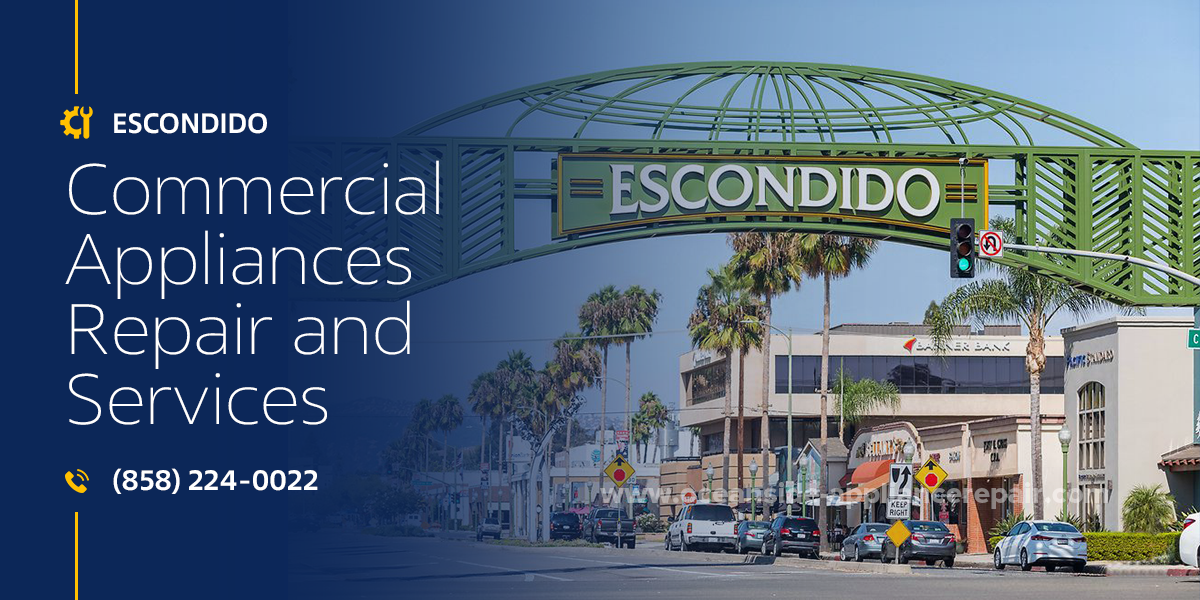 Commercial Appliances Repairs in Escondido
For effective and profitable leading of any business or other activity, people use various appliances. Fridges, washers, air conditioners, ranges, and other electronics make our work more comfortable and productive. It is important to have them in proper condition, to avoid inconveniences and downtime. The best way to do that is to rely on Oceanside Appliance Repair Service Center. Our team offers high-quality fixing, maintenance, and installation services for any unit. With us, you get the greatest Commercial Appliances Repair in Escondido, CA swiftly and at a reasonable price.
Our service center always cares about providing comfortable and favorable conditions for each client. Talking about cooperation with other companies, we keep in mind that you have more units. All of them should function perfectly all the time. Thus, we offer to sign a long-term contract with us, which means proper regular check-ups and maintenance. For one-time Escondido Commercial Appliances Repair, we also have favorable rates. We set the fairest price and clearly report the condition of the unit and what you pay for. 
When you want to clarify any information or get a timely Commercial Appliances Repair in Escondido, CA, just contact us. During a free consultation, our friendly specialists answer any of your questions regarding your electronics and cooperation with us. Noticing any malfunctioning or breakage, you can request a remote diagnostic. It helps swiftly detect the reason for the breakage, the solution, and its approximate price. 
We offer only cost-effective and convenient solutions. Thus, we honestly inform you if the item is beyond repair or fixing it is not rational. But that happens rarely, as our team can find the best way out of any situation!
When all things are clear, we prepare the needed tools and are ready to act. You can pick any suitable moment for Escondido Commercial Appliances Repair and Service. Our perfect management, logistics, and location let us adjust to any needed time. And we always aim to make your electronics back to normal as soon as possible. In an absolute majority of cases, we complete the order the same day you apply. 
Our office in your area is open 24/7 and always ready to assist you at any moment of day and night. When you need our assistance urgently, the specialist rushes to your address immediately. It cost slightly more but means the swiftest possible arrival.
Another reason why we deal with anything quickly and fluently is the highest qualification and responsibility of our experts. They have over 20 years of experience in caring for electronics of all types, brands, and models. Plus, they go on developing all the time and have regular training. Our technicians are insured and have licenses for dealing even with luxury and the latest items. We provide the best Commercial Appliances Repair in Escondido, CA to units of all kinds, including:

Refrigerators.

Freezers.

Stoves.

Ovens.

Cooktops.

Ranges.

Dishwashers.

Washing machines.

Dryers.

Microwaves.

Air conditioners and climate control systems.

Humidifiers.

Thermometers.

Scales.

Vacuum cleaners.

Office equipment.

Wine coolers.

Ice makers.

Hoods, etc.
We never doubt the highest quality of any procedure. Thus, we back up our labor with a 90-day guarantee and provide a 1-year one for the details we use. Talking about the details, it is important to mention that we use only top-rank ones. We stock tons of original details and their analogs. Thus, our team uses perfectly matching components to ensure the smooth and durable performance of any item. They also have the best professional tools to conduct any Escondido Commercial Appliances Repair dustless, neat, and precise.
Since 2001, we have provided tons of residential and commercial clients with effective services. Our reliable team cares for the comfort of our customers, and thus always offers stressless and rational solutions. That is why, people keep picking us after experiencing our professionalism, attitude, and trustworthiness. They recommend our Commercial Appliances Repair in Escondido, CA to others, as the results of our work are always brilliant. Our clients also post tons of 5-star reviews on our Google page, where you can see their honest opinions. 
Those who prefer flawless quality, apply to Oceanside Appliance Repair Service Center. Our company offers the most convenient and effective solutions regardless of the complexity of the issue. Just call us or place an online application and we make your electronics perform perfectly for a long. With us, you get the swiftest Escondido Commercial Appliances Repair and Service at the most affordable price.
Our specialist carries out repairs, works carefully in the process, so as not to leave behind any traces of equipment repairs, and not to spoil the appearance. After the repair is completed, our company will back it up with a 90-day labor warranty. If you encounter the same problem during the warranty period, rest assured we will return to get an appliance back up to perfectly working condition.
$30 OFF ON FIRST TIME SERVICING
Frequently asked questions
What if I have a complex repair of equipment?
Our specialist will come to your home, conduct diagnostics and offer solutions to the problem. And only after your consent, the repair will begin.
Do you have customer support?
Our managers will always listen carefully to you and give you initial recommendations on the malfunction of your equipment to determine the cost of repair. Call:
(858) 224-0022
Is the expert's visit free of charge?
If you order a call to the master through our website, you are guaranteed to get a free diagnosis of your device, and detection of breakage.