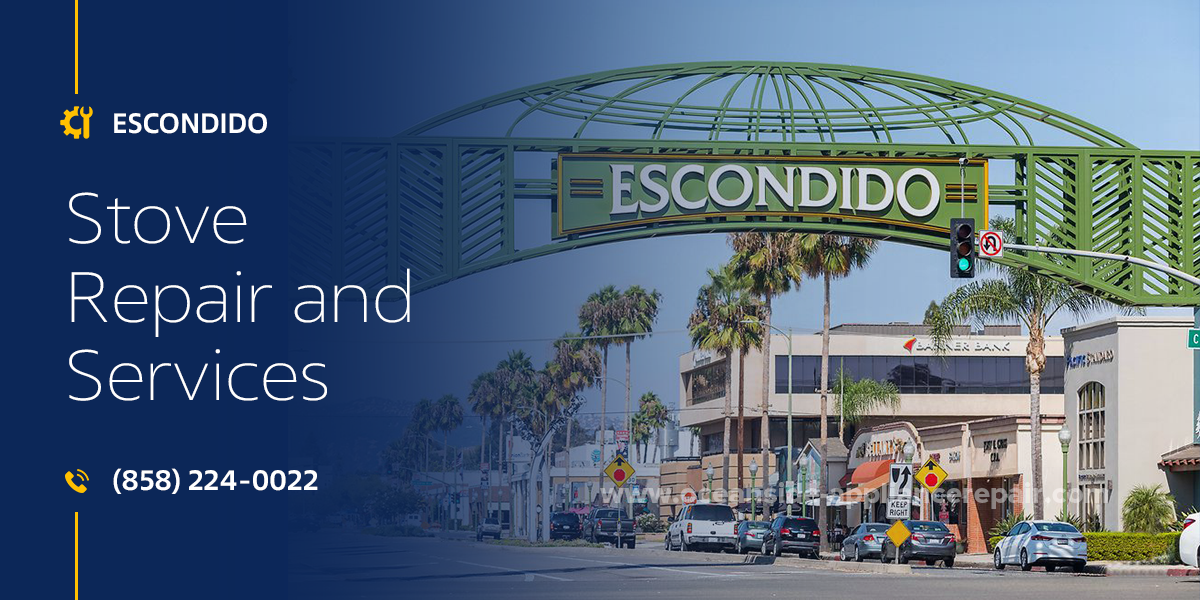 Stove Repair in Escondido
When cooking or heating, many people are using stoves of different types. Any of them requires regular maintenance and timely fixing. Not to stress about the condition of your appliance, you can always rely on Oceanside Appliance Repair Service Center. Our team provides top-quality services for these units since 2001. Our clients always get results of top quality in the shortest terms. You can rely on us anytime to get the most effective Stove Repair in Escondido, CA at a favorable price.
We have a team of experienced technicians who quickly diagnose and fix any problems with your electronics. There is no such issue that would puzzle them. In over 20 years of dealing with commercial and household stoves, our specialists refined their skills and knowledge perfectly. And they keep developing and have regular training. 
Our team has licenses that prove their highest qualifications and let them serve the latest and luxury units too. You should be confident in the highest quality of each Escondido Stove Repair we conduct.
The greatest proficiency also lets us indicate the reason for the problem even remotely. Thus, we offer phone diagnostics and free consultations to plan the best solution beforehand. Feel free to ask anything about the services we offer or advice about proper care for your item. When there is something wrong with your stove, just tell us the symptoms and we find the problem. This information lets us also announce the approximate cost of the needed solution unless the repair is not recommendable.
We offer only rational and efficient Stove Repair in Escondido, CA. Thus, if the unit is beyond repair or the cost of work is too high, we honestly tell you. If we find it out when arrive, you only pay a little service fee. And if during the phone talk, we understand that simple instructions are enough, we gladly provide you with them. But only if it is safe, as digging inside the stove without special knowledge may be dangerous. In any case, you get a clear vision of the situation if call us as soon as notice anything is wrong. 
There are many issues that may happen to your stove. The most common of them you can see in the list below.
It has issues with the power supply due to torn cords or isolation.

The gas supply is disrupted, as the gas lines or gas ports are clogged, the pilot light is faulty, or the ignitor or safety valve is damaged.

The unit emits a burning or electrical smell.

You notice a gas leakage regardless of if the stove is on or off.

All or some of the heating elements/burners produce no heat/flame.

The unit heats too weakly, too slowly, or not evenly.

The induction or electrical coils, grills, tans, bake elements, broiler elements, burners, thermostats, fan motors, or other components are out of order.

The flame is flickering, arcing, sparking, or shutting off itself.

Burners are hissing, ticking, or clicking during ignition.

The flame has the wrong color, like yellow, orange, or red.

It is not possible to change the level of flame, temperature, time, or other settings, as the controllers do not respond.

The information screen says about an error or is not glowing.

The light indicator or lamp fails to shine properly.

Some of the details are damaged like the light assembly, fan blades, baffles, grates, burner covers, buttons, keys, knobs, switches, handles, leveling feet, seals, belts, bearings, etc.

The door glass or any of the surfaces is cracked.

The stove produces knocking, humming, rumbling, buzzing, grinding, squealing, whistling, thumping, or other unusual sounds or vibrations.

Pans get a black bottom after cooking.

You cannot turn the appliance on, or it shuts off on its own.

The system of closing/opening the door is spoiled due to deformed gaskets, hinges, springs, joints, interlocks, latches, or lid switches.

The drawer mechanism is damaged, so the racks cannot roll out.

The convention fan or vent tube is obstructed.

The control board requires recalibration.
To eliminate most of those or other problems, we need to replace faulty details. We keep a vast selection of original and alternative parts in stock. We have a perfect match for every appliance and budget, so make your stove function perfectly for a long. Another reason for the effectiveness and flawless quality of our Escondido Stove Repair and Service is the best equipment. 
Our technicians use top-notch tools and materials to conduct each procedure tidily and precisely. Regardless of the type, brand, and model of your stove, we care for it in the best way. 
A decent company is hard to find but easy to identify. There are several indicators of the reliability of a top-rank provider of Stove Repair in Escondido, CA. Our ones are:
We are responsible for our actions and back up our work with a long-term guarantee. It is 90 days for our labor and 1 year for the details.

We successfully withstand competition with other local companies for a long time. People keep picking us for the greatest quality and comfortable conditions.

Our clients recommend us to others and entrust all electronics to our reliable hands. You can see tons of 5-star reviews on our Google page, which represent their honest opinion.
We always try to make our clients maximum satisfied. Thus, our team is flexible about the timing and pricing of any Escondido Stove Repair. We adjust to any budget and offer the most affordable solution for everyone. We clearly let you know what you pay for. Thus, you do not have to worry, as you pay the fairest price for a brilliant result. Plus, for returning clients we have a special deal, which is 15% off. 
Veterans and seniors get a $30 discount. And if you book an order online, you pay $25 less. We have no hidden fees or overcharging, as your trust means more!
And surely, we care for the most effective scheduling of our Stove Repair in Escondido, CA. For that, we have a convenient location, great management, and proper logistics. Thus, over 90% of orders take us less than a day to complete. If your case cannot wait even a bit, you can request an urgent arrival anytime, including non-working days and hours. The price of it is just slightly higher than for a regular order. But if you pick this option, the specialist leaves the office within 15 minutes.
By applying to Oceanside Appliance Repair Service Center, you make the best choice for your stove. Our technicians are the most competent, friendly, and proficient. They resolve any issues in the swiftest way, always providing top-quality solutions. All you need to do to get your unit to run like a clock for a long is to contact us. Our team arranges the best Escondido Stove Repair and Service at the most reasonable price for you!
Our specialist carries out repairs, works carefully in the process, so as not to leave behind any traces of equipment repairs, and not to spoil the appearance. After the repair is completed, our company will back it up with a 90-day labor warranty. If you encounter the same problem during the warranty period, rest assured we will return to get an appliance back up to perfectly working condition.
$30 OFF ON FIRST TIME SERVICING
Frequently asked questions
What if I have a complex repair of equipment?
Our specialist will come to your home, conduct diagnostics and offer solutions to the problem. And only after your consent, the repair will begin.
Do you have customer support?
Our managers will always listen carefully to you and give you initial recommendations on the malfunction of your equipment to determine the cost of repair. Call:
(858) 224-0022
Is the expert's visit free of charge?
If you order a call to the master through our website, you are guaranteed to get a free diagnosis of your device, and detection of breakage.