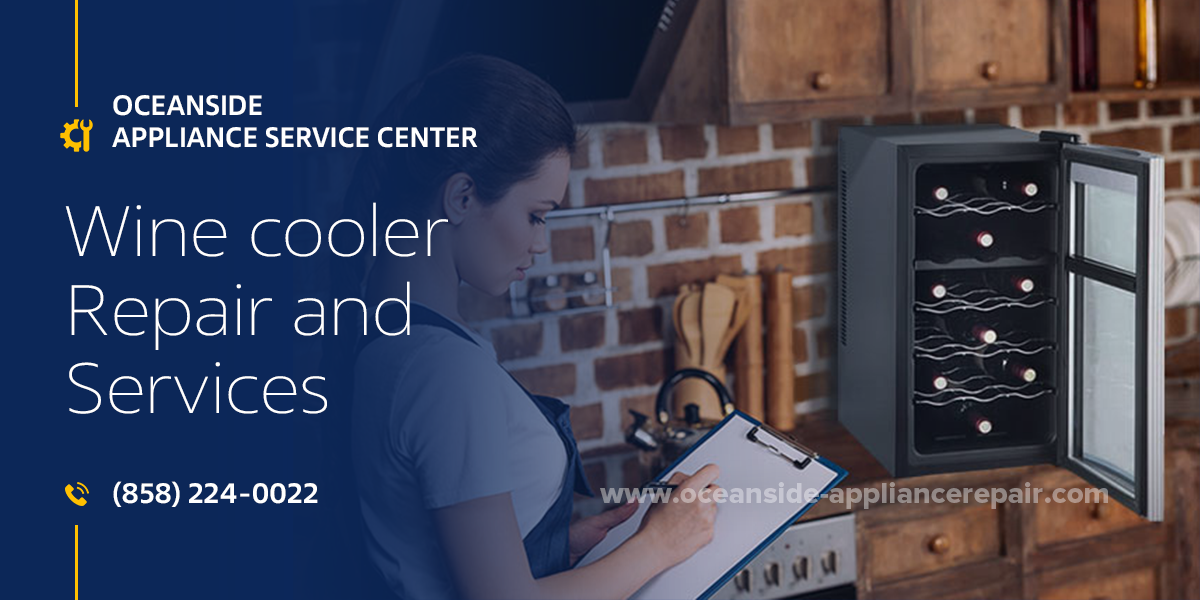 Wine Cooler Repair and Service
The wine coolers allow you to store your wine bottles at the perfect temperature so they can age properly. If you're a wine enthusiast, a wine cooler is a convenient way to store and cool your wine. When your wine cooler isn't cooling correctly or has completely stopped working, your entire collection could be in big danger. You won't have to buy a new wine cooler or replace your expensive wine collection if you contact Oceanside Appliance Service Center. We provide high-quality Wine Cooler Repair in San Diego County at affordable prices.
When You Should Call a Wine Cooler Repair Technician?
Don't panic if your wine cooler stops cooling. Our fast Wine Cooler Repair and Service in San Diego County will find the source of the problem. We will get your wine cooler back in working order as quickly as possible. Our technicians are knowledgeable and factory-trained in a broad range of wine cooler brands to repair them quickly and efficiently. Specialists can do any Wine Cooler Repairs with precision and quality proficiency. Contact us if you're experiencing any issues with your wine cooler:
The wine cooler doesn't work.

The compressor is overheating.

One of the key parts of the wine cooler isn't working.

The wine cooler mechanism is not working properly.

Buttons aren't responding.

The display panel is malfunctioning or is showing an error message.

The wine cooler is emitting a burning electrical smell.

The appliance doesn't turn on.

The wine cooler makes a weird noise.

There are some issues with the fan.
If the fix is not obvious, it's likely time to contact a Wine Cooler Repair service. When your wine cooler is not cooling it is likely a job for a reputable service center in San Diego County. We will send a technician for Wine Cooler Repairs and Services to fix any issues that may arise. The specialist will provide an affordable quote and order spare parts if necessary.
How Much Does a Wine Cooler Repair Cost?
Many of our customers are concerned with the question of how much it costs to repair wine coolers. Our specialist can announce the preliminary cost of repairs over the phone. You will need to provide the make and model of the device, as well as a description of the problem.
Our specialist will inform you of the exact cost of the wine cooler repair on the spot. The technician will carry out diagnostics on professional equipment. This will allow the specialist to accurately determine the breakdown and its possible causes. Our experts always offer the most cost-effective way to troubleshoot. Only after agreeing on all the details of the repair with the customer, the master will begin his work.
Why Do Clients Choose Us for Wine Cooler Repairs?
Oceanside Appliance Service Center proudly offers efficient Wine Cooler Repair and Service in San Diego County and the surrounding areas. Our team is well-equipped and ready to handle all types of Wine Cooler Repairs no matter how complex they are. We're committed to providing excellent repairs using only the highest-quality spare parts backed by the manufacturer's warranty. So, you can depend on your wine cooler repair specialist to fix the problem. Be sure that your appliance will perform properly for a long time.
Our team at Oceanside Appliance Service Center is here to respond to you with fast and efficient service. In addition to our affordable and effective Wine Cooler Repair and Service, we offer a guarantee on all of our repair work. That is why our customers always trust us and recommend us to their friends! If you have any questions about wine cooler repairs, please contact us for a free consultation at any convenient time.
Our specialist carries out repairs, works carefully in the process, so as not to leave behind any traces of equipment repairs, and not to spoil the appearance. After the repair is completed, our company will back it up with a 90-day labor warranty. If you encounter the same problem during the warranty period, rest assured we will return to get an appliance back up to perfectly working condition.
$30 OFF ON FIRST TIME SERVICING
Frequently asked questions
What if I have a complex repair of equipment?
Our specialist will come to your home, conduct diagnostics and offer solutions to the problem. And only after your consent, the repair will begin.
Do you have customer support?
Our managers will always listen carefully to you and give you initial recommendations on the malfunction of your equipment to determine the cost of repair. Call:
(858) 224-0022
Is the expert's visit free of charge?
If you order a call to the master through our website, you are guaranteed to get a free diagnosis of your device, and detection of breakage.