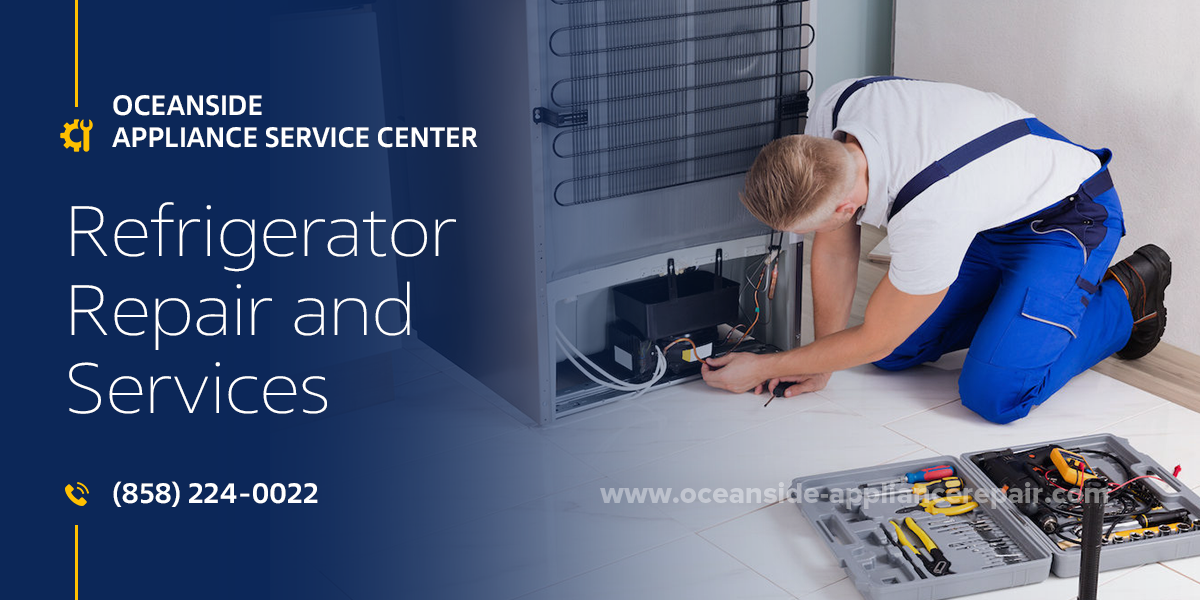 Refrigerator Repair and Service
We can live without many appliances. But some of them you really need if you want to feel comfortable. A refrigerator is such an appliance. But what should you do if something goes wrong with it? If anything happens with this domestic item, call Oceanside Appliance Service Center. We know how to solve any issues that might happen with your refrigerator. Our specialists provide high-quality Refrigerator Repair in San Diego County.
Who Can Help Me with Refrigerator Repair?
Normally, a new refrigerator should not cause major issues. But in this case, it is important to follow the manufacturer's instructions. But if your refrigerator is more than 5 years old, you should be attentive to the way it works. If your refrigerator is old, no matter how carefully you follow the instructions, the equipment can break at any time. If the appliance generates excessive condensation or you notice unusual noises, it means that you need Refrigerator Repair and Service. 
Our specialists provide the most reliable Refrigerator Repair and Service. Do you have a refrigerator of an unusual brand? It doesn't matter. Our technicians repair refrigerators of all brands and all models. As well, it does not matter where you bought it. You can be sure that we will handle it. Our specialists are trained to handle even the most complicated cases. So if you need Refrigerator Repair, feel free to contact us.
The Best Refrigerator Repair Service in San Diego County
Do you want the best Refrigerator Repairs? Call us! We are a leading service provider thanks to the excellent quality of work that our specialists provide. We use only high-quality spare parts, recommended by the refrigerator manufacturer. 
Forget about any discomfort with our friendly and professional team. With us, you get the highest quality Refrigerator Repairs and Services and the friendliest approach. Our highly qualified workers will do all to make you forget about any issues with your refrigerator. 
If you notice any of the following problems with your refrigerator, please contact us immediately:
The refrigerator makes strange noises.

Your refrigerator doesn't cool products.

There is an unpleasant smell.

The freezer is not working.

The refrigerator does not turn on or does not turn off at all.

There is a large build-up of snow in the freezer.
Whatever issue arises, do not wait too long. We can solve many problems with your refrigerator easily and fast if you notice them in time. If you see that the products in the refrigerator start sweating, there is something with the cooling system. If your refrigerator doesn't cool enough, call us. Or maybe your refrigerator runs constantly? This is a clear signal that something is wrong with it. Call us immediately. Do not wait till the refrigerator breaks down!
We Are Available Around the Clock
We are available constantly. You can call us or place your order online for Refrigerator Repairs of any complexity. Any option is available. Normally, our specialists handle 95% of requests either on the same day or in the morning of the following day. Do you have an emergency? Just indicate it in your order, and our technician will come to your place asap. The price for an urgent service is higher, however, your comfort is more precious. 
We have plenty of happy clients who can recommend our Refrigerator Repair and Service. Our specialists can handle even the most complicated and the most urgent cases. There are no such issues with your refrigerator that we couldn't fix, and we can prove it to you. With reliable and excellent repair service Oceanside Appliance Service Center will make your life more comfortable.
Our specialist carries out repairs, works carefully in the process, so as not to leave behind any traces of equipment repairs, and not to spoil the appearance. After the repair is completed, our company will back it up with a 90-day labor warranty. If you encounter the same problem during the warranty period, rest assured we will return to get an appliance back up to perfectly working condition.
$30 OFF ON FIRST TIME SERVICING
Frequently asked questions
What if I have a complex repair of equipment?
Our specialist will come to your home, conduct diagnostics and offer solutions to the problem. And only after your consent, the repair will begin.
Do you have customer support?
Our managers will always listen carefully to you and give you initial recommendations on the malfunction of your equipment to determine the cost of repair. Call:
(858) 224-0022
Is the expert's visit free of charge?
If you order a call to the master through our website, you are guaranteed to get a free diagnosis of your device, and detection of breakage.