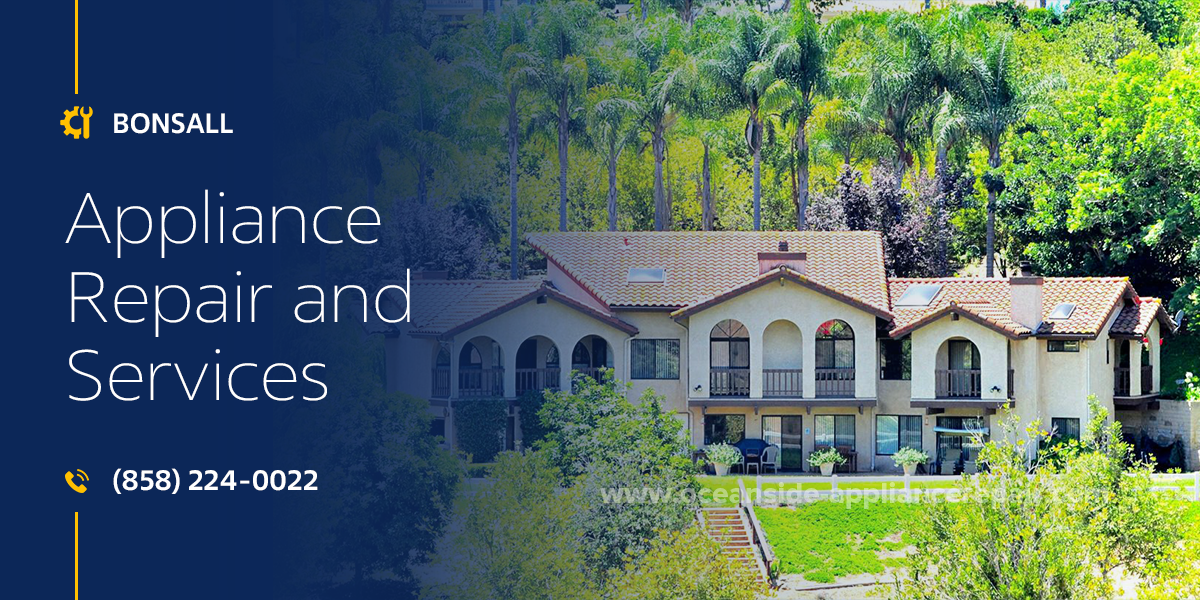 Appliance Repair in Bonsall, California
Your household totally depends on all of its appliances working well. And if some device breaks down you want to fix it ASAP. Whenever there is something wrong with your appliances, call Oceanside Appliance Repair Service Center. We are a team of experienced professionals who provide Appliance Repair in Bonsall, CA at affordable prices.
What Are the Most Common Appliance Breakdowns?
Sooner or later, any equipment breaks down, even if you handle it with care. In such a case, you will need Appliance Repair in Bonsall, CA immediately. Most often, customers call our technicians in case of a breakdown of washing machines, refrigerators, ovens, and air conditioners.
The most common refrigerator failures are freon leaks, thermostat failures, compressor failures, or clogged capillary tubes. In ovens, the control unit breaks down or parts of the system wear out. In such a case, the oven simply stops heating.
In washing machines, the heating element can burn out, the electronic unit fails, and even the drum brakes. Complaints about air conditioning come in the summer. It usually either does not turn on or does not cool the air. And sometimes dust clogs the air filters of the indoor unit.
The first thing to do in the event of a breakdown is to find the documents. Check whether the warranty is valid for the appliance. But not all cases are considered guaranteed. If you load too many laundries into the washing machine and it breaks, anybody will not repair it for free. If the warranty is over, it is important to seek help from experienced professionals for Bonsall Appliance Repair.
Fast and Reliable Repair Services
Our service center is a modern workshop with the latest tools and high-precision equipment. We have everything for a complete Bonsall Appliance Repair. Even if replacement parts are required, we have any branded components in the right quantity in stock.
Here you can order an effective Appliance Repair in Bonsall, CA. All devices first undergo a thorough diagnosis. Then the specialists choose the best option for correcting problems and coordinate the costs with the owner. Technicians get to work only after agreeing on the details with the client.
Our service center offers you reliable and fast Appliance Repair in Bonsall, CA to fix your appliance breakdowns professionally. We use only original spare parts and consumables, which are constantly available in our warehouses. This allows us to carry out repairs of any complexity on the spot on the same day. 
Our technicians use only professional equipment and a full set of necessary tools in their work. Therefore, there is no such breakdown that we could not solve.
In the end, our technician checks the operability of the device and gives recommendations for its further use. We are confident in the quality of our services. So, we always provide a long-term guarantee for all types of repairs.
Another advantage of ours is favorable prices. We always estimate the cost of Bonsall Appliance Repair exactly as much as is necessary to ensure decent quality. Our specialists never value our services above the market price. It's because we are interested in our clients coming back to us again and again.
Our technicians have been providing the most reliable Bonsall Appliance Repair and Service for more than 20 years. It means that our clients trust us, and there is a reason for it. We offer any kind of home appliance repair, all cases, and all brands. Each case of appliance repair we can fix at your home on the same day. Call Oceanside Appliance Repair Service Center or place your order online, and our technician will come asap.
Our specialist carries out repairs, works carefully in the process, so as not to leave behind any traces of equipment repairs, and not to spoil the appearance. After the repair is completed, our company will back it up with a 90-day labor warranty. If you encounter the same problem during the warranty period, rest assured we will return to get an appliance back up to perfectly working condition.
$30 OFF ON FIRST TIME SERVICING
Frequently asked questions
What if I have a complex repair of equipment?
Our specialist will come to your home, conduct diagnostics and offer solutions to the problem. And only after your consent, the repair will begin.
Do you have customer support?
Our managers will always listen carefully to you and give you initial recommendations on the malfunction of your equipment to determine the cost of repair. Call:
(858) 224-0022
Is the expert's visit free of charge?
If you order a call to the master through our website, you are guaranteed to get a free diagnosis of your device, and detection of breakage.