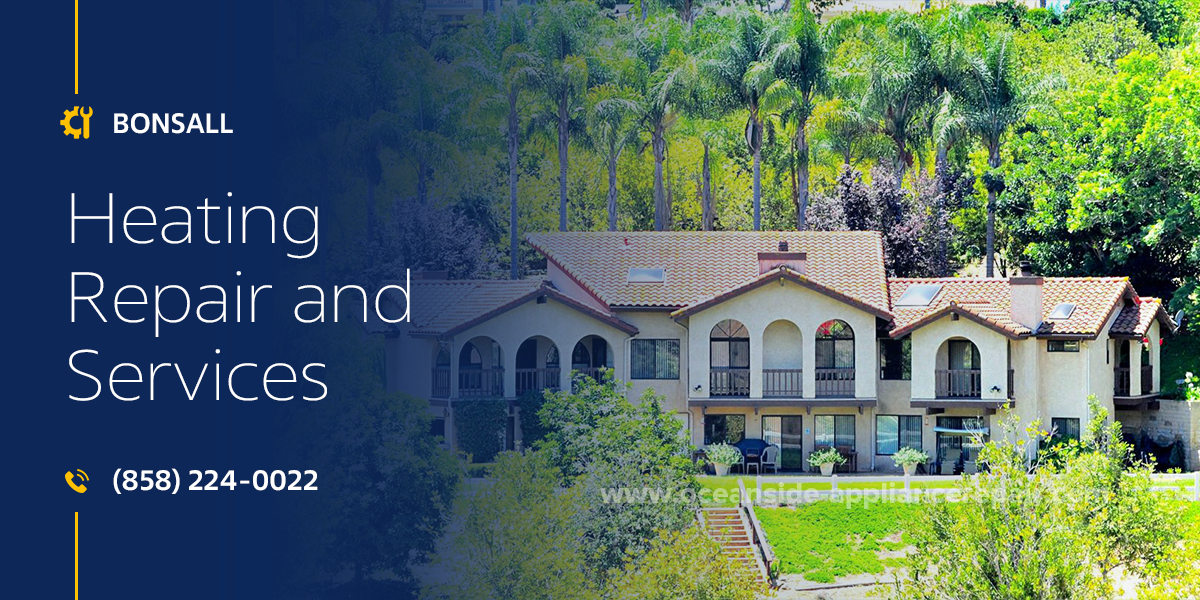 Heating Repair in Bonsall
A warm and comfortable room is an essential component of normal well-being, mood, and productivity. Thus, people use various heating appliances in their homes, offices, and other places. To perform safely and properly, these electronics should get proper cleaning, regular maintenance, and timely fixing. To get all that at the highest quality and in the shortest terms, apply to Oceanside Appliance Repair Service Center. We have over 20 years of experience providing the best Heating Repair in Bonsall, CA! With us, you get a flawless solution at a fair price.
The item that saves you from the cold should always function correctly. And our team never lets you feel uncomfortable with a failed heater for too long. If you apply to us, your appliance gets back to normal the same day. We have outstanding proficiency, great management, and a convenient location. Thus, our company offers the quickest Bonsall Heating Repair. If you want us to arrive during days off or non-working hours, that is also possible. Just inform us about such a requirement, and the technician sets off immediately for a little additional payment.
Before applying for Heating Repair in Bonsall, CA, you can also clarify any needed information. Just call us and tell us what makes you worry. Our friendly specialists conduct free consultations to provide you with useful advice. We also estimate the situation to find out what procedures can help your item. Our team is competent enough to find the reason for breakage during remote diagnostics even without touching the appliance! After that, we find the most effective solution and announce its approximate cost to you.
We are always honest with you. It applies to inform you both about the condition of your heater and the expenses for fixing it. Thus, if it is more cost-effective and rational to replace the item, we will clearly inform you. Our team provides only the best solutions, so you see the results of your investment. We make the best Bonsall Heating Repair and Service affordable to anyone! And if you apply to us again, the next order costs 15% less. By booking online, you save $25. Veterans and seniors get a $30 discount.
The most reasonable price for decent service is just one of the reasons why our clients keep picking us. We adjust to the wishes of our customers and offer convenient and stressless solutions. Our team is responsible and proficient, which always means the best attitude and brilliant results. It makes our clients entrust all their electronics to our reliable hands. They recommend our Heating Repair in Bonsall, CA to other people too. They also share their honest opinion in numerous 5-star comments on our Google page.
When we talk about the amazing results of our work, we mean the highest quality. Our team consists of the most qualified specialists who never stop developing. They are insured and have licenses for serving luxury and the latest items, too. We offer the best solutions for any household or commercial heater, regardless of its type, brand, or model. Our team conducts perfect Bonsall Heating Repair, as their skills and knowledge are outstanding!
One more aspect of durable and effective work is the equipment and details. With state-of-the-art tools and materials, our technicians conduct each procedure dustlessly and neatly. We provide each Heating Repair in Bonsall, CA accurately and are in charge of its quality. We solidify our work with a 90-day labor warranty and a 1-year one for the spare parts we use. Our company cooperates with the best manufacturers of original and alternative components. Thus, we have perfectly suitable details for each appliance.
Worn spare parts cause most breakages in heaters. And it is not always easy to figure out what happened without specific experience. But our specialists can quickly understand what is wrong. The most common troubles that may occur with these appliances are listed below.

The heater cycles on and off, shuts off abruptly, or does not turn on at all.

The item is unresponsive to the remote control's commands.

Some of the hardware parts are out of order, like fan, thermostat, motor, condenser, heat pump, compressor contactor, limit switch, etc.

The item gives off a burning, gas, or electrical odor while working.

The gas supply is unstable or ruined as a result of clogged gas lines, broken gas or reversing valves, or a malfunctioning igniter or ignition control.

The appliance does not heat at all.

It is heating unevenly, slowly, weakly, or too much.

The control panel fails, the controllers do not respond, or the screen is blank or displays an error message.

It is not possible to adjust mode, temperature, or other settings as needed.

The item is rattling, knocking, humming, buzzing, vibrating, ticking, clicking, popping, squealing, pinging, thumping, or making other unusual noises while operating.

The ducting system is broken, clogged, or leaking.

The air from the heating vents has a foul smell or is way too humid.

There is no airflow, or it is too weak.

The HVAC filters, dampers, condensate drains, evaporator or condenser coils, ignition, flame sensors, flue pipes, outdoor units, air handles, or vents have too much dirt, dust, or debris, so are blocked.

Problematic wiring, isolation, or plugs cause electricity supply issues.

Missing, broken, or worn-off knobs, buttons, keys, switches, registers, fan blades, baffles, leveling feet, belts, seals, bearings, valves, or other details require replacement.

The heat transfer liquid is leaking.
Oceanside Appliance Repair Service Center is a reliable provider that can handle anything! We resolve issues of any complexity in a way that is convenient for you. Our team delivers flawless quality in the shortest time possible. All you need to do is just call us or place an application online. With us, you get the most effective Bonsall Heating Repair and Service at a reasonable price.
Our specialist carries out repairs, works carefully in the process, so as not to leave behind any traces of equipment repairs, and not to spoil the appearance. After the repair is completed, our company will back it up with a 90-day labor warranty. If you encounter the same problem during the warranty period, rest assured we will return to get an appliance back up to perfectly working condition.
$30 OFF ON FIRST TIME SERVICING
Frequently asked questions
What if I have a complex repair of equipment?
Our specialist will come to your home, conduct diagnostics and offer solutions to the problem. And only after your consent, the repair will begin.
Do you have customer support?
Our managers will always listen carefully to you and give you initial recommendations on the malfunction of your equipment to determine the cost of repair. Call:
(858) 224-0022
Is the expert's visit free of charge?
If you order a call to the master through our website, you are guaranteed to get a free diagnosis of your device, and detection of breakage.