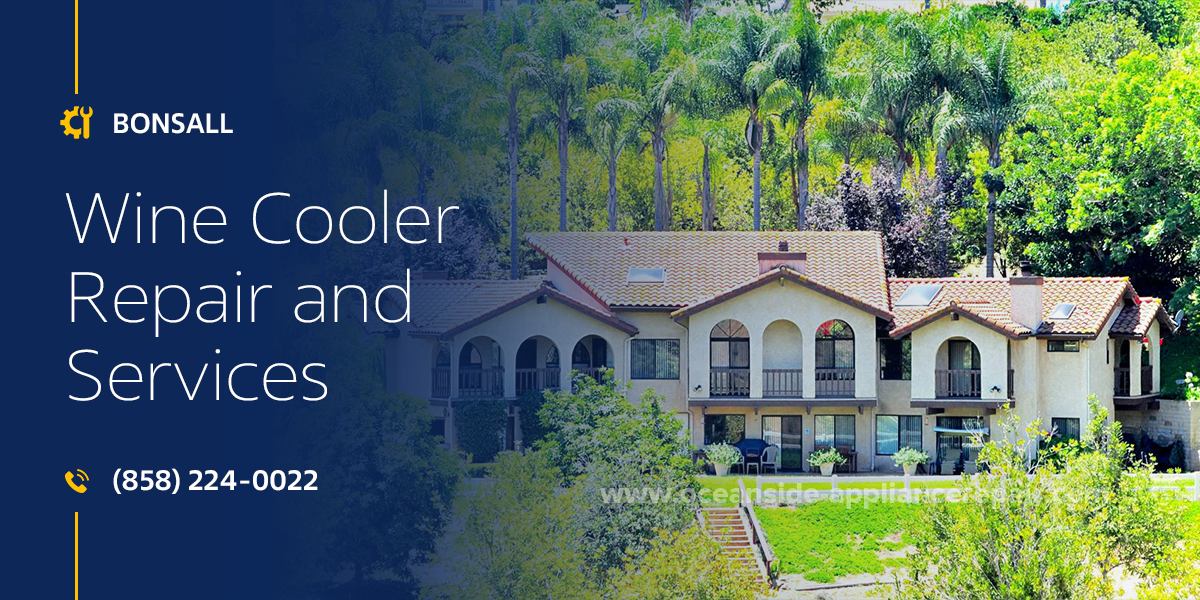 Wine Cooler Repair in Bonsall
Wine holds a special place in the hearts of many people all around the world. Thus, we even have a special appliance for storing it in perfect condition. And if you want to maintain or fix your wine cooler, apply to the Oceanside Appliance Repair Service Center. Our company offers the best services. Since 2001, we have made hundreds of clients satisfied with our work. Call us at any moment if you need a swift, cost-effective, and highest-quality Wine Cooler Repair in Bonsall, CA.
Time is essential when talking about this appliance. It cannot be replaced with just a fridge, and to keep bottles unspoiled, the item requires the earliest assistance. With us, you get the most effective Bonsall Wine Cooler Repair whenever needed. Our local office is open round the clock to provide prompt reaction. Thus, we complete the absolute majority of orders within a single day. Is your case urgent, or do you need the item fixed at night or on a day off? Rely on us! For a slightly higher price, we will rush to your place immediately!
Even in that case, the cost of our work remains favorable. We believe that instead of overcharging, it is better to provide more people with affordable service. Therefore, we have the most reasonable rates for any Wine Cooler Repair in Bonsall, CA. Our specialists find the most rational solution and clearly inform you of what you are paying for. Plus, we have a 15% discount for returning clients. For online booking, the price of work gets $25 lower. And for veterans and seniors, we have $30 off.
Our clients appreciate us not just because of our adequate pricing. The main aspect of each service is its quality. And in our case, it is always brilliant. 
Our team has over 20 years of experience providing the best Bonsall Wine Cooler Repair and Service. Each procedure we conduct is effective and durable. Our technicians love their job, so they keep developing daily. Their skills and knowledge let them fluently find and resolve any issues with household or commercial wine coolers. Thus, we have a proper approach to items of all brands and models. And to serve luxury and the latest units effectively too, we have regular training and licensing.
To proceed flawlessly with any Wine Cooler Repair in Bonsall, CA, we use the newest equipment. Top-notch tools and materials make our work even more precise and fluent. We cooperate with leading manufacturers of instruments and details. Our specialists pick perfectly matching components for each appliance, which makes it run smoothly for a long time. To show you our responsibility and reliability, we back up our work with a long-term guarantee. It lasts 1 year for the spare parts we use and 90 days for our labor.
And that is not the only reason to trust us! We believe that the opinion of our customers is the best indicator of our competence. And they post numerous positive reviews on the net, as our service makes them fully satisfied. Our clients recommend us to others as the best provider of Bonsall Wine Cooler Repair. We are happy about that and are getting even better for you all the time! Our friendly team is a reliable provider of the most convenient and effective solutions for your electronics.
If you have any questions, call us anytime to get a free consultation. We also conduct remote diagnostics to estimate the condition of your wine cooler. To clarify the situation, just let us know what makes you worry. The most common troubles that happen to these appliances are…

The control panel stopped working (the screen is blank, shows an error, or does not light up, the controls malfunction, or the timer does not work).

You cannot control any settings.

The appliance goes on and off repeatedly, turns off abruptly, or cannot turn on.

It has an incorrect temperature or does not cool at all.

Dust or debris is blocking ventilation, coils, or fans.

Moisture is condensing inside the item, resulting in high humidity, which damages corks and labels.

Ice or snow builds up on the walls, coils, or bottles inside the item.

Shelves, doors, or body surfaces are damaged or cracked.

The door's gasket, joints, springs, hinges, interlocks, lid switches, or latches are spoiled or worn, so it cannot close, open, or latch normally.

The refrigerating coolant leaks or requires refilling.

There is a problem with the Peltier module, process control block, starter, capacitor, sensors, compressor, evaporator, thermostat, fan, motor, or another component.

There is a problem with the exterior or interior lamps or indicators.

Some of the details are worn out, broken, or missing (buttons, knobs, switches, keys, leveling feet, handles, seals, bearings, fan blades, baffles, etc.).

Damaged isolation, wiring, or plugs cause issues with the electricity supply.

The wine cooler emits a burning or electrical smell.

The item makes strange noises such as vibrating, humming, bubbling, knocking, squealing, buzzing, thumping, grinding, squealing, and so on.
Our technicians have resolved these and other issues many times before. Thus, we swiftly find the reason for the problem and the most effective way out. It lets us announce the approximate cost of the needed Wine Cooler Repair in Bonsall, CA beforehand. But if your unit is beyond repair or the needed procedures cost too much, we will honestly inform you. 
Clients of Oceanside Appliance Repair Service Center get only effective solutions. Our skilled, friendly, and qualified team deals with any issues in the shortest possible time. Do not hesitate to contact us when you need decent Bonsall Wine Cooler Repair and Service. We make your appliance run like a clock again at the most favorable price. We deliver brilliant quality in the most convenient way for you!
Our specialist carries out repairs, works carefully in the process, so as not to leave behind any traces of equipment repairs, and not to spoil the appearance. After the repair is completed, our company will back it up with a 90-day labor warranty. If you encounter the same problem during the warranty period, rest assured we will return to get an appliance back up to perfectly working condition.
$30 OFF ON FIRST TIME SERVICING
Frequently asked questions
What if I have a complex repair of equipment?
Our specialist will come to your home, conduct diagnostics and offer solutions to the problem. And only after your consent, the repair will begin.
Do you have customer support?
Our managers will always listen carefully to you and give you initial recommendations on the malfunction of your equipment to determine the cost of repair. Call:
(858) 224-0022
Is the expert's visit free of charge?
If you order a call to the master through our website, you are guaranteed to get a free diagnosis of your device, and detection of breakage.