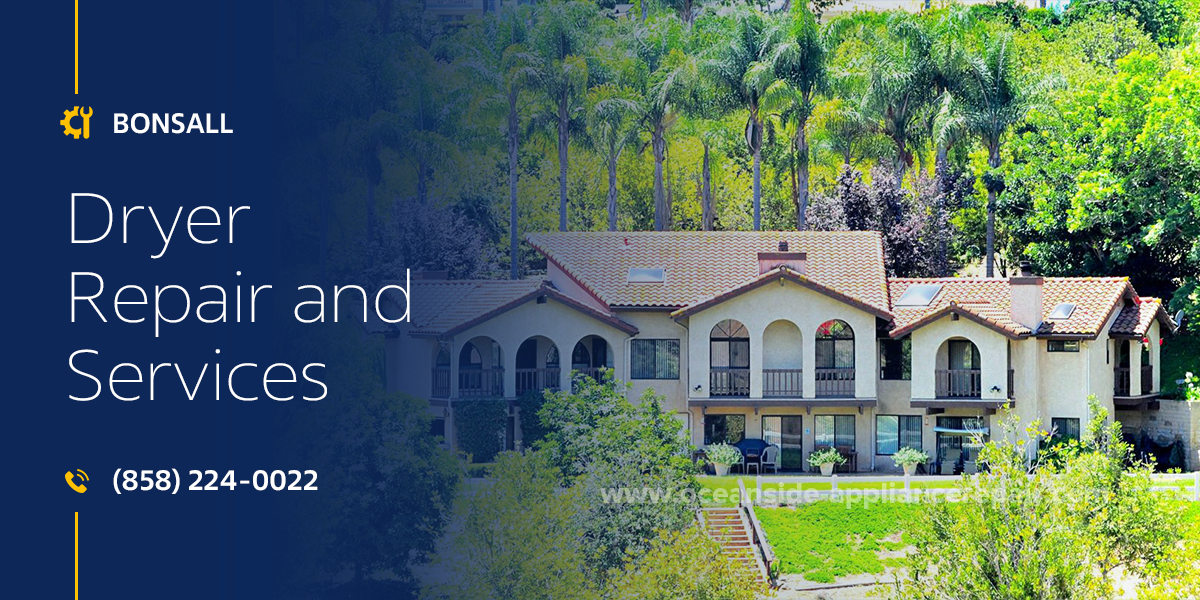 Has your dryer stopped working as it should? Apply to the Oceanside Appliance Repair Service Center and forget about this issue shortly. We also offer the best installation and maintenance services to prevent possible problems with this unit. By applying to us, you can be confident of getting high-quality assistance in the quickest time possible. We have been providing the most effective Dryer Repair in Bonsall, CA at reasonable prices for over 20 years.
Our top priority is to deliver high-quality services in a timely manner without compromising the quality of the work. Our professionals are licensed and have extensive experience of over two decades in handling even luxury and the latest items. Regardless of the brand and model of your appliance, we conduct the best Bonsall Dryer Repair for it. Our technicians have outstanding skills and knowledge and are constantly developing. They find the best approach for any commercial or household unit and make it perform like a brand-new one again.
One of the important aspects of that is the quality of the equipment and spare parts we use. We have selected the best tools and materials to conduct each procedure neatly and precisely. To make our Dryer Repair in Bonsall, CA durable and effective, we also pay attention to the components we use. Our team applies perfectly fitting original details or their analogs to match any appliance and wallet. This way, we can make your appliance serve you properly for many years.
If you apply to us for Bonsall Dryer Repair and Service, you make a brilliant choice. Our reliability has many proofs. First and foremost, we provide a long-term guarantee for our work. It is 90 days for our labor and 1 year for the details. Another indicator is that we successfully go on developing in the condition of constant competition with numerous repair centers around. And the most important is the opinion of our clients. They return to us and recommend the same to friends. They also post tons of positive reviews on the net and note our professionalism and responsibility there.
One of the favorite features of our clients is the price of our Dryer Repair in Bonsall, CA. We have the fairest rates, always honestly reporting all the expenses. You know what you pay for if you apply to us, and this cost is always affordable for everyone. Plus, for the next order, returning customers get a 15% discount. For veterans and seniors, the price of our work is $30 lower. And to save $25, just make an online booking. We offer only cost-effective solutions. And if the needed procedures are too expensive, making the work irrational, we honestly recommend a replacement.
To determine what solution is best and how much it costs, we offer free consultations and remote diagnostics. Just tell us what makes you worry, and we will find the best answer. Our friendly team is always ready to provide you with useful information and instructions. When our arrival for maintenance or repair is needed, we help you arrange it in the most convenient way. If your dryer behaves wrongly, let us know. The most common troubles you may face with this appliance are listed below.

It does not dry the clothes properly, so they remain wet or become partially dry.

The clothes become damaged in the dryer.

Broken, worn off, or missing parts, such as handles, knobs, buttons, keys, switches, glides, drum support rollers, belts, leveling feet, fan blades, baffles, pipes, hoses, ducts, wiring, etc.

The drum does not rotate.

The dryer shuts off abruptly or cannot turn on.

Some of the hardware parts do not work (start switch, fuse or circuit breaker, thermal resistor, cycling or high-limit thermostat, heating element, igniter, timer, blower wheel, motor, etc.).

The control panel is broken or needs to be reset.

Problems with the supply of gas or electricity.

The controllers are defective, unresponsive, or connected loosely.

It has clogged or unclean gas lines, pipelines, hoses, valves, ducts, exhaust vents, lint filters, or moisture sensor strips.

The drum is out of balance, out of place, or broken.

You are unable to select the required mode, speed, temperature, or other parameters because of problems with software, connections, or controllers.

The screen is blank, shows an error message, or does not light up.

The LED indicator is flashing red, flickering, or not glowing.

The washing cycle pauses in the middle, repeatedly turns on and off, cannot begin or finish, takes too long, or runs nonstop.

It smells dirty inside the tub.

There is an electrical, gas, or burning smell coming from the appliance.

The item makes various loud and unusual noises (knocking, rumbling, thumping, buzzing, humming, squealing, hooting, grinding, buzzing, gurgling, vibrating, clicking, etc.).

The door glass or the body surface has a crack.

Problems with the lid switches, interlocks, latches, gaskets, joints, hinges, or springs prevent the door from latching, closing, or opening correctly.

When the item is on, its body becomes excessively hot.

The installation was improper.
If you face any of those or other issues, apply to us for Bonsall Dryer Repair! There is nothing we cannot deal with. The only reason we do not arrive and fix your item is that it is beyond repair. For all other cases, rely on us for the best results.
We know that for a busy modern life, a dryer is an essential time-saving appliance. Thus, we arrive at your place exactly when you want us to. Our team spends the minimum amount of time reaching your place, as we have the best location, management, and logistics. Together with outstanding competence, it lets us finish almost all orders the same day we get an application. We also have the option of providing urgent Dryer Repair in Bonsall, CA for a small extra payment. It costs slightly more but means that the specialist departs for your address immediately, even during non-working periods.
The team of Oceanside Appliance Repair Service Center is the best assistant for all your dryer's needs. Since 2001, we have restored the proper condition of hundreds of such items. With the best attitude and professionalism, we make any troubles vanish sooner than they become inconvenient for you. We are the best choice if you need swift, high-quality, and affordable Bonsall Dryer Repair and Service.
Our specialist carries out repairs, works carefully in the process, so as not to leave behind any traces of equipment repairs, and not to spoil the appearance. After the repair is completed, our company will back it up with a 90-day labor warranty. If you encounter the same problem during the warranty period, rest assured we will return to get an appliance back up to perfectly working condition.
$30 OFF ON FIRST TIME SERVICING
Frequently asked questions
What if I have a complex repair of equipment?
Our specialist will come to your home, conduct diagnostics and offer solutions to the problem. And only after your consent, the repair will begin.
Do you have customer support?
Our managers will always listen carefully to you and give you initial recommendations on the malfunction of your equipment to determine the cost of repair. Call:
(858) 224-0022
Is the expert's visit free of charge?
If you order a call to the master through our website, you are guaranteed to get a free diagnosis of your device, and detection of breakage.