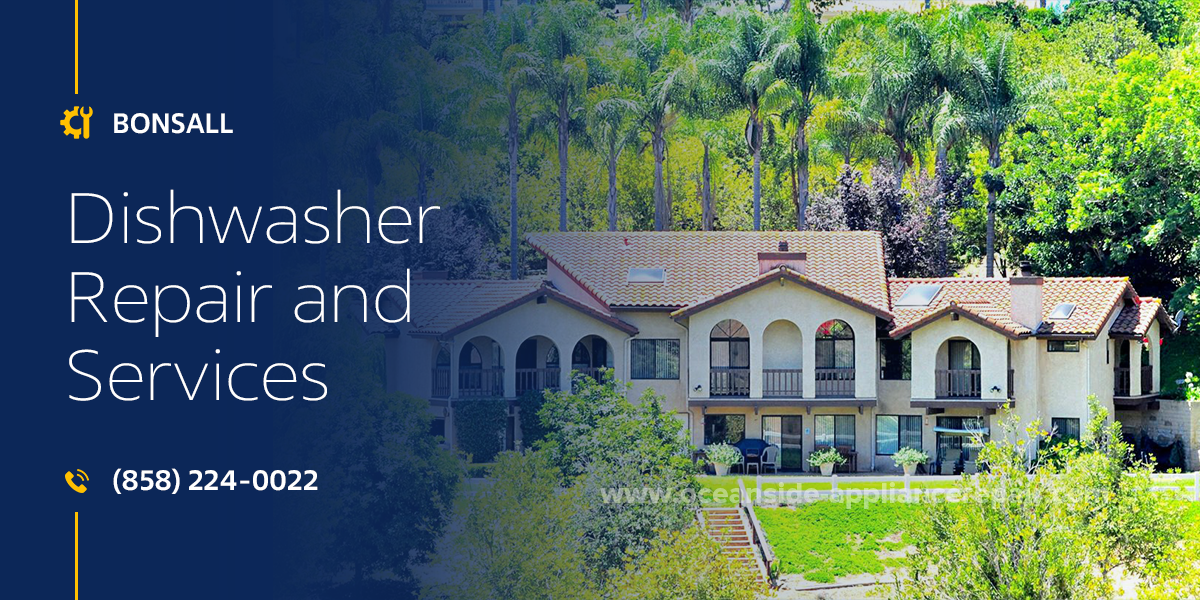 Dishwasher Repair in Bonsall
To ensure the proper cleanliness of dishes and save time, we use dishwashers in our houses. And for restaurants and cafés, this appliance is even more essential. To have it always in perfect working condition, entrust it to Oceanside Appliance Repair Service Center. With our extensive experience and knowledge, we offer the most effective solutions at favorable prices. By applying to us, you get the highest quality Dishwasher Repair in Bonsall, CA.
If you want the most effective and prompt solution, always pay attention to the condition of your dishwasher. Ideally, schedule regular maintenance to avoid breakages and help your item perform its duties properly. You can ask our friendly team anything about it and get a useful consultation. And when your item fails, get remote diagnostics to plan the best Bonsall Dishwasher Repair. We offer the most efficient solutions, even if it means free instructions or advice to replace the appliance.
We will honestly inform you if it is not cost-effective or rational to fix your item. Caring for the comfort of our clients first, we never waste your time or money. By applying to us, you get the best Dishwasher Repair in Bonsall, CA at an affordable price. We do not overcharge our clients but, on the contrary, have pleasant discounts. Veterans and seniors get $30 off the price. The returning clients pay 15% less. And for online bookings, we offer a $25 discount.
The price of work often depends on the cost of the needed parts for replacement. Having various original and alternative ones in stock, we use only high-quality components. Our technicians pick perfectly fitting details for any commercial or household dishwasher. They also use the best professional equipment, tools, and materials for all types of procedures. Thus, each Bonsall Dishwasher Repair and Service we provide is precise, effective, and durable. We are confident in it and always provide a 90-day labor guarantee. We also back up the details we installed with a 1-year warranty.
Proper tools and details mean much. But the main reason for the highest quality of our work is the proficiency of our team. Providing the best Dishwasher Repair in Bonsall, CA for over 20 years, they always deliver reliable results. Our technicians know all the subtleties of these appliances, regardless of their brand and model. Plus, their outstanding qualifications and competence are leveling up all the time. Our team has licenses that prove their ability to perfectly serve even luxury and the latest units.
We make issues of any complexity vanish in the most effective and quick way possible. Below, you can see a list of the most common troubles that happen to dishwashers.

The item is making strange noises such as rumbling, buzzing, vibrating, humming, popping, squealing, grinding, or thumping.

The information display shows an error message or does not glow.

Timers and controllers do not function properly, so it is impossible to make any adjustments.

You cannot turn the dishwasher on.

The item goes off on its own.

Some of the hardware parts (thermostat, heating element, thermometer, pump, motor, etc.) do not work.

Water or foam is leaking outside the appliance.

Due to broken lid switches, interlocks, latches, joints, springs, gaskets, or hinges, the door does not close, latch, or open normally.

The door glass is fractured.

Keys, knobs, buttons, switchers, cutlery baskets, holders, seals, leveling feet, pipes, float switches, supply/water inlet valves, hoses, filters, handles, and other parts are missing, broken, or worn out.

The LED indicator is blinking red, going on and off, or not glowing at all.

The detergent does not reach the tub.

While operating, the appliance becomes extremely hot.

The racks are unable to roll out due to a broken slide arm or a damaged drawer mechanism.

The item produces a burning or electrical smell.

The water supply is troublesome, so the appliance fills with water endlessly or does not fill at all.

The unit does not drain and gets mold and a foul smell.

Hoses, filters, spray arms, sump strainers, and pipes are dirty or clogged.

The item cannot begin or complete the cycle, washes endlessly or for too long, stops in the middle, or abruptly turns off.

The plug, wiring, or isolation are damaged, so the item cannot get a proper power supply.
As our clients get amazing results, they confidently recommend us to other people and apply to us again. Our team not only provides decent Bonsall Dishwasher Repair, but also cares for your comfort. They are friendly and honest, and they always find stressless and convenient ways to help you. Because of that, we get a vast number of positive reviews on our Google page. Our clients often recommend us to friends and relatives.
People are used to thinking that they have to wait a long time before getting their appliances fixed. And thus, facing the opposite with us, they really appreciate the highest speed of our work. In over 90% of orders, we complete the task within a single day. The most convenient location, proper logistics, and perfect management let us spend our time most effectively. As you may need your unit back to normal immediately, we also offer urgent Dishwasher Repair in Bonsall, CA. It is available anytime, including days off and non-working hours, for a small additional payment.
Entrust your electronics only to experienced and reliable specialists. Oceanside Appliance Repair Service Center has a whole team of top-ranking experts. They fluently bring your dishwasher back to normal without long expectations and enormous bills. We provide our customers with the most effective procedures and advice. Just give us a call or fill out the form on our website. This way, you get the best Bonsall Dishwasher Repair and Service at the fairest price, flawless quality, and the shortest term.
Our specialist carries out repairs, works carefully in the process, so as not to leave behind any traces of equipment repairs, and not to spoil the appearance. After the repair is completed, our company will back it up with a 90-day labor warranty. If you encounter the same problem during the warranty period, rest assured we will return to get an appliance back up to perfectly working condition.
$30 OFF ON FIRST TIME SERVICING
Frequently asked questions
What if I have a complex repair of equipment?
Our specialist will come to your home, conduct diagnostics and offer solutions to the problem. And only after your consent, the repair will begin.
Do you have customer support?
Our managers will always listen carefully to you and give you initial recommendations on the malfunction of your equipment to determine the cost of repair. Call:
(858) 224-0022
Is the expert's visit free of charge?
If you order a call to the master through our website, you are guaranteed to get a free diagnosis of your device, and detection of breakage.