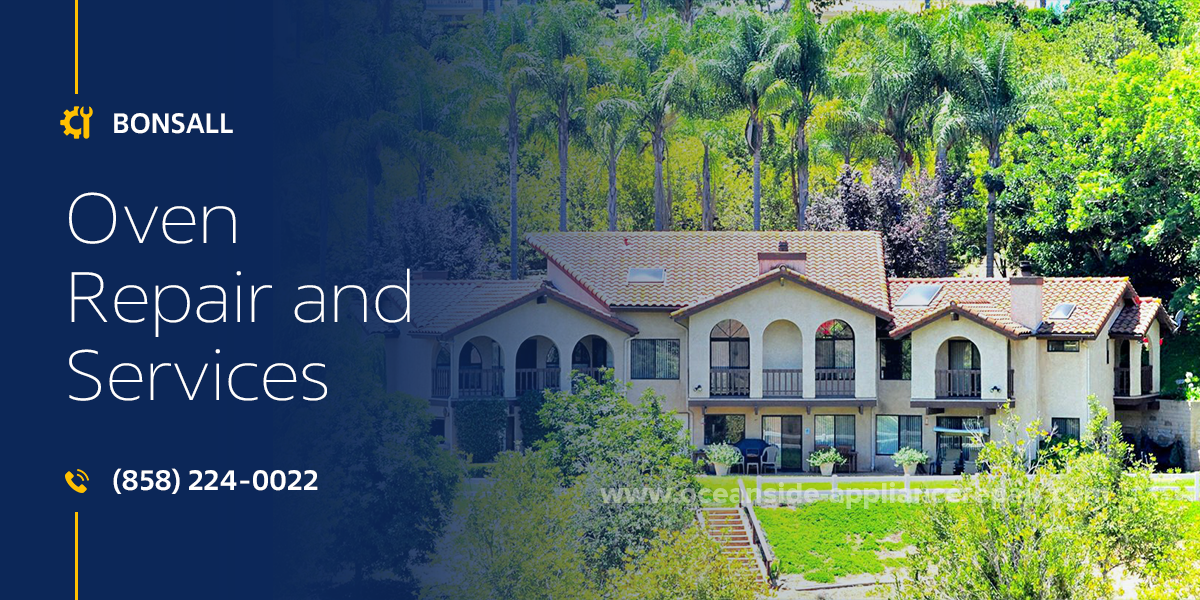 Having an oven in your apartment or workplace gives you not only great cooking opportunities. It also makes you responsible for its safe and proper performance. But it is a piece of cake if you delegate caring for your item to Oceanside Appliance Repair Service Center. We have the most responsible, competent, and friendly team. Thus, each of our clients gets the most effective Oven Repair in Bonsall, CA in the most comfortable way. We have the best price and complete your order in the quickest way, always reaching the highest quality.
We are proud to have a huge number of happy clients who have trusted us with their ovens. Our team works hard to maintain our reputation for excellent service. And we are always looking for ways to improve our services further. As a result, our customers are happy to choose us and return to our company to care for other electronics. They recommend us to others as a reliable provider of Bonsall Oven Repair and other services. A vast number of positive reviews on our Google page is the best indicator of our reliability.
We offer a variety of high-quality services and the best solutions for any situation. Our specialists have expertise in providing flawless quality procedures for ovens of all brands and models. Luxury and the latest ones included. Our qualifications are proven with licenses and are developing all the time. With perfectly honed skills and deep knowledge of serving any household or commercial unit, we guarantee the highest quality. Each Oven Repair in Bonsall, CA we conduct is reliable and efficient.
When talking about the quality of our work, we also solidify our words with a long-term warranty. It covers our labor for 90 days and the details we use – for 1 year.
The spare parts should be of top quality, as their condition defines the longevity and smoothness of the appliance's performance. That is why we work only with the best manufacturers of original and alternative components. We use only state-of-the-art equipment and materials, ensuring that your oven is repaired to the highest standard. Thus, our Bonsall Oven Repair and Service are always neat, accurate, and durable.
To find out what procedures are needed for your appliance now, feel free to contact us at any moment. Whenever you need advice or more information about cooperating with us, we offer a free consultation. During remote diagnostics, we assess the issue with your oven and provide you with an accurate diagnosis of the problem. When the problem is clear, we plan the needed procedures, pick details, and announce the approximate cost of the work. Our team helps you plan the most effective Oven Repair in Bonsall, CA in a convenient way for you.
The variety of troubles that happen to ovens is huge. And you should not ignore even the smallest ones. Below, you can see the most common signs that mean that your item needs professional assistance.

Burners, electrical or induction coils, grills, bake elements, broilers, tans, convection fans, thermostats, control modules, timers, vents, fan motors, thermal fuses, energy regulators, breakers, or other hardware components are not working.

The control module has software or connection issues.

You cannot change any settings because buttons, knobs, touchpads, keys, or switchers are broken, missing, or do not work.

The display board is not glowing, shows an error message, or is blank.

Damaged or blocked gas lines, gas ports, or safety valves result in a disruption in the supply of gas.

Crumbs, debris, or dust are obstructing filters, grates, convention fans, or vent tubes.

Burners are unable to heat up because of issues with the pilot light or ignition.

The temperature rises or falls, and you are unable to change it.

Loose or deformed hinges, springs, seals, joints, lid switches, latches, or interlocks make it difficult to close or open the door normally.

The light bulb in the oven or the LED indicator outside is not working or flickering.

Problems with electrical connections caused by broken wiring or isolation.

While the unit is working, its body becomes extremely hot.

There is a burning, electrical, or gas smell coming from the appliance.

When the oven is on, it buzzes, knocks, hums, squeals, buzzes, grinds, thumps, clicks, vibrates, or makes other strange sounds.

The oven is not heating.

The appliance is heating too slowly or not evenly.

Worn or broken controllers, fan blades, baffles, belts, feet, drawer mechanisms, light assemblies, or other components.

The door glass or body surfaces are damaged, cracked, or scratched.

The appliance cannot self-clean.

The insulation is worn.

The item turns off itself, or you cannot switch it on.
The important thing to mention! People often do not trust service providers, as many of them overcharge and make the bill higher by tricking you. Such things never happen in our company! We are always honest with our clients and offer cost-effective and rational solutions. Thus, if your appliance is beyond repair or the work costs too much, we would rather recommend a replacement.
The same is why the cost of our Bonsall Oven Repair is the most reasonable and affordable. We can adjust to any budget, making decent service available for everyone! Our pricing system is transparent and includes pleasant bonuses. Veterans and seniors get a $30 discount, while for returning customers, it is 15%. You can also save $25 if you book the order online. We believe that excellent quality does not have to come at a high price.
There is another thing that often stresses the owners of a failed oven. Most repair centers make you wait for days or weeks before resolving the issue. And for us, your time and comfort are important. Thus, we do not make you wait long and finish the absolute majority of orders within a single day. Our local office is conveniently situated and open 24/7. It lets us provide the quickest Oven Repair in Bonsall, CA. You can also pick the option of urgent arrival if you want us to rush to your place immediately. It costs just slightly more, but it is available at any moment of the day or night.
With us, you experience the best Bonsall Oven Repair and Service. With over 20 years of experience, we know exactly what to do in any situation. Our friendly, responsible, and proficient team maintains and fixes any oven in the most comfortable way for you. Our work is always swift, high-quality, durable, and fair-priced. To get that, you just need to call the Oceanside Appliance Repair Service Center or place an online application.
Our specialist carries out repairs, works carefully in the process, so as not to leave behind any traces of equipment repairs, and not to spoil the appearance. After the repair is completed, our company will back it up with a 90-day labor warranty. If you encounter the same problem during the warranty period, rest assured we will return to get an appliance back up to perfectly working condition.
$30 OFF ON FIRST TIME SERVICING
Frequently asked questions
What if I have a complex repair of equipment?
Our specialist will come to your home, conduct diagnostics and offer solutions to the problem. And only after your consent, the repair will begin.
Do you have customer support?
Our managers will always listen carefully to you and give you initial recommendations on the malfunction of your equipment to determine the cost of repair. Call:
(858) 224-0022
Is the expert's visit free of charge?
If you order a call to the master through our website, you are guaranteed to get a free diagnosis of your device, and detection of breakage.