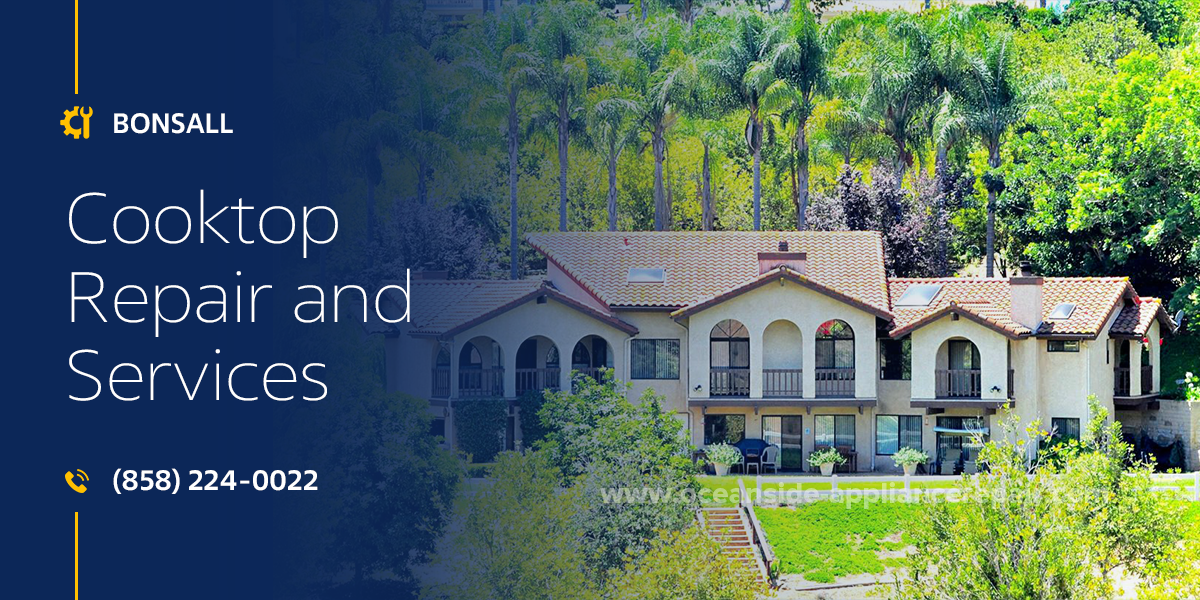 Cooktop Repair in Bonsall
When a cooktop fails, the first thing to do is not panic or rush to buy a new one. Call Oceanside Appliance Repair Service Center instead and get the swiftest and most cost-effective solution. Our team of high-level professionals can provide only brilliant quality for each procedure. Since 2001, we have been offering the most reliable Cooktop Repair in Bonsall, CA in the most comfortable conditions.
20 years mean a lot. Talking about our company, this term shows how long we are able to stay useful. We are developing all the time and successfully competing with other companies as clients trust us. They leave tons of 5-star reviews about our Bonsall Cooktop Repair and other services on our Google page. As our customers always get brilliant results in a convenient way, they apply to us to fix other electronics too. They also often recommend us to friends and other people, as they are confident in us.
Another thing gained with time is outstanding proficiency and experience. Thus, our team knows all the subtleties of commercial and household cooktops. Regardless of the brand and model of your item, they fluently make it run like a clock again. Our team is licensed to provide the best Cooktop Repair in Bonsall, CA even for luxury and the latest appliances. Perfectly honed skills and the outstanding knowledge of our specialists always mean flawless quality for each procedure.
Being in charge of each of our words and actions, we solidify our work with a long-term guarantee. It covers our labor for 90 days and the details we use. Our specialists pay much attention to picking proper original and alternative components from the best manufacturers. Thus, we use perfectly fitting spare parts for each unit. Our team also uses the best professional tools, equipment, and materials. Altogether, it makes our Bonsall Cooktop Repair and Service durable, accurate, and tidy.
The highest quality is a must-have trait for our work. But it is not the only benefit we offer. Cooktop Repair in Bonsall, CA we provide is also the swiftest. We arrive at your place exactly when you need us to. If it is a non-working hour or a day off, we are still available for you. An urgent arrival costs a bit more but makes us rush to your address immediately! And regular orders are mostly completed the same day you apply. With the best management, location, and logistics, we never make you wait long!
You may want to clarify some information before applying for Bonsall Cooktop Repair. For it, you can call us anytime and get a free consultation. We will gladly answer any of your questions and help schedule the needed services. Another useful action is to conduct a remote diagnostic. It gives us an understanding of the reason for the problem and the best solution. Sometimes, we can assist you with phone instructions. In other situations, we can only recommend you a replacement. In any case, our honest and competent team offers only effective ways out. 
Regardless of the situation, we know what to do. Confidently apply to us when you notice something is wrong with your cooktop. Here you can see a list of the most common troubles that may happen to this appliance.

Clogged gas lines, ports, or safety valves cause gas supply issues.

Some of the components (burners, electrical or induction coils, thermostat, igniter, sensors, timers, etc.) are defective and require replacement.

The flame is red, orange, or yellow, or it sparks, flickers, or arcs.

The heating elements have connection issues with the control module, heat too slowly or unevenly, or turn off abruptly.

You can hear the burners clicking, ticking, or hissing as you ignite them.

No flame is coming from the burners, or no heat is coming from the coils.

The temperature sensors are flipping due to the scratched induction surface.

The cooktop turns off abruptly or cannot turn on.

While functioning, the item makes odd noises (vibrating, humming, buzzing, squealing, grinding, clicking, knocking, etc.).

The screen is blank, has an error message, or does not shine.

The light indicator goes red, flickers, or is burned out.

A failed control module does not let you adjust any settings.

The item is heating too slowly, too weakly, too much, or not evenly.

Touchpads, knobs, switches, keys, or buttons do not respond, are damaged, or have a loose connection.

The cooktop produces a burning, gas, or electrical smell.

Due to worn wires, isolation, or plugs, the item has voltage or power issues.

Grates, controllers, burner caps, or other details require replacement.
We also tell you beforehand how much it will cost to fix your cooktop. And you can be sure that we never charge you for useless service or hide anything. With us, you pay the fairest money for the best result. Our goal is to provide everyone with the most affordable Cooktop Repair in Bonsall, CA. Plus, when you apply to our company again, you get a 15% discount as a returning customer. We also have a $30 off price for veterans and seniors and a $25 discount for online booking.
The most reasonable price, flash speed, and flawless quality. That is about each Bonsall Cooktop Repair and Service we provide. Our friendly team is focused on the brilliant results of our work and client satisfaction. Thus, you can be sure of getting the best result by applying to Oceanside Appliance Repair Service Center. We make any issues with your cooktop vanish in the most convenient way for you!
Our specialist carries out repairs, works carefully in the process, so as not to leave behind any traces of equipment repairs, and not to spoil the appearance. After the repair is completed, our company will back it up with a 90-day labor warranty. If you encounter the same problem during the warranty period, rest assured we will return to get an appliance back up to perfectly working condition.
$30 OFF ON FIRST TIME SERVICING
Frequently asked questions
What if I have a complex repair of equipment?
Our specialist will come to your home, conduct diagnostics and offer solutions to the problem. And only after your consent, the repair will begin.
Do you have customer support?
Our managers will always listen carefully to you and give you initial recommendations on the malfunction of your equipment to determine the cost of repair. Call:
(858) 224-0022
Is the expert's visit free of charge?
If you order a call to the master through our website, you are guaranteed to get a free diagnosis of your device, and detection of breakage.