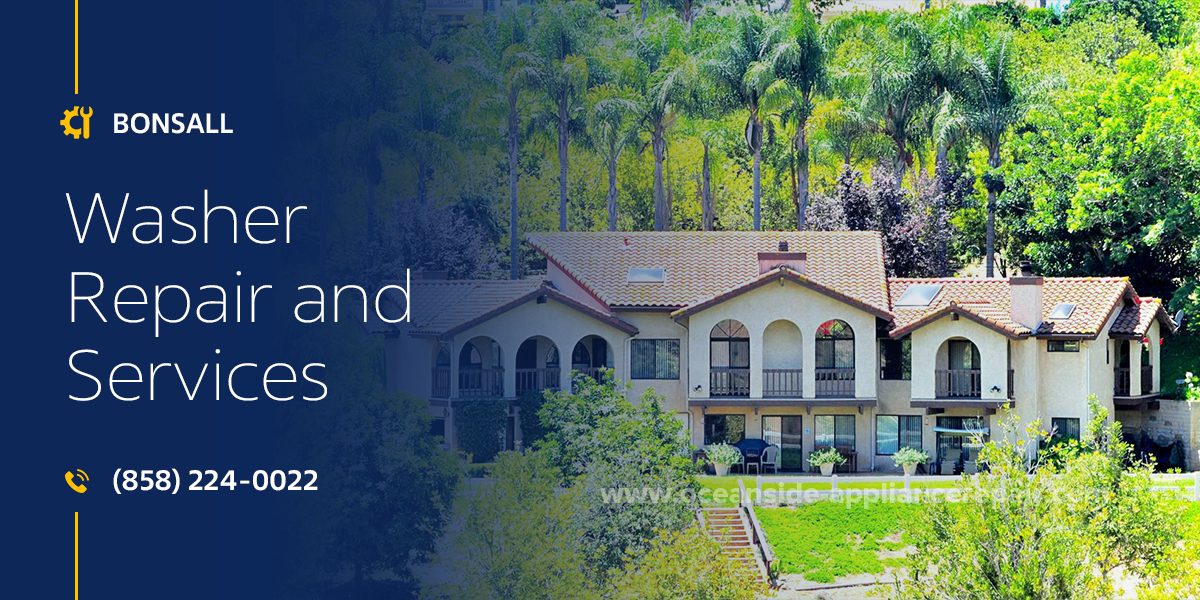 Washing Machine Repair in Bonsall
Are you struggling with a washing machine that has stopped working or is not functioning correctly? You do not have to worry! Our team is always ready to provide you with the best Washing Machine Repair in Bonsall, CA. Our services are of high quality, affordable, and swift. Oceanside Appliance Repair Service Center does its best to get your washing machine back to normal as soon as possible.
With over 20 years of experience, our proficient team is well-equipped to deal with any issues in all washers. No matter what brand or model your item is, our technicians know what to do. They fluently cope even with luxury and the latest models, as they have the corresponding knowledge and licenses. Thus, we provide all types of Bonsall Washing Machine Repair at top quality levels. 
There is nothing that can puzzle our professionals. Since 2001, they have reanimated tons of commercial and household washers. Thus, they perfectly know the structure, functioning, and possible issues with these items. Below, you can see a list of the most common troubles that may happen to washing machines.

Timers, wash selectors, water level controls, temperature controls, or other front panel components malfunction.

There are issues with the software that necessitate recalibration.

The screen is not functioning properly or displays an error.

It washes endlessly, stops midway, cannot start or complete the wash cycle, or shuts off by itself.

It is not possible to turn the washer on.

Clothes remain dirty after washing, develop a foul odor, or become damaged.

The hardware components (heating element, pump, thermostat, motor, main control module, agitator, water level controller, off-balance switch, transmission, fuse, breaker, etc.) are not working properly.

The drum is unbalanced, not centered, or cracked.

While the washer is on, its body becomes extremely hot.

The door glass is fractured.

Due to defective joints, hinges, springs, lid switches, latches, hooks, interlocks, or gaskets, the door cannot close or open normally.

The drum cannot spin.

The appliance does not wring the clothes.

The detergent does not reach the tub.

Lost or worn-out parts, like buttons, knobs, switches, keys, seals, connectors, leveling feet, water inlet valves, belts, filters, hoses, handles, etc.

The appliance emits an electrical or burning odor.

A puddle of foam or water appears under the washer.

The washing machine is making strange noises while it works, such as thumping, grinding, squealing, humming, rumbling, knocking, bubbling, buzzing, vibrating, rattling, gurgling, or other sounds.

The appliance gives you an electric shock when you touch it.

The LED indicator is blinking or burned out.

There are issues with the water supply, so the washer cannot fill it in or fills it in continuously.

It is not draining.

While spinning, the item is shaking, rumbling, bouncing, or moving around the room.

There are clogged or dirty pipes, hoses, filters, dispensers, valves, or seals.

Because the wiring, isolation, or plug is worn or damaged, the item is unable to get a proper power supply.

The washer is causing the power to trip.

The unit was improperly installed.
Our team uses top-notch equipment, ensuring that every repair is done to the highest standard. They have all the needed tools and materials to conduct each procedure accurately and tidily. Together with their outstanding skills and responsibility, the result of our work is always flawless. You should not doubt that, as you get a guarantee for the Washing Machine Repair in Bonsall, CA we provide. It lasts 90 days for our labor and 1 year for the details. We choose perfectly matching components for every single appliance. Thus, your washer will serve you properly for a long time.
No matter what happens, our friendly specialists will give you the best advice and offer the most effective solution. We offer free consultations to help you make an advantageous decision about the needed Bonsall Washing Machine Repair and Service. And during remote diagnostics, we swiftly find out the reason for the breakage and the most effective solution. In any case, we are interested in your comfort first. Thus, if the repair is not cost-effective or the item is beyond repair, we honestly recommend a replacement.
Our company is proud of the excellent quality and the short time to completion of the work. We understand that a washing machine is an essential home appliance. Thus, we strive to repair it as soon as possible without compromising on quality. If you need urgent Washing Machine Repair in Bonsall, CA, we offer the option of urgent arrival. It is available 24/7 for a small additional payment. We have the most convenient location and great management, so we will never make you wait long.
Customer satisfaction is our top priority. A huge number of clients are happy that they have experienced our top-notch services. They recommend our Bonsall Washing Machine Repair to others because we provide flawless results in comfortable conditions. Many customers return to us when they have issues with other appliances. They know that our responsible and friendly team makes any issues vanish in a stress-free way! And they share this opinion on the net, writing positive reviews and recommending us to others.
For many people, one of the scariest and most unpleasant things about failed electronics is the price of work. We are glad to say that our clients never worry about it. The cost of our Washing Machine Repair in Bonsall, CA is the most favorable and reasonable. We do not offer useless solutions or ones that are too expensive and irrational. We also have pleasant discounts for our dear customers. The price of our work is $30 less for veterans and seniors and $25 less for booking online. Returning customers have a 15% discount on their next order!
Rely on the Oceanside Appliance Repair Service Center in any situation! Choosing us for Bonsall Washing Machine Repair and Service is the best option for a swift, durable, and affordable solution. We are committed to providing you with the highest quality service at the fairest price. Our proficiency and reliability ensure that your washing machine is back to normal as soon as possible. Contact us today for the best solution for you and your washer.
Our specialist carries out repairs, works carefully in the process, so as not to leave behind any traces of equipment repairs, and not to spoil the appearance. After the repair is completed, our company will back it up with a 90-day labor warranty. If you encounter the same problem during the warranty period, rest assured we will return to get an appliance back up to perfectly working condition.
$30 OFF ON FIRST TIME SERVICING
Frequently asked questions
What if I have a complex repair of equipment?
Our specialist will come to your home, conduct diagnostics and offer solutions to the problem. And only after your consent, the repair will begin.
Do you have customer support?
Our managers will always listen carefully to you and give you initial recommendations on the malfunction of your equipment to determine the cost of repair. Call:
(858) 224-0022
Is the expert's visit free of charge?
If you order a call to the master through our website, you are guaranteed to get a free diagnosis of your device, and detection of breakage.