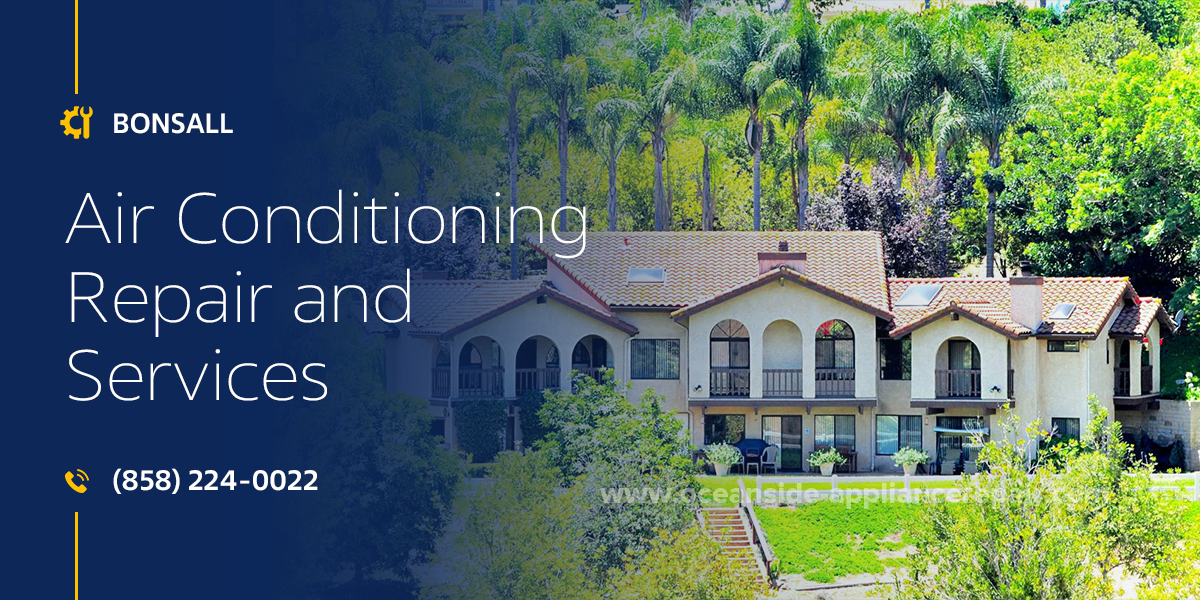 Air Conditioning Repair in Bonsall
Oceanside Appliance Repair Service Center is always ready to make any troubles with your air conditioner vanish. And that is exactly what you need if your item behaves wrong on a hot summer day. Our qualified technicians prioritize excellent quality, ensuring short terms of completion for any Air Conditioning Repair in Bonsall, CA. Feel free to contact us anytime. We can plan the most effective maintenance, fixing, or installation procedures for you. With us, you get brilliant results at the most reasonable price.
For the durable and smooth performance of your AC, it is important to keep track of its condition. Apply to a reliable service provider to prevent breakage through regular checkups and cleaning. Our service center has all the traits of a trustworthy one! Since 2001, we have delivered the most effective Bonsall Air Conditioning Repair to numerous clients. And they are fully satisfied with our work. Thus, most customers return to us when they have issues with other electronics. They share their opinion in many 5-star reviews on our Google page and recommend us to friends.
Our team arranges the best Air Conditioning Repair in Bonsall, CA in a way that is convenient for you. And we know how bad it may feel when you cannot use your AC. Thus, we have customized management and logistics perfectly to arrive at your place as quickly as possible. In over 90% of orders, it takes us less than a day to get your conditioning back to normal. At any moment, 24/7, you can rely on our assistance. For the most urgent cases, the specialist sets off from the local office in your area within 15 minutes. And the cost of this option is just a bit more than for regular orders.
Our experienced technicians are equipped with the best instruments and materials. Thus, we are ready to conduct Bonsall Air Conditioning Repair and Service of any type precisely and neatly. And in most cases, we need to replace a certain detail. We use perfectly fitting ones for any commercial or household AC. For that, we stock various original spare parts and their analogs. To pick matching components for your unit beforehand and find out the cost of the work, call us anytime.
Our friendly specialists provide you with any needed information and appoint the technician's arrival whenever needed. In some cases, we can help you with advice and instructions during a free consultation. It is also useful to conduct a remote diagnostic, which is included in the price of the Air Conditioning Repair in Bonsall, CA. This option lets us swiftly find the reason for the problem you face. And after it, we can plan the needed procedures and choose suitable details.
There is no such problem that we cannot resolve. But if your appliance is not repairable or the work is not cost-effective, you quickly find out. We do not offer useless services to make money on them. To get the most objective estimation of the condition of your AC, tell us about any changes in its behavior. The most common issues that happen to conditioners are…

The AC is buzzing, grinding, knocking, pinging, squealing, ticking, popping, hooting, rumbling, thumping, vibrating, or making other strange noises while it works.

The appliance emits an electrical or burning smell.

Problems with the electricity supply as a result of worn wires, poor isolation, or a faulty plug.

The air coming out of the AC has a foul odor or is humid.

The evaporator coils, filters, condensate pump reservoir, or condenser drain pipe are dirty or obstructed.

The refrigerant liquid is leaking or missing.

The appliance ignores remote control commands.

The control panel requires recalibration.

The information screen or display board indicates a problem by not shining or showing an error code.

You cannot adjust any settings, like temperature, time, or mode, as needed.

The AC operates continuously without stopping, turns on and off repeatedly, turns off by itself, or does not turn on at all.

There is no overflow from the registers, or it is too weak.

The appliance does not influence the temperature in the room or changes it too weakly, too slowly, or not evenly.

The water is dripping inside the room or condensing on or beneath the appliance.

The control board, thermostat, thermometer, start capacitor, power switch, relay switch, fuse, condenser, compressor, outdoor unit fan, motor, condensate pump, or other hardware components are not working properly.

The ductwork is leaking, obstructed, or broken.

The indicator does not glow, flickers, or blinks red.

Buttons, knobs, switches, keys, registers, blower belts, fan blades, baffles, contactors, bearings, thermostat batteries, or other details are damaged, worn, or missing.

Incorrect installation or physical damage.
In over 20 years, our team has eliminated these and other issues many times. With extended experience, they know all the subtleties of various conditioners, their construction, and their functioning. Thus, we provide flawless Bonsall Air Conditioning Repair regardless of the brand and model of your item. Our specialists have regular training and are licensed to serve luxury and the latest appliances too. Thus, you get the highest-quality result if you apply to us! Plus, we provide a 1-year warranty for the details we use and a 90-day one for our labor.
Another pleasant aspect for our clients is a fair and transparent pricing system. Besides setting the most affordable rates, we also have pleasant discounts. If you book the order online, you save $25. Veterans and seniors get a $30 discount. And for returning customers, the next order costs 15% less. You can be sure of the wise spending of your money with us, as we clearly report all the expenses. We can adjust to any budget and provide you with brilliant Air Conditioning Repair in Bonsall, CA at a favorable cost.
Contact Oceanside Appliance Repair Service Center today to get the most effective maintenance or repair for your AC. We know exactly how to make your appliance serve you properly for a long time. We have a personal approach to each client and appliance. Thus, our specialists will find the most comfortable and effective solution for you. We offer the best price for the brilliant quality! With us, you get the most reliable and swift Bonsall Air Conditioning Repair and Service.
Our specialist carries out repairs, works carefully in the process, so as not to leave behind any traces of equipment repairs, and not to spoil the appearance. After the repair is completed, our company will back it up with a 90-day labor warranty. If you encounter the same problem during the warranty period, rest assured we will return to get an appliance back up to perfectly working condition.
$30 OFF ON FIRST TIME SERVICING
Frequently asked questions
What if I have a complex repair of equipment?
Our specialist will come to your home, conduct diagnostics and offer solutions to the problem. And only after your consent, the repair will begin.
Do you have customer support?
Our managers will always listen carefully to you and give you initial recommendations on the malfunction of your equipment to determine the cost of repair. Call:
(858) 224-0022
Is the expert's visit free of charge?
If you order a call to the master through our website, you are guaranteed to get a free diagnosis of your device, and detection of breakage.