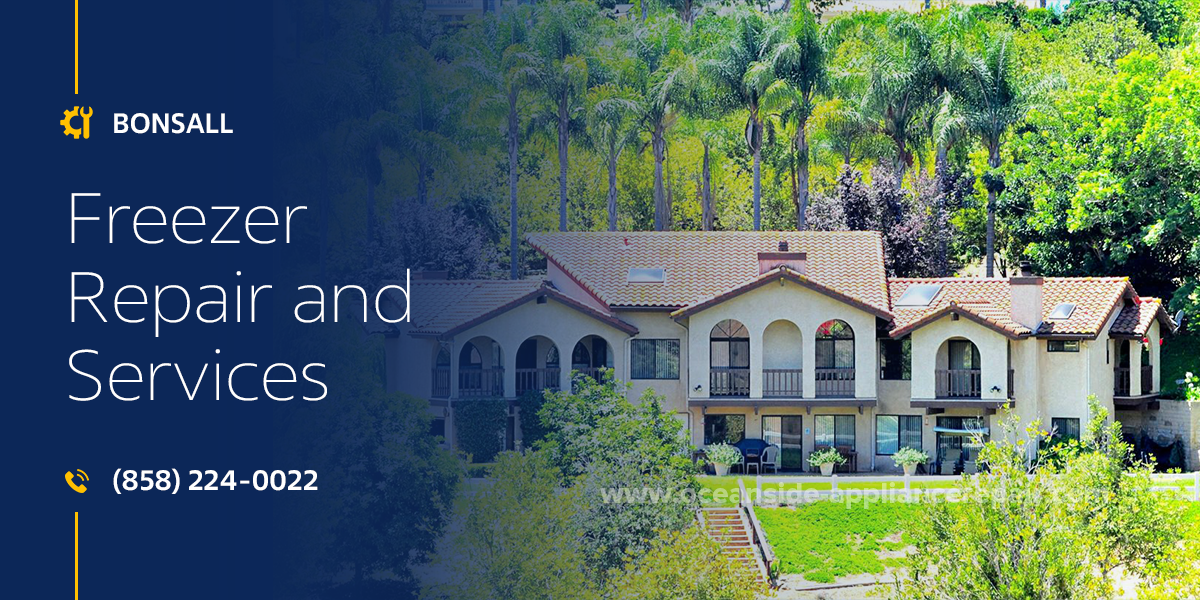 Freezer Repair in Bonsall
A failed freezer is a problem that causes many inconveniences and even financial loss. Thus, it is a wise idea to apply to Oceanside Appliance Repair Service Center to avoid or eliminate such issues. Our company cares for the comfort of clients and offers a wide range of high-quality services at a reasonable price. With us, your unit always performs like a brand-new one. Apply to us to get the best Range Repair in Bonsall, CA in the shortest terms.
The trust of our customers is the most precious and objective indicator of our reliability. We aim to provide the best service to everyone who needs Bonsall Freezer Repair. And judging from the feedback from our clients, we do it great! They apply to us again and share their opinion with others. You can see tons of 5-star reviews on our Google page. Offering the most comfortable conditions and brilliant results, we successfully withstand competition with other local service centers.
You may ask anything about cooperation with us and express your requirements. This way, we plan a Freezer Repair in Bonsall, CA in the most comfortable and convenient way for you. We also provide free consultations to share useful advice or analyze the condition of your item. 
If the freezer already works wrong and requires professional help, you can get swift remote diagnostics. This way, we indicate the reason for the malfunction and the most effective solution. After that, you also find out the approximate cost of the needed work, unless it is not recommended. Our specialists will honestly inform you if your item is beyond repair or if it is not cost-effective or rational.
In any situation, we offer the best way out. Our technicians know what to do, regardless of the complexity of the issue. They have over 20 years of experience fixing and maintaining household and commercial freezers. The constant development of their skills and knowledge results in the highest-quality Bonsall Freezer Repair and Service. Our specialists find the best approach for appliances of all brands and models. They have top qualification levels and licenses for serving all types of freezers, including luxury and the latest ones.
Our team knows the solution to any situation. They eliminate any breakages fluently and effectively. You can rely on us if you face some of these or other troubles…

Overload protector, expansion device, fuse, compressor relay, relay switch, compressor motor, evaporator or condenser fan or coils, thermostat, defrost heater or timer, ice maker, vents, or other components are not working properly.

The appliance does not freeze.

The freezer goes off itself, runs on and off repeatedly, or does not turn on.

Worn or broken parts, like handles, leveling feet, buttons, keys, switches, knobs, seals, belts, water inlet valves, hoses, compressor mounts, etc.

The cooling system has a leak or needs coolant refilled.

The door has broken springs, joints, latches, lid switches, interlocks, hinges, or gaskets, so it cannot close, open, or close properly.

The item does not self-defrost.

The freezer emits a burning or electrical smell.

It has a foul odor inside.

There is a blockage in the defrost drainer, drain tube, or drain pan.

Snow, ice, or ice mold covers the inner walls, products, and evaporative or condenser coils.

The lights inside or outside are going on and off or not shining.

Water drops are accumulating beneath the freezer or dripping out.

The temperature inside the freezer is too high or too low and cannot be changed.

Timers and controllers are not working properly.

The software is not working right, and the control module needs recalibration.

The screen displays an error message or is blank.

The appliance is vibrating, buzzing, humming, squealing, thumping, gurgling, bubbling, knocking, thumping, grinding, or making other weird noises.

The power supply is disrupted due to faulty wiring, isolation, or plugs.

Shelves, body surfaces, or doors are dented or cracked.
We provide the most reliable and durable Freezer Repair in Bonsall, CA as we have an effective and complex approach. Our specialists have outstanding proficiency and boost it with high-grade instruments. The best professional tools and equipment help us conduct each procedure swiftly and tidily. And to ensure that your freezer will run like a clock for a long time, we use perfectly matching components and materials. Claiming about perfect quality and longevity, we do not just say empty words to attract you. We solidify our labor with a 90-day warranty and provide a 1-year guarantee for the spare parts we use.
Brilliant competence and proper tools also let us spend the minimum amount of time to make any issues vanish. Our team is available 24/7 to provide you with the swiftest Bonsall Freezer Repair. It takes us less than a single day to complete the absolute majority of orders. Our team can also resolve your issues during non-working periods for a small additional payment. If you need us urgently, just indicate it when applying, and the technician will depart immediately. We know that a failed freezer may cause inconvenience, so we always try to assist you sooner.
Our company sets the most competitive rates, aiming to provide everyone with decent service at an affordable price. We inform you clearly about the condition of your freezer and what procedures it requires. Thus, you clearly know what you pay for. If you apply to us for Freezer Repair in Bonsall, CA, you are making the wisest investment for your electronics. Besides the fairest prices, we also have pleasant special offers. You get a $25 discount for online booking. Veterans and seniors pay $30 less. And returning clients get the best results at a 15% lower price.
There are no irresolvable troubles for Oceanside Appliance Repair Service Center. Our team provides the most effective solutions for any issues you may face. To get the best Bonsall Freezer Repair and Service, you just need to contact us. We provide reliable solutions in the shortest possible time and at favorable prices. Since 2001, our friendly and competent team takes care of various electronics in the best way!
Our specialist carries out repairs, works carefully in the process, so as not to leave behind any traces of equipment repairs, and not to spoil the appearance. After the repair is completed, our company will back it up with a 90-day labor warranty. If you encounter the same problem during the warranty period, rest assured we will return to get an appliance back up to perfectly working condition.
$30 OFF ON FIRST TIME SERVICING
Frequently asked questions
What if I have a complex repair of equipment?
Our specialist will come to your home, conduct diagnostics and offer solutions to the problem. And only after your consent, the repair will begin.
Do you have customer support?
Our managers will always listen carefully to you and give you initial recommendations on the malfunction of your equipment to determine the cost of repair. Call:
(858) 224-0022
Is the expert's visit free of charge?
If you order a call to the master through our website, you are guaranteed to get a free diagnosis of your device, and detection of breakage.