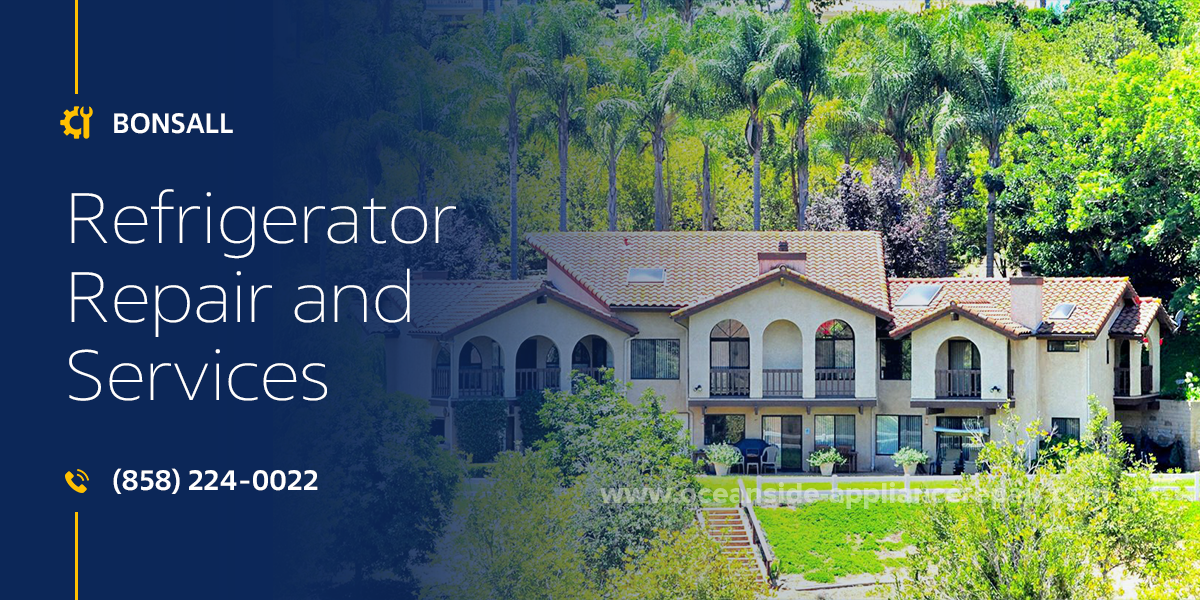 Refrigerator Repair in Bonsall
Are you tired of searching for a decent company to care for your malfunctioning refrigerator? Look no further! Our team of experts from the Oceanside Appliance Repair Service Center is here to provide you with the best services. For over 20 years so far, we have been offering the best maintenance and repair procedures. We deliver the highest quality Refrigerator Repair in Bonsall, CA, all at an affordable price and lightning speed.
A broken refrigerator is surely an inconvenience. And our goal is to make you comfortable with your electronics. Thus, we offer a comprehensive service to swiftly restore your refrigerator to its original working condition. If you apply to us for Bonsall Refrigerator Repair, you get the best result in the most stressless way. First and foremost, it is because we always achieve brilliant results. The main reasons for that are perfectly honed skills, outstanding knowledge, and the responsibility of our team.
Our specialists are developing all the time and undergo regular training and licensing. Thus, they know the subtleties of fridges of all brands and models, including luxury and the latest ones. Their qualifications are at the top level. Due to this, we provide the highest quality service for commercial or household fridges.
Since 2001, we have served tons of clients and gained a reputation as a trustworthy service provider. Our many happy clients are a testament to our excellent quality and comfortable conditions, which include price and speed. We adjust to all your needs to offer the most convenient and effective Refrigerator Repair in Bonsall, CA. Thus, our customers entrust all their electronics to our reliable hands. They recommend our company to others and share their thoughts about us in numerous 5-star reviews on our Google page.
We believe that our clients deserve the best. Our team finds the most effective solutions and personal approaches for everyone. Therefore, we offer free consultations to answer any questions and share the information you require. We also offer remote diagnostics to assess the issue with your refrigerator. Our friendly team will provide you with an accurate analysis of the problem before starting any work. Thus, we plan the best Bonsall Refrigerator Repair and Service for you!
You just need to tell us what makes you worry so we can indicate how to fix it. The list of troubles that may happen to your fridge is pretty long. Below, you can see the most common ones.

The condenser, evaporator, compressor, tans, coils, expansion device, defrost heater, defrost timer, fan, temperature control, thermostat, control relay, or other components have worn out, broken, or stopped functioning.

The fridge either does not freeze, freezes unevenly, or cools too weakly.

Insufficient or unstable electricity supply due to wiring, isolation, or plug issues.

The refrigerator is making a variety of strange sounds, including vibrating, humming, buzzing, knocking, grinding, gurgling, rattling, knocking, etc.

The appliance turns on and off repeatedly, shuts off itself, or does not work at all.

Ice, ice mold, or snow-like accumulation covers fridge walls, coils, and products.

Due to a malfunctioning control module, it is impossible to view or modify any settings.

The information screen is blank or shows an error code.

The controllers (keys, knobs, buttons, touchpads, or switchers) are broken, do not work right, or are missing.

Lamps or LED indicators are flickering or not working properly.

Fan blades, baffles, handles, controllers, leveling feet, belts, bearings, etc. are damaged or warped and must be replaced.

The door or body surfaces or shelves are fractured, scratched, or dented.

The water dispenser, freezer, ice maker, or other parts do not function properly.

Deformed joints, springs, hinges, interlocks, latches, lid switches, or gaskets prevent the fridge or freezer door from closing, latching, or opening properly.

The refrigerating coolant is leaking, dripping, or requires refilling.

The moisture is condensing inside or under the appliance.
Sometimes it happens that the needed solution is quick and easy, so we can instruct you by phone. In other cases, the only recommended action is to replace your fridge. In any situation, we offer only efficient and rational solutions. We appreciate your trust, so we are always honest with you
We know that time is of the essence when it comes to a broken fridge. This is why we work quickly and efficiently to get your refrigerator running perfectly again in no time. We are always punctual, and we arrive fully equipped to handle any repair in the shortest term. Thus, in the absolute majority of cases, we complete any Refrigerator Repair in Bonsall, CA within a single day. You can rely on our team even during non-working hours and days off. We offer an urgent arrival option at any moment 24/7 for a small additional payment. In such cases, our specialist rushes to your place immediately!
To make all procedures precise and neat, we boost our proficiency with the proper tools. We use only top-notch equipment and materials to ensure the smooth and durable performance of each appliance. With the full set of needed instruments, we can perfectly deal with Bonsall Refrigerator Repair of any type. Another important thing is to use proper details. To find a match for any item, we stock a huge variety of original components and their high-quality analogs. We are in charge of our work. Thus, we solidify it with a 90-day guarantee for our labor and a 1-year guarantee for the details.
Seeing all our benefits, you might think that our work should cost a lot. But no! Our company sets the most reasonable rates for Refrigerator Repair in Bonsall, CA. We do not overcharge or trick our clients, as we aim to deliver decent quality to everyone. Thus, we also have pleasant discounts, like 15% off for returning clients. For online booking, the price is $25 lower. And if you are a veteran or senior, you get a $30 discount.
If you are looking for affordable, high-speed, and high-quality Bonsall Refrigerator Repair and Service, get it from us! We have the experience, competence, and equipment to repair any issue with your fridge. Contact us today to get a consultation or schedule the most effective procedures for your electronics. Oceanside Appliance Repair Service Center has the most reliable and friendly team, which always means brilliant results!
Our specialist carries out repairs, works carefully in the process, so as not to leave behind any traces of equipment repairs, and not to spoil the appearance. After the repair is completed, our company will back it up with a 90-day labor warranty. If you encounter the same problem during the warranty period, rest assured we will return to get an appliance back up to perfectly working condition.
$30 OFF ON FIRST TIME SERVICING
Frequently asked questions
What if I have a complex repair of equipment?
Our specialist will come to your home, conduct diagnostics and offer solutions to the problem. And only after your consent, the repair will begin.
Do you have customer support?
Our managers will always listen carefully to you and give you initial recommendations on the malfunction of your equipment to determine the cost of repair. Call:
(858) 224-0022
Is the expert's visit free of charge?
If you order a call to the master through our website, you are guaranteed to get a free diagnosis of your device, and detection of breakage.