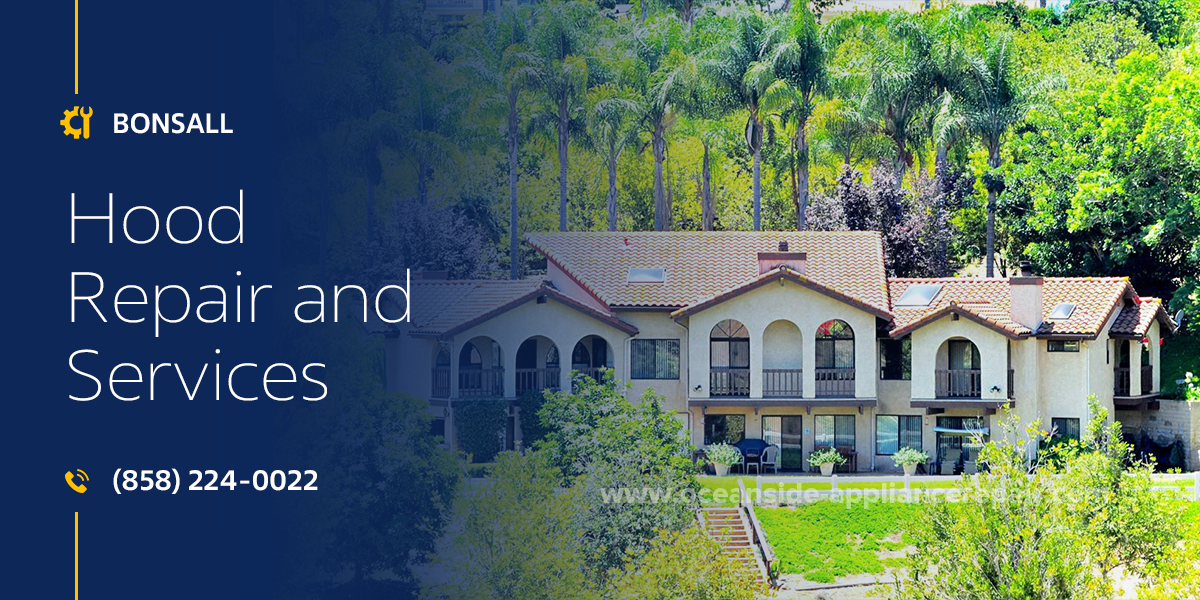 Hoods are one of the most important appliances. They not only bring us comfort but also care for our health. And to care properly for your hood too, entrust it to Oceanside Appliance Repair Service Center. We provide a wide range of procedures, starting with installation and cleaning and finishing with the most complex fixing work. Our team will arrange the most convenient Hood Repair in Bonsall, CA for you. We offer high-quality solutions at the most reasonable prices and swiftly complete any tasks!
To be the most effective, your hood should be clean. The best idea is to schedule regular maintenance, which also helps to avoid most breakages. Our friendly specialists will gladly help you arrange proper care for your item. For that, just call us for a free consultation and ask for anything you want to know. To plan appropriate Bonsall Hood Repair, we also offer remote diagnostics. This way, we clarify the problem, its solution, and the cost of the work beforehand.
In some situations, we have to recommend a replacement. It may happen if the item is beyond repair or if fixing it is not cost-effective. In any case, we are honest with you and never try to make money by offering useless services.
The same is why the price for Hood Repair in Bonsall, CA we conduct is always favorable. Our company aims to make decent service affordable for everyone! With us, you always know what you pay for. And we also have pleasant discounts for our clients. Veterans and seniors get a $30 off price. If you book the order online, you save $25. Moreover, when you apply to us the next time, you pay 15% less.
Why apply to us one more time? We offer the best conditions and can easily deal with any commercial or household appliances. Our clients get the best Bonsall Hood Repair and Service in the most comfortable way. After working with us once, they entrust all their electronics to us and recommend us to their friends. And the number of positive reviews on our Google page is growing daily!
Surely, the main reason for them to trust us is our brilliant quality. Our technicians provide flawless Hood Repair in Bonsall, CA, as their experience exceeds 20 years. They find the best approach to items of all brands and models, regardless of the complexity of the issue. Our team has regular training and licensing, so they easily cope even with luxury and the latest hoods. We solidify our work with a 90-day warranty and add a 1-year warranty to the details we replace.
The replacement of spare parts is a frequent procedure. Each component has its role in the whole system. Thus, when any of them is damaged, the unit starts functioning worse or completely fails. Your hood may face many various issues caused by worn details, physical impacts, voltage surges, lack of care, etc. Below, you can see a list of the most common troubles that happen to hoods.

You cannot turn the item on, it keeps going on and off, or it turns off all of a sudden.

The airflow is insufficient or absent

Fans, drivers, control modules, blower motors, and other hardware components are not operational.

The indicator light or bulb is red, blinking, or non-illuminating.

The hood gives out a foul odor or humid air.

Some of the components, such as the damper, fan blades, baffles, blower wheel, light socket or assembly, motor shaft bearings, etc., are worn, lost, or broken.

The appliance emits a burning or electrical odor when turned on.

The downdraft does not rise, remain elevated, or go down.

The unit makes unusual or excessively loud noises such as humming, grinding, knocking, buzzing, thumping, gurgling, ticking, whistling, squealing, and so on.

The control panel has a malfunction and needs to have its calibration settings adjusted.

The display board shows nothing or an error message.

The controllers (keys, buttons, knobs, switches, and touchpads) are unresponsive, poorly connected, unstable, damaged, or missing.

The ductwork is obstructed, leaking, or damaged.

Moisture is accumulating under or on the hood.

The item is incapable of absorbing moisture, odors, and smoke, or it absorbs them insufficiently.

Problems with the wiring, isolation, and plug disrupt the power supply.

Dust, debris, and dirt clog the ventilation, grate, and filters.

The hood's installation was incorrect.
To fix your unit, we use the best professional instruments. Our specialists are equipped with top-rank tools and materials, so they conduct all procedures neatly and precisely. We also pick perfectly fitting spare parts for each hood. For it, we stock various original and alternative details. A proper choice means the smooth and durable performance of your appliance. If you want your room to remain clean and your item to run like a clock, pick us for Bonsall Hood Repair! 
The best instruments, together with the outstanding proficiency of our team, help us deliver brilliant services in the shortest terms. We complete almost all orders the same day we get an application. Our Bonsall local department is conveniently situated and is open around the clock. It means that you can also rely on us for urgent Hood Repair in Bonsall, CA. This option costs slightly more, but then we depart for your address within 15 minutes. Your comfort is our primary goal. Thus, we never make you wait long for your hood to get back to normal.
Since 2001, Oceanside Appliance Repair Service Center has been tirelessly working to become the most reliable assistant for your hood. We offer the most effective maintenance and repairs. Thus, you can be calm about your electronics if you entrust them to us. Just make a call or place an online application. Our highly qualified experts will pick the most convenient solutions for any situation. With us, you get the swiftest Bonsall Hood Repair and Service at a fair price and of flawless quality.
Our specialist carries out repairs, works carefully in the process, so as not to leave behind any traces of equipment repairs, and not to spoil the appearance. After the repair is completed, our company will back it up with a 90-day labor warranty. If you encounter the same problem during the warranty period, rest assured we will return to get an appliance back up to perfectly working condition.
$30 OFF ON FIRST TIME SERVICING
Frequently asked questions
What if I have a complex repair of equipment?
Our specialist will come to your home, conduct diagnostics and offer solutions to the problem. And only after your consent, the repair will begin.
Do you have customer support?
Our managers will always listen carefully to you and give you initial recommendations on the malfunction of your equipment to determine the cost of repair. Call:
(858) 224-0022
Is the expert's visit free of charge?
If you order a call to the master through our website, you are guaranteed to get a free diagnosis of your device, and detection of breakage.