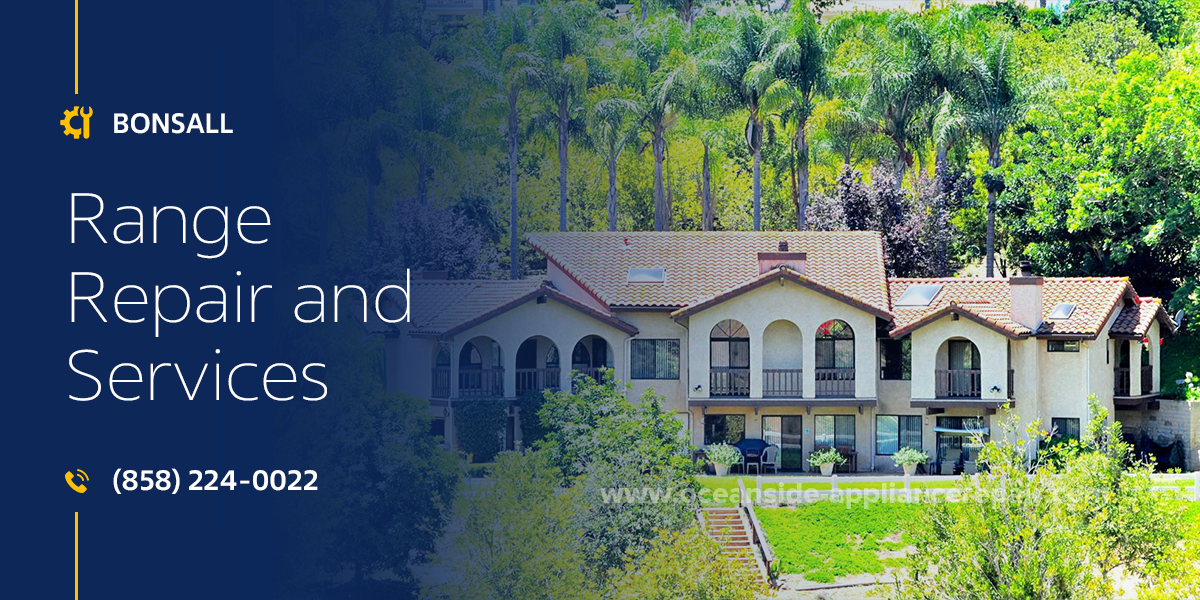 Applying to a reliable provider for Range Repair in Bonsall, CA ensures a long and proper lifespan for your appliance. It is important to take care of this unit to have the opportunity to cook any dish easily and safely. Oceanside Appliance Repair Service Center offers high-quality services at the most favorable prices. Since 2001, we have provided tons of clients with effective procedures. With us, any issues vanish quickly!
We are happy to have a friendly team of highly qualified specialists. They are always willing to go the extra mile to ensure that our clients are satisfied. Thus, we have a huge number of happy clients who have benefited from our services. They recommend our Bonsall Range Repair and other services to friends and other people. And, of course, they entrust all their electronics to us, as they have experienced our professionalism firsthand. Visit our Google page to see the honest opinions of our customers, who write tons of positive reviews.
We provide a 90-day guarantee for our labor and a 1-year guarantee for the details, giving our clients confidence. We stand behind our work and ensure that our clients are satisfied with the results. To be most useful and provide the best Range Repair in Bonsall, CA, we are constantly developing. The skills and knowledge of our specialists are at the top level. It ensures the flawless quality of each procedure. And thus, we serve household and commercial ranges of all brands and models, including luxury and the latest ones.
Our team has been providing the most effective services for over 20 years. Regardless of the complexity of the issue, we find the best solution. We recommend you not wait for a total failure of your range and apply to specialists when you notice even the smallest malfunction. Below, you can see a list of the most common troubles that may happen to this appliance.

The thermostat, thermometer, bake element, broiler element, tans, electrical coils, induction surface, grills, convection fan, motor, control module, or other hardware components require replacement.

Software issues, so it requires recalibration.

Touchpads, knobs, keys, buttons, and switches do not work, function incorrectly, are broken, or are missing.

The display board or information screen is blank or shows an error message.

You cannot change the flame or temperature levels or any other settings.

The temperature or flame level is too high or too low.

The heating elements do not work or work wrongly (unevenly, slowly, weakly, etc.).

There is a burning, gas, or electrical odor coming from the item.

As you ignite the burners, you hear clicking, ticking, and hissing sounds.

Clogged gas lines or gas ports, broken pilot lights, and malfunctioning safety valves or igniters cause a loss of gas supply.

As a result of the broken drawer mechanism, the racks cannot roll out.

Damaged gaskets, hinges, springs, joints, lid switches, latches, and interlocks make it impossible to close or latch the door.

The door glass is cracked.

The inner lamp or outer LED indicator is going on and off or not shining.

Leveling feet, belts, seals, bearings, fan blades, baffles, handles, grates, burner covers, gas lines, or other parts are damaged.

You cannot turn the range on, or the item goes off on its own.

Due to a damaged plug, wiring, or isolation, there are voltage issues or disruptions in the electricity supply.

After cooking, pans develop black bottoms.

The flame goes out on its own or flickers, arcs, or makes sparks.

The flame is yellow, orange, or red.

The appliance buzzes, vibrates, knocks, hums, squeals, thumps, grinds, or makes other strange noises.

Scratches on the induction surface lead to the temperature sensors flipping.

Dust and crumbs obstruct the convention fan or vent tube.
Facing any of these or other issues, contact us, and we will swiftly pick the best solution. For that, we conduct remote diagnostics to find the reason for the problem. After that, we are ready to announce the approximate cost of its solution and plan our arrival. If you just need a consultation, our friendly team will gladly answer any of your questions. With us, you get efficient and durable Bonsall Range Repair and Service!
In those cases when fixing your item is not recommended or cost-effective, we do not try to cheat you. Our team honestly informs you about the condition of your range and offers only rational solutions. In some cases, it is even enough to provide you with simple instructions.
But those cases are rare. Mostly, the best way out is to apply to us for Range Repair in Bonsall, CA. We conduct any procedures neatly and precisely with the use of the best professional tools, materials, and equipment. When picking spare parts for replacement, we use only perfectly matching ones for each appliance. With the most responsible approach, best instruments, and competence, we provide the most reliable assistance!
And we offer more than perfect work. We always deliver the best Bonsall Range Repair in the shortest terms. You can pick any moment that is suitable for you. We strive to minimize the disruption caused by a failed range. Thus, our team completes over 90% of orders within a single day. You can rely on us even on non-working days and hours. For a small extra payment, we rush to your address immediately at any moment, 24/7. With perfect responsibility, management, logistics, and location, we never waste time!
With us, everyone can get a decent Range Repair in Bonsall, CA at the fairest price. We do not overcharge you, and you always clearly know what you pay for. Our rates are adequate and pleasant, and we also have nice bonuses. Those who prefer online booking, pay $25 less. For veterans and seniors, we have a $30 discount. And returning clients have a 15% off price.
Our affordable prices, short terms for completion of work, and high-quality service are unmatched in the industry. Thus, you can be confident that with Oceanside Appliance Repair Service Center you will get brilliant results without any stress. Our competent team makes any issues vanish in the most comfortable way for you. All you need to do is call us or place an online application. We provide you with the most effective and durable Bonsall Range Repair and Service!
Our specialist carries out repairs, works carefully in the process, so as not to leave behind any traces of equipment repairs, and not to spoil the appearance. After the repair is completed, our company will back it up with a 90-day labor warranty. If you encounter the same problem during the warranty period, rest assured we will return to get an appliance back up to perfectly working condition.
$30 OFF ON FIRST TIME SERVICING
Frequently asked questions
What if I have a complex repair of equipment?
Our specialist will come to your home, conduct diagnostics and offer solutions to the problem. And only after your consent, the repair will begin.
Do you have customer support?
Our managers will always listen carefully to you and give you initial recommendations on the malfunction of your equipment to determine the cost of repair. Call:
(858) 224-0022
Is the expert's visit free of charge?
If you order a call to the master through our website, you are guaranteed to get a free diagnosis of your device, and detection of breakage.