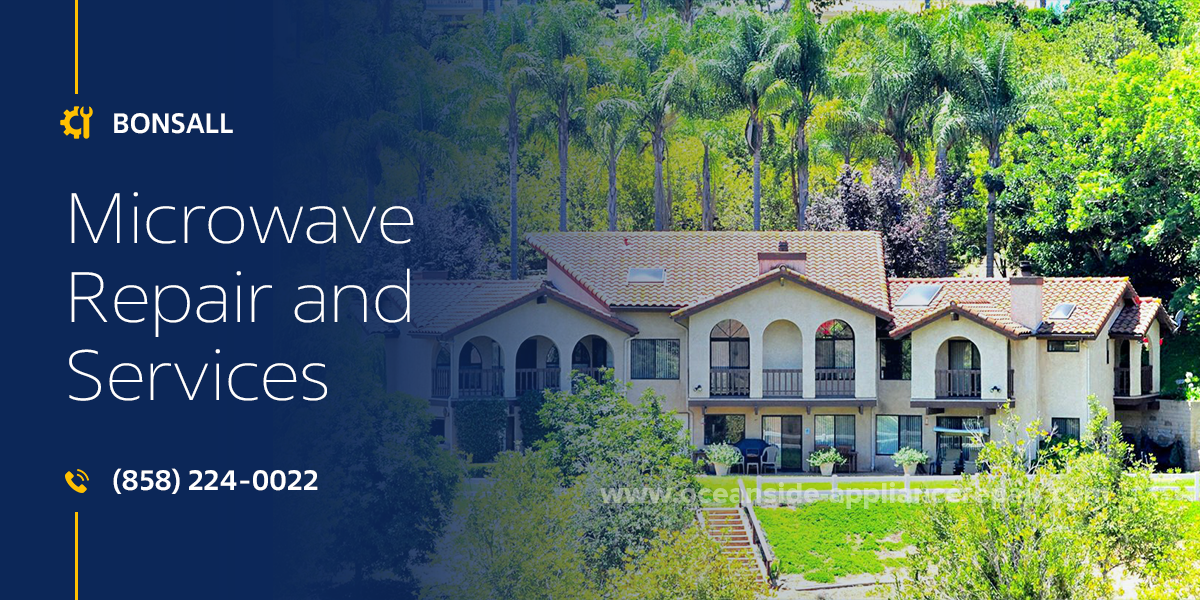 Microwave Repair in Bonsall
Microwaves have become essential appliances in every household, office, and public place. Thus, when they break down, it can be frustrating. But do not worry, as Oceanside Appliance Repair Service Center is always ready to get things back to normal. We offer the best professional Microwave Repair in Bonsall, CA that is swift, affordable, and of excellent quality. Our team of experts will assist you in the most effective way, no matter the issue.
When your microwave breaks down, you probably want it fixed as soon as possible. And the best idea is to clarify the situation first. To find out what happened and how to fix it, we offer swift and effective remote diagnostic services. We can diagnose the issue remotely and arrange the most effective Bonsall Microwave Repair. This service saves time and money for our clients, as we honestly estimate the condition of your unit. If the repair is not advisable, we would rather recommend a replacement.
In some other cases, it is enough to consult you and give useful tips. We will gladly share any information for free and help you plan the most effective regular maintenance. To not let your microwave completely fail one day, contact specialists as soon as you notice even a minor malfunction. There are many different issues that may happen to this appliance. The most common ones are…

The item is not heating at all, is not heating enough, is not heating evenly, or is heating too much.

You cannot change any settings because the controllers and timers do not work.

The control panel performs incorrectly or fails completely, so you cannot change any setting.

The screen or display board is not glowing or is showing an error message.

Buttons, knobs, switchers, or keys do not respond, have a poor connection, or are damaged.

The appliance is emitting smoke, arcs, sparks, or has an electrical or burning odor.

It stops heating midway or goes on heating after the time is over.

Some of the hardware components are malfunctioning (waveguide, magnetron, diode, drive motor, main control board, high-voltage capacitor or transformer, thermal fuse, thermal protector, cooling fan, vent, heating element, etc.).

The roller ring is not turning.

There is debris blocking the air vent, heating tan, or waveguide cover.

The microwave buzzes, grinds, hoots, hums, thumps, vibrates, knocks, squeals, or makes some other strange sounds.

The door glass is cracked.

Due to broken gaskets, joints, lid switches, interlocks, latches, hinges, or springs, the door cannot close or open normally.

The microwave's exterior indicator or interior lamp is flickering or not shining.

Damaged details require replacement (controllers, rack mount, coupler, turntable ring, waveguide cover, leveling feet, handles, etc.).

Spoiled wiring, isolation, or plugs cause voltage or electricity supply issues.
No matter how complex the situation, our professionals fluently restore the proper functioning of any household or commercial microwave. Our team has over 20 years of experience in this field. We are licensed to deal with luxury and the latest items and regularly update our qualifications with regular training. Thus, our technicians provide the highest-quality Microwave Repair in Bonsall, CA to units of all brands and models.
Our specialists use their honed skills and broad knowledge together with the newest and top-notch equipment. We pick the most suitable materials and parts to make your microwave perform perfectly for a long time. To match all items and wallets, we store numerous original details and their high-quality analogs. Such an approach has brilliant results! Each Bonsall Microwave Repair and Service we conduct is reliable, precise, and neat. We do not throw words to the wind, so solidify our work with a long-term warranty. It is 1 year for the details and 90 days for our labor.
We understand that repair costs can be a concern for you. That is why we offer free consultations and reasonable prices for each Microwave Repair in Bonsall, CA. Our rates are competitive and adequate without compromising the quality of our work. Plus, when you apply to us the next time, you get a 15% discount. For veterans and seniors, the cost of work is $30 lower. And everyone who books the order online pays $25 less. With us, everyone can afford a decent service for their own electronics.
Our team of professionals is friendly and always ready to assist you. We take pride in having a friendly staff that can answer any questions and make your troubles vanish. Their professionalism and responsibility bring flawless results and convince clients of our reliability. Thus, they recommend our Bonsall Microwave Repair to others and write many positive reviews on the net. Seeing our customers satisfied with our work is the best possible appraisal!
Caring for your comfort, we cannot let you be unable to get a hot meal swiftly when your microwave misbehaves. Thus, we aim to get it back to normal in the shortest possible time. And in over 90% of cases, our specialists finish working on your order the same day you apply. Our local office in your area is conveniently situated and open around the clock. It lets us offer the option of urgent arrival for a small additional payment. It means that we rush to provide you with Microwave Repair in Bonsall, CA immediately, at any moment, 24/7!
Contact us today to get a free consultation and let us take care of your microwave. By picking Oceanside Appliance Repair Service Center, you get the swiftest, highest-quality, and most cost-effective solution. Our specialists provide each Bonsall Microwave Repair and Service in the most effective and comfortable way. We will make your electronics perform like brand-new ones again soon!
Our specialist carries out repairs, works carefully in the process, so as not to leave behind any traces of equipment repairs, and not to spoil the appearance. After the repair is completed, our company will back it up with a 90-day labor warranty. If you encounter the same problem during the warranty period, rest assured we will return to get an appliance back up to perfectly working condition.
$30 OFF ON FIRST TIME SERVICING
Frequently asked questions
What if I have a complex repair of equipment?
Our specialist will come to your home, conduct diagnostics and offer solutions to the problem. And only after your consent, the repair will begin.
Do you have customer support?
Our managers will always listen carefully to you and give you initial recommendations on the malfunction of your equipment to determine the cost of repair. Call:
(858) 224-0022
Is the expert's visit free of charge?
If you order a call to the master through our website, you are guaranteed to get a free diagnosis of your device, and detection of breakage.