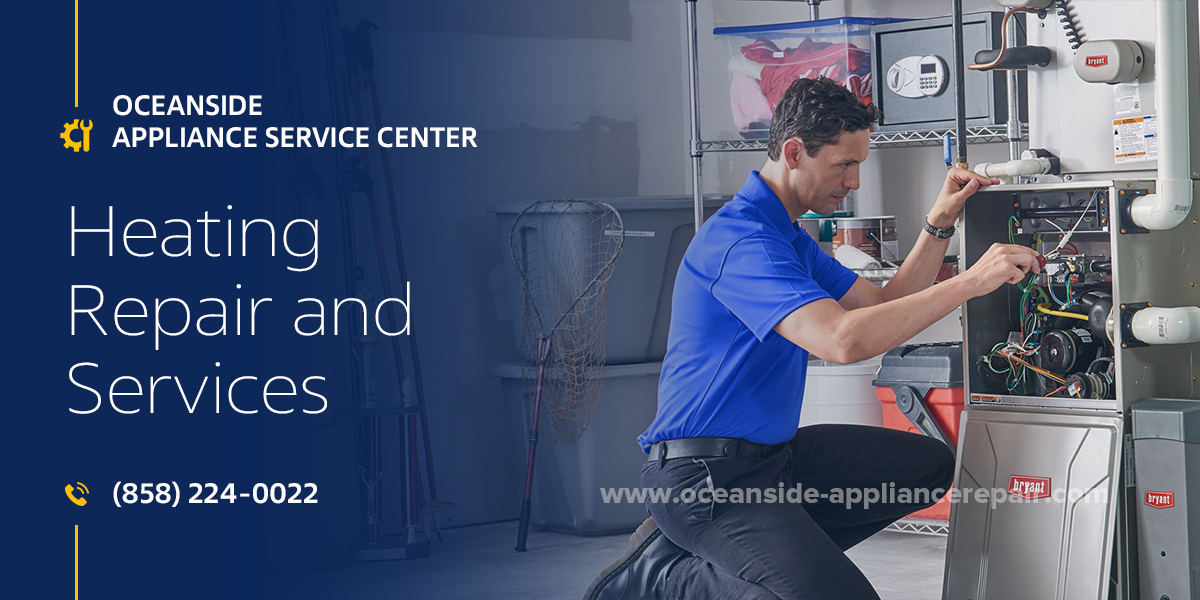 Heating Repair and Service
Whenever you are having an issue with your existing heating system, Oceanside Appliance Service Center is there to help you. We provide any type of Heating Repair in San Diego County. Our team has a wealthy variety of parts and equipment at our disposal. That's why we can solve any kind of issue with minimal disruption to your home or workplace. 
Stages of Heating System Repairs
The heating system is an engineering component of a building designed to provide a comfortable and cozy life. Like other engineering components, this system has its own operational period, after which you will need professional Heating Repairs. In addition, throughout the entire period of use, the heating system needs careful and timely maintenance. This is necessary to extend its service life.
When providing Heating Repair and Service, our technicians perform the following work:
Removing the heaters.

Repairing the wiring and risers of the central heating system (if any).

Restoring the internal part of the pipelines.

Repairing small heating components.

Restoring the functioning of the heating system.
In addition, Heating Repair and Service involve the improvement of the system. During modernization, our technicians carry out the following activities:
Installing pumping equipment, due to which the transportation of the system source of thermal energy improves.

Installing modern control devices with temperature sensors.

Additional equipment can be installed such as heated towel rails or a "warm floor" system.
Professional Heating Repair Round-the-Clock
The Oceanside Appliance Service Center provides Heating Repairs every day to bring comfort back to your home. Just leave a request on the website or call us to get professional assistance. We work in such areas as Fallbrook, Vista, Carlsbad, San Marcos, Escondido, Bonsall, Vista, Encinitas, and Oceanside.
Thousands of Americans suffer sleepless nights caused by the malfunction of the heating systems in their homes. If you are aware of an existing issue, get it fixed before cold weather comes. Call us to arrange Heating Repairs and Services to extend the life of your system.
Even if your heating system suddenly breaks down on holidays or weekends, just let us know. We provide services for urgent Heating Repair for an additional fee. You don't have to feel uncomfortable. We will return the heat to your home as quickly as possible.
When Do You Need Heating System Repair?
Sometimes you can't detect the breakdown of an autonomous heating system immediately. You need emergency repair of the heating system only in case of obvious malfunctions. For example, when radiators, pipes, or boilers fail. But it is more difficult to determine the malfunction by indirect signs when your heating system is still working.
If you notice that your heating system has started to malfunction, immediately call a specialist to diagnose the equipment. If the house has become cooler and you constantly increase the temperature on the boiler, something is wrong. It is necessary to eliminate the cause before the system breaks down. An unpleasant smell and strange sounds coming from the heater also indicate malfunctions.
Heating systems fault diagnosis and repair is our specialty. Our highly qualified and experienced technicians not only provide Heating Repair and Service on the spot. We also give you expert advice on the matter of further maintenance of the system. This will help to prevent any problematic occurrences in the future. Oceanside Appliance Service Center provides a full range of services to keep your heating system in working order.
Our specialist carries out repairs, works carefully in the process, so as not to leave behind any traces of equipment repairs, and not to spoil the appearance. After the repair is completed, our company will back it up with a 90-day labor warranty. If you encounter the same problem during the warranty period, rest assured we will return to get an appliance back up to perfectly working condition.
$30 OFF ON FIRST TIME SERVICING
Frequently asked questions
What if I have a complex repair of equipment?
Our specialist will come to your home, conduct diagnostics and offer solutions to the problem. And only after your consent, the repair will begin.
Do you have customer support?
Our managers will always listen carefully to you and give you initial recommendations on the malfunction of your equipment to determine the cost of repair. Call:
(858) 224-0022
Is the expert's visit free of charge?
If you order a call to the master through our website, you are guaranteed to get a free diagnosis of your device, and detection of breakage.