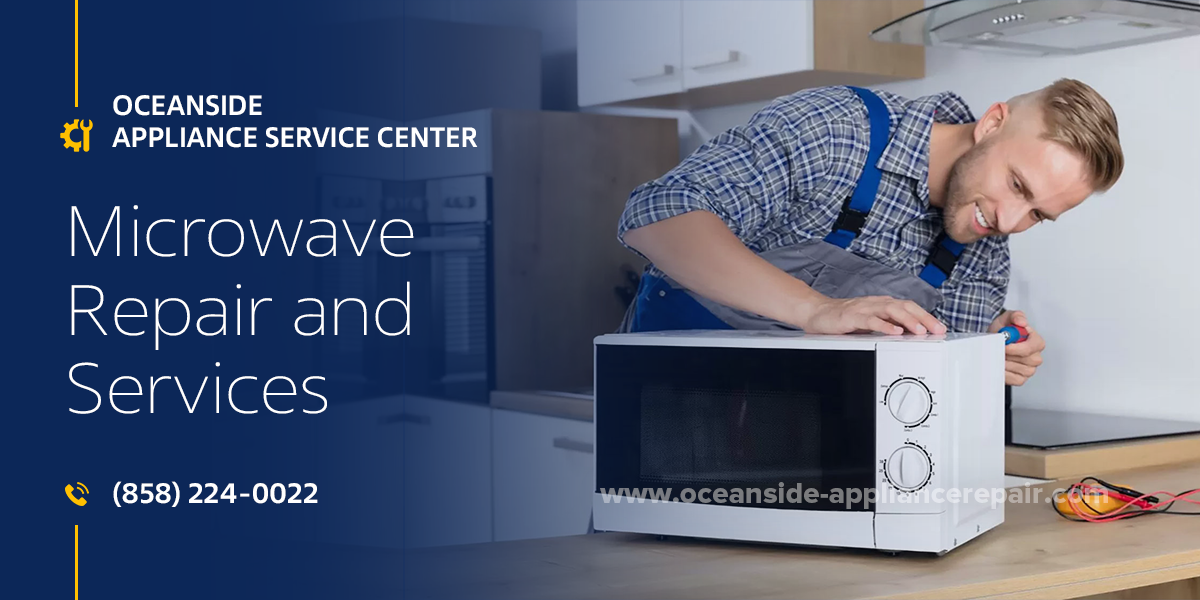 Microwave Repair and Service
Many people believe that a microwave is more functional and definitely more economic than an oven or a range. That is why a microwave became so popular. It does not take up much space and is very convenient and safe. If your microwave breaks down, you need professional help immediately. Just call Oceanside Appliance Service Center. We provide the best Microwave Repair in San Diego County and surrounding areas.
What to Do if Your Microwave Breaks Down?
A microwave is a perfect solution if you work, and your child needs to warm up his lunch. That's why it is an irreplaceable item in many households. And now, just imagine that it either doesn't function properly or got broken at all. If that happens, you need to repair it without delay. 
If your appliance doesn't heat, if its buttons get stuck or do not work, you definitely need Microwave Repairs. If it starts working and then stops suddenly, do not wait. Call Oceanside Appliance Service Center and get professional and speedy help. 
Do you believe that your microwave oven has the most complicated failure? Do not worry, our specialists are trained to handle even hopeless cases. Or maybe you use a microwave that is discontinued? Our technicians know how and where to find original spare parts or their analogs even for the rarest models.
The Most Common Microwaves Breakdowns
There are a few common microwave breakdowns that happen very often. If you saw something like this, call our technician for Microwave Repair and Service:
The plate of your microwave oven doesn't spin.

You noticed sparkling inside the oven.

The light bulb does not turn on when the microwave is in operation. 

The appliance doesn't turn on.
These might be minor failures that might not affect the general functioning. But it might be an indicator that something is really wrong with your item. Don't wait till it stops working completely. Because then, Microwave Repair and Service costs might increase over time. Call our Microwave Repair technician in San Diego County. The specialist will arrive as soon as possible.
Get Professional Microwave Repair Anytime You Need
We process most requests on the same day. It means that if your oven broke down in the morning, in the afternoon you can already get it repaired. In very rare cases, our technician might come in the morning the next day. If you need your item to be fixed asap, it is also possible. 
To address your microwave issues urgently, simply place an order for Microwave Repairs and Services. We prioritize swift response times, and while expedited service may incur a slightly higher cost, the long-term benefits make it worthwhile.
Our clients consistently find the cost of our services justified, as we maintain a commitment to offering the most affordable microwave repair prices in San Diego County. The exact cost for repairing your microwave oven will be determined after a thorough diagnostic assessment by our technician. Professional diagnostics ensure an accurate identification of the breakdown and the best course of action for repair.
You can place your order by giving us a call. If you prefer the web, just fill in the form on our website. Oceanside Appliance Service Center accepts orders for Microwave Repairs round-the-clock. That's why you can always get professional help whenever you need it. 
Oceanside Appliance Service Center is a leader in the market, and our clients know why. We provide not only excellent but also the friendliest service ever, at the time you need it. For a fair price, you not only get the best Microwave Repair and Service. We issue you a guarantee, under which you can get free maintenance or repair if something goes wrong. We know how to make our clients happy.
Our specialist carries out repairs, works carefully in the process, so as not to leave behind any traces of equipment repairs, and not to spoil the appearance. After the repair is completed, our company will back it up with a 90-day labor warranty. If you encounter the same problem during the warranty period, rest assured we will return to get an appliance back up to perfectly working condition.
$30 OFF ON FIRST TIME SERVICING
Frequently asked questions
What if I have a complex repair of equipment?
Our specialist will come to your home, conduct diagnostics and offer solutions to the problem. And only after your consent, the repair will begin.
Do you have customer support?
Our managers will always listen carefully to you and give you initial recommendations on the malfunction of your equipment to determine the cost of repair. Call:
(858) 224-0022
Is the expert's visit free of charge?
If you order a call to the master through our website, you are guaranteed to get a free diagnosis of your device, and detection of breakage.