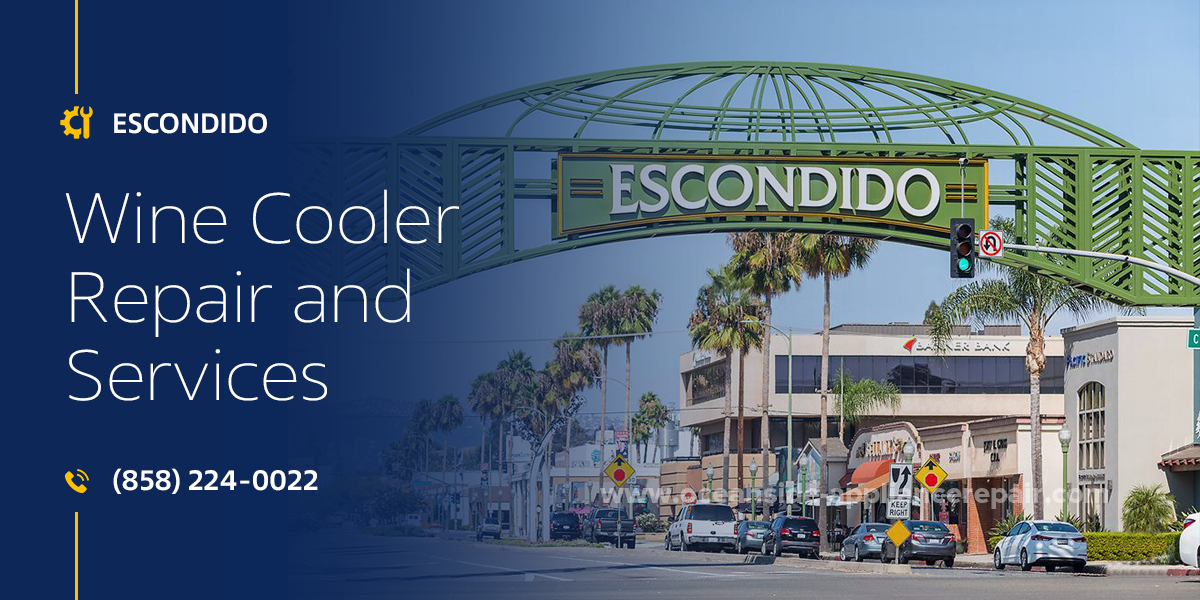 Wine Cooler Repair in Escondido
A wine cooler is a vital appliance for any restaurant or house of a genuine wine lover. Only it can provide perfect conditions for a precious collection of wine bottles. Therefore, you should remember regular maintenance and timely fixing. Oceanside Appliance Repair Service Center offers the swiftest and most high-quality completion of any service. We are always ready to provide you with a durable Wine Cooler Repair in Escondido, CA at a favorable price.
Our team knows how important it is for you to save the exquisite taste of your precious beverage. Thus, when the wine cooler does not perform the way, it should, you probably want to fix it sooner. We do not waste time in vain when know that you need our help. We provide the quickest reaction whenever you need any Escondido Wine Cooler Repair. In over 90% of orders, we resolve the issue the same day you apply. And for urgent situations, we have an option of urgent arrival. It costs slightly more but means that we rush to your address immediately! It is available during non-working hours and days off too.
Working fast does not mean being in a rush and neglecting quality. Our specialists do not need much time to find and eliminate the problem because of their proficiency, experience, and fluency. They deal with all types of Wine Cooler Repair in Escondido, CA for over 20 years. Thus, our professionals perfectly know what to do in any situation. We know the subtleties of working with commercial and household items of all brands and models.
Perfectly refined skills and outstanding knowledge of our team get even better constantly, as they regularly undergo training. Our technicians are insured and licensed for serving luxury and the latest items too. Their highest qualification and responsibility mean the highest quality for each procedure.
We have tested various equipment and selected the best one to conduct any Escondido Wine Cooler Repair and Service perfectly. Using top-notch professional tools and materials lets us conduct the neatest and most precise procedures. 
We cooperate with manufacturers of original and decent-quality alternative details, so have various components in stock. This way, we always have a perfect match for any wine cooler and budget. And perfectly fitting spare parts have a significant value for the durable and smooth performance of your item. 
We provide all the details we use with a 1-year guarantee. And you also get a 90-day warranty for our labor.
We offer an opportunity to clarify the condition of your item, the expediency of the repair, and its cost beforehand. Whenever you have any questions, just call us for a free consultation or remote diagnostic. We gladly provide you with any needed information and detect what is the solution for your issue. Do not hesitate to call us even if you notice a minor malfunction. The most common troubles that you may face with your wine cooler are listed below.
The item goes on and off repeatedly, shuts off itself, or cannot turn on or off.

The interior lamps or exterior indicators are flickering or do not shine.

The appliance stopped cooling or has improper temperature inside.

You cannot adjust settings as needed.

The control panel failed (the screen is blank, shows an error, or is not shining, the controllers do not respond, or the timer is not working).

The wine cooler produces a burning or electrical odor.

Buttons, knobs, switches, keys, leveling feet, handles, seals, bearings, fan blades, baffles, or other components are worn off, broken, or lost.

The door glass, body surface, or shelves are damaged.

The Peltier module, process control block, starter, capacitor, sensors, compressor, evaporator, thermostat, fan, motor, or other component is out of order.

Freon is leaking, dripping, or requires refilling.

The moisture is condensing inside the item, so humidity is at a high level, making corks and labels damaged.

The inner walls, coils, or bottles get a layer of ice or snow on them.

The condenser fan, ventilation, or coils are obstructed with dust.

The door has worn our gasket, joints, springs, hinges, interlocks, lid switches, or latches, so cannot close, open, or latch normally.

Unstable or ruined electricity supply (wiring, isolation, plug).

The item produces weird noises, like vibrating, humming, bubbling, knocking, squealing, buzzing, thumping, grinding, etc.
Any of these and other problems vanish shortly if you apply to us for Wine Cooler Repair in Escondido, CA. We offer only rational solutions and never waste your time and money. If it is enough to instruct you on a few simple steps to make the problem vanish, we do it! Or, when it appears that the item is not cost-effective or advisable to fix, we honestly recommend you a replacement.
We care for your comfort and the most effective usage of your money. It means honesty in everything about your situation, like the condition of the appliance and the expenses of fixing it. With us, you do not get useless services and never overpay for the job. The rates for our Escondido Wine Cooler Repair are the fairest and the most affordable. And we also have a $30 discount for veterans and seniors. If you book an order online, you get a $25 off price. And for returning clients, the cost of the next order is 15% lower.
Reasonable price is just one of the reasons why our customers keep on applying to us. We adjust to all their requirements and resolve any issues in a comfortable and stressless way. Thus, you can see a huge number of positive reviews about Wine Cooler Repair in Escondido, CA, and other services we provide. For that, just visit our Google page. Our clients entrust all electronics to our reliable hands and recommend the same to other people. Their highest estimation of our job is the best appraisal for us!
With Oceanside Appliance Repair Service Center, you get the best installation, maintenance, and fixing services for your wine cooler. Our company has been proving own professionalism and loyalty since 2001. Your comfort is the key goal, and we always know how to provide you with the best assistance. Do not hesitate to call us regardless of what happens with your item. We conduct the swiftest high-quality Escondido Wine Cooler Repair and Service at the most reasonable price.
Our specialist carries out repairs, works carefully in the process, so as not to leave behind any traces of equipment repairs, and not to spoil the appearance. After the repair is completed, our company will back it up with a 90-day labor warranty. If you encounter the same problem during the warranty period, rest assured we will return to get an appliance back up to perfectly working condition.
$30 OFF ON FIRST TIME SERVICING
Frequently asked questions
What if I have a complex repair of equipment?
Our specialist will come to your home, conduct diagnostics and offer solutions to the problem. And only after your consent, the repair will begin.
Do you have customer support?
Our managers will always listen carefully to you and give you initial recommendations on the malfunction of your equipment to determine the cost of repair. Call:
(858) 224-0022
Is the expert's visit free of charge?
If you order a call to the master through our website, you are guaranteed to get a free diagnosis of your device, and detection of breakage.