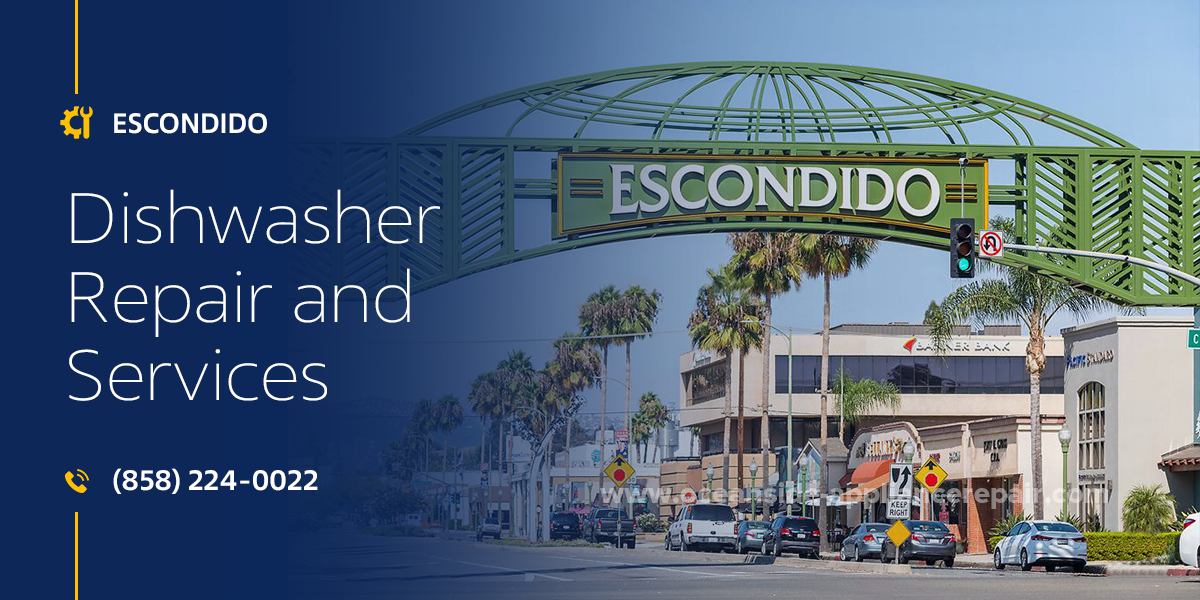 Dishwasher Repair in Escondido
Are you looking for reliable and affordable Dishwasher Repair in Escondido, CA? Look no further! Oceanside Appliance Repair Service Center offers top-notch services at the fairest prices in the industry. With a team of qualified technicians with over 20 years of experience, we guarantee exceptional service that exceeds your expectations. We provide the quickest assistance for installing, maintaining, and fixing your item.
If you apply to us, rest assured that your household or commercial dishwasher is in capable hands. Our team of competent technicians has plenty of knowledge in diagnosing and repairing a wide range of dishwasher brands and models. With their expertise, they can identify and resolve any issue promptly and effectively. 
We conduct the most effective Escondido Dishwasher Repair even to luxury and the latest units. For that, our team is tirelessly developing and undergoing training and licensing. Our specialists reach the highest quality for each procedure they proceed with.
To provide the best possible Dishwasher Repair in Escondido, CA, we also equip our technicians with professional tools and materials. It allows them to perform accurate and neat services in any case. Another important aspect is the spare parts we use. We carefully select the best and most needed original and alternative details and keep them in stock. Therefore, when we go to your address, we have with us a perfect matching detail for any appliance you have. And you should not doubt the result, as we back it up with a long-term guarantee. It solidifies our labor for 90 days and the details we use – for 1 year.
We understand that a malfunctioning dishwasher causes inconveniences and makes you waste time not the way you want. That is why we complete over 90% of tasks within a single day, minimizing any disruption to your daily routine. We offer the quickest Escondido Dishwasher Repair and Service without compromising quality. It happens because of brilliant management, logistics, responsibility, and convenient location. 
Plus, we are available 24/7. It means that you can order an urgent arrival during days off and after hours too. In such cases, our technician sets off to your address immediately for just a small emergency fee.
If you doubt how serious is the issue or have any questions, just call us anytime. To make things hassle-free, we offer a free consultation and remote diagnostic service. Our friendly customer support gladly informs you about cooperation with us, care for your dishwasher, or other issues you have. 
When we can instruct you on swift solutions, we share our experience and knowledge to save you time and money. But you should not try to fix any breakages yourself, as it may be dangerous for you and your item. Thus, these phone services help plan the most effective and convenient Dishwasher Repair in Escondido, CA.
There are many issues that may happen to dishwashers. But none of them can puzzle our proficient and competent team. Below, you can see the list of the most common troubles with these appliances.
You cannot turn the dishwasher on or off.

The item cannot start or complete the washing cycle, washes endlessly or too long, stops midway, or shuts off abruptly.

The unit cannot supply the water or fills with it non-stop.

The dishwasher is not draining.

It does not wash dishes properly, so they remain oily, covered with food or foam, or too wet.

The detergent cannot reach the tub.

Some of the hardware components are out of order (thermostat, heating element, thermometer, pump, motor, etc,).

Timers and controllers function inadequately, so you cannot adjust any settings.

The information screen shows an error message or is not glowing.

The door is not closing, latching, or opening normally due to deformed lid switches, interlocks, latches, joints, springs, gaskets, or hinges.

The door glass is cracked.

A puddle of water or foam appears underneath the appliance.

The racks cannot roll out due to malfunctioning slide arm or damaged drawer mechanism.

The appliance gets extremely hot while working.

The item is rumbling, buzzing, vibrating, humming, popping, squealing, grinding, thumping, or making other weird noises.

The unit emits a burning or electrical smell.

It smells filthy or has mold inside.

Keys, knobs, buttons, switchers, cutlery baskets, holders, seals, leveling feet, pipes, float switches, supply/water inlet valves, hoses, filters, handles, or other details are worn off, damaged, or lost.

Unstable electricity supply due to spoiled wiring, isolation, or plug.

Spray arms, pipes, hoses, filters, or sump strainers are clogged or dirty.

The indicator is red, flickering, or not shining.
Our technicians always know what to do. And sometimes it may appear that the repair is not cost-effective, or the unit is beyond the repair. In such a case, we recommend you a replacement straight. We are always honest with you, so you can be sure of getting only reasonable and rational services.
The cost of our Escondido Dishwasher Repair is the most favorable. We adjust to any budget and focus on helping many clients instead of bankrupting a few. Thus, we offer adequate prices and a pleasant discount system. It means $25 off for online booking, $30 off for veterans and seniors, and 15% off for returning clients. No overcharging, hidden fees, or adding useless items to the bill!
Friendly attitude, professionalism, client focus, reliability… These and other traits of our team make customers satisfied with applying to us. After experiencing the reliable Dishwasher Repair in Escondido, CA we offer, our clients entrust other appliances and tasks to us too. They recommend us to others and post many positive reviews on the net. Their opinion is the best proof that our company is a trustworthy one.
When it comes to the best Escondido Dishwasher Repair and Service, you can rely on us. Oceanside Appliance Repair Service Center has all the needed for that: affordable prices, prompt arrival, experienced technicians, and client focus. The quality of our work is always brilliant and goes without saying. Contact us today and get any needed services in the most comfortable conditions for you!
Our specialist carries out repairs, works carefully in the process, so as not to leave behind any traces of equipment repairs, and not to spoil the appearance. After the repair is completed, our company will back it up with a 90-day labor warranty. If you encounter the same problem during the warranty period, rest assured we will return to get an appliance back up to perfectly working condition.
$30 OFF ON FIRST TIME SERVICING
Frequently asked questions
What if I have a complex repair of equipment?
Our specialist will come to your home, conduct diagnostics and offer solutions to the problem. And only after your consent, the repair will begin.
Do you have customer support?
Our managers will always listen carefully to you and give you initial recommendations on the malfunction of your equipment to determine the cost of repair. Call:
(858) 224-0022
Is the expert's visit free of charge?
If you order a call to the master through our website, you are guaranteed to get a free diagnosis of your device, and detection of breakage.