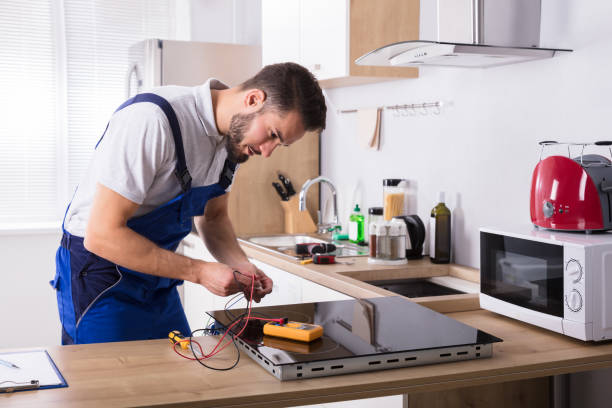 Nowadays, every household depends on its kitchen stove, every single day of the week, when cooking meals for you and your family. And when your stove breaks down in your home, it's going to disrupt the entire household and result in a great deal of inconvenience. If you're looking for someone who can repair your stove quickly and in an efficient way, at a very affordable price, call Oceanside Appliance Repair Service Center. We are the one-stop company for any appliance repairs. Oceanside Appliance Repair Service Center technicians quickly evaluate the problem by providing repair services anywhere in Escondido, Encinitas, San Marcos, Carlsbad, Vista, Bonsall, Fallbrook, and Oceanside stove repair service.
Our company has been repairing, maintaining, and installing customers' stoves and other home appliances throughout San Diego County and surrounding areas for over a decade. Regardless of the brand name of the appliance, our technicians have been factory-trained and certified to repair any appliance, no matter how big or small the job is. Furthermore, you'll have peace of mind knowing that we will only install genuine authorized spare parts. All spare parts installed by us are backed by the manufacturer's warranty.
WHAT ARE COMMON STOVE PROBLEMS?
Unfortunately, there is no such thing as the perfect stove or any other appliance for that matter. At some point, they will all create some type of issue or problem. And when that happens in San Diego, the name you can trust for stove repair is the Oceanside Appliance Repair Service Center. Our trained technicians can efficiently and quickly diagnose any problem, as well as provide the proper repair solution.
Here are some of the more common problems with the stoves any homeowner may run into:
  Burner Knobs Need Replacing.

  Heating elements on your electric stove don't work.

Oven or stove (or even both) doesn't maintain temperature settings, overheats, or quits heating up altogether.

  Stove timer doesn't work.

  Stovetop ceramic glass is cracked.
Whether you have one specific problem or even a combination of the ones listed above, please don't hesitate to give us a call for stove repair. Our company offers a more flexible appointment setting. That way, the Oceanside Appliance Repair Service Center can work around your schedule.
REPLACEMENT PARTS WE PROVIDE
No matter what major stove brand name you have (or even less known one), our licensed technicians have the right part for it. This includes:
  Bake igniters

  Main control board

  Burners

  Dials and gaskets

  Heating elements

  Thermocouples

  Self-cleaning latches

  Igniters

  Relays

  Safety valves

  Temperature sensors

  Thermostats

  Gas valves

  Spark modules

  Ignition wires

  Switches
We are available constantly. You can call us or place your order online, any option is available. Normally, our specialists handle 95% of requests either on the same day or in the morning of the following day. Do you have an emergency? Just indicate it in your order, and our technician will come to your place asap. The price for an urgent service is higher, however, your comfort is more precious.
We have plenty of happy clients who can recommend our Stove Repair in San Diego County. Oceanside Appliance Repair Service Center specialists can handle even the most complicated and the most urgent cases. There are no such issues with your refrigerator that cannot be fixed, and we are able to prove it for you. With our reliable and excellent repair service, we make your life more comfortable.
Our specialist carries out repairs, works carefully in the process, so as not to leave behind any traces of equipment repairs, and not to spoil the appearance. After the repair is completed, our company will back it up with a 90-day labor warranty. If you encounter the same problem during the warranty period, rest assured we will return to get an appliance back up to perfectly working condition.
$30 OFF ON FIRST TIME SERVICING
Frequently asked questions
What if I have a complex repair of equipment?
Our specialist will come to your home, conduct diagnostics and offer solutions to the problem. And only after your consent, the repair will begin.
Do you have customer support?
Our managers will always listen carefully to you and give you initial recommendations on the malfunction of your equipment to determine the cost of repair. Call:
(442) 291-2244
Is the expert's visit free of charge?
If you order a call to the master through our website, you are guaranteed to get a free diagnosis of your device, and detection of breakage.