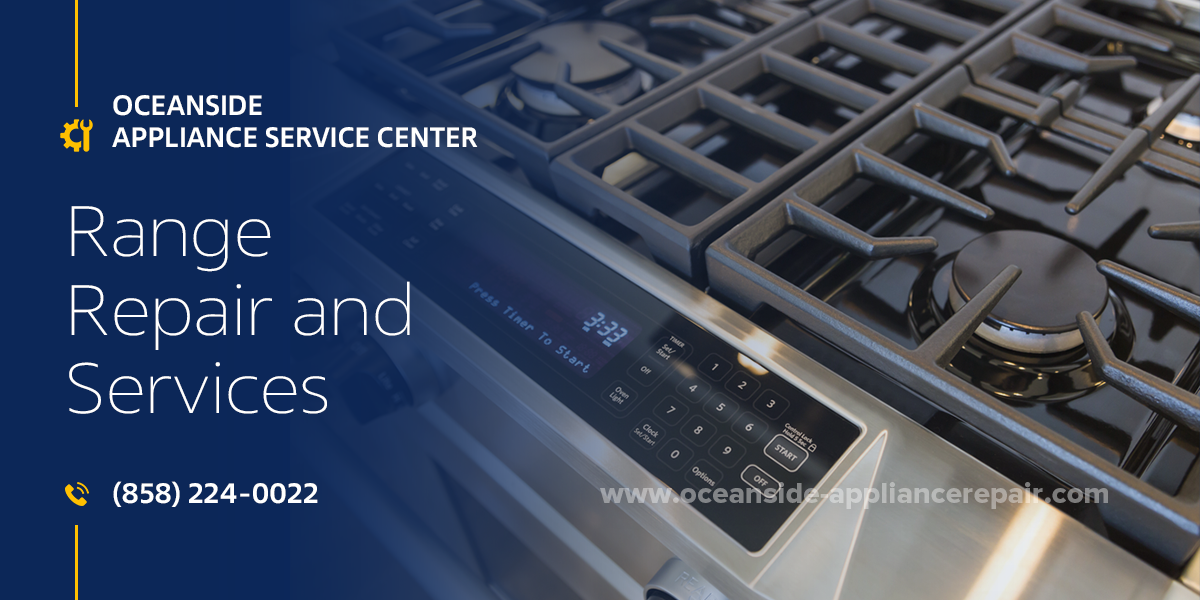 Ranges are the most common cooking appliances sold in the USA. And if a range breaks down, you stay without cooked food. Moreover, a range breakage can be rather dangerous. Whatever happens, if you notice anything strange in the operation or your range, ask for professional help immediately. Contact Oceanside Appliance Service Center to call a technician in such locations for Range Repair in San Diego County.
When Do You Need a Range Repair Technician?
Ranges are convenient for different cooking purposes, and simply make our lives more comfortable. If you have bought a new range, it should not cause any problems for at least some years. Some of them work flawlessly for more than a decade. However, things happen. In some cases, you need to call a technician for Range Repairs immediately:
If the surface element isn't heating.

If the range stays on too high or just gets warm.

If the temperature indicator shows wrong values.

If the range turns off suddenly without completing the cooking process.
If you noticed some kind of malfunction in your range operation, you should ask for help. Call our technicians at Oceanside Appliance Service Center. They know how to handle even the rarest models of ranges. It doesn't matter if you bought them in the USA or somewhere else.
Do you have something really exclusive, and nobody dares to work with it? That is not an issue for professionals who work for our local Range Repair services provider. They are trained to handle all issues connected with ranges. Our technicians use only the original parts of their high-quality analogs. Experts always offer the best repair solution, taking into account the best combination of cost and quality. If the repair is expensive and it's easier to buy a new range, we will tell you honestly about it.
If your range doesn't heat, heats too much, doesn't turn on, or if any other malfunction appears, call us. Do not wait till it is too late. Our specialists provide the best Range Repairs and Services in the market. Our reasonable prices and fast service are the things that attract many clients. With Oceanside Appliance Service Center, you get a long-term guarantee for most work done.
How to Order Range Repair Services?
Whenever you need help with your range, you can call or request help on the Oceanside Appliance Service Center website. In most cases, we provide Range Repair and Service on the same day when you place your order. In very rare cases, our technician might be available early in the morning on the next day. Get your range working again on the same day when it broke down! 
But staying without an opportunity to cook is not pleasant, even if it is only about a couple of hours. That is why you might want to place an urgent request. You will have to pay slightly more for Range Repairs in such a case. But our specialist will arrive within the shortest time possible to solve your issue. It is nice to know that your problem is a priority, isn't it? Our specialists are available constantly for Range Repair and Service. They provide you with the best and the friendliest services ever. And you can be simply sure, that whatever the problem is, they will handle it. 
We value each of our clients. That is why we are eager to provide them with the highest quality services for reasonable prices. And our clients eagerly recommend us in San Diego County to their friends and relatives. Oceanside Appliance Service Center is one of the best companies in the market. We are planning to comply with this status in the future, as well. If you have any questions about Range Repair and Service in San Diego County, contact us for free advice. We are always available and ready to help!
Our specialist carries out repairs, works carefully in the process, so as not to leave behind any traces of equipment repairs, and not to spoil the appearance. After the repair is completed, our company will back it up with a 90-day labor warranty. If you encounter the same problem during the warranty period, rest assured we will return to get an appliance back up to perfectly working condition.
$30 OFF ON FIRST TIME SERVICING
Frequently asked questions
What if I have a complex repair of equipment?
Our specialist will come to your home, conduct diagnostics and offer solutions to the problem. And only after your consent, the repair will begin.
Do you have customer support?
Our managers will always listen carefully to you and give you initial recommendations on the malfunction of your equipment to determine the cost of repair. Call:
(858) 224-0022
Is the expert's visit free of charge?
If you order a call to the master through our website, you are guaranteed to get a free diagnosis of your device, and detection of breakage.