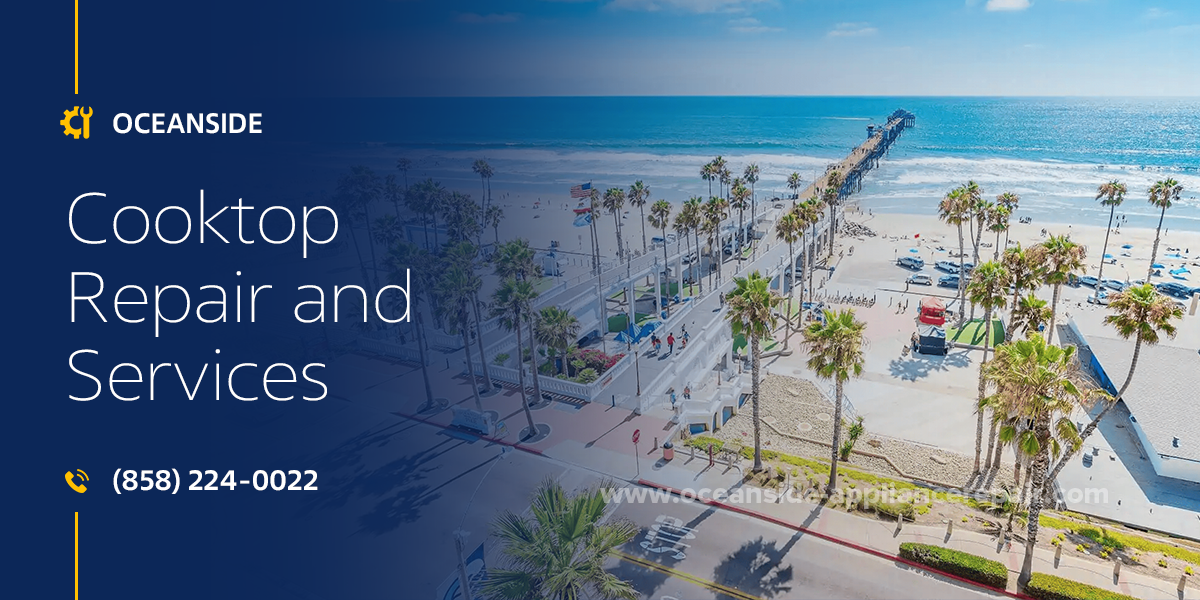 Cooktop Repair in Oceanside
Any kitchen in restaurants, cafes, flats, or houses cannot be full-fledged without a cooktop there. This simple, but useful appliance can help you in cooking various fried, boiled, or stewed dishes. But with a bad influence of time, voltage surges, wrong exploitation, or other aspects, it may start functioning wrong. In such cases, you need a reliable provider of high-quality Cooktop Repair in Oceanside, CA. And the solution is here! Oceanside Appliance Repair Service Center provides the best services swiftly and at the fairest price since 2001.
Cooktops may vary in type, construction, and other features. And our specialists know how to cope properly with any of them, regardless of brand and model. With over 20 years of providing Oceanside Cooktop Repair, they know the subtleties of any commercial and household appliance. And to be qualified properly for dealing with luxury and the latest units, they obtain licenses after passing the training. Surely, it means the highest quality of each service that our team provides.
As we are in charge of everything we do, we care about using the best tools, materials, and details. We stock a huge amount of original and alternative details from top manufacturers. It lets us use the most suitable ones which make your appliance perform smoothly for a long. Our Cooktop Repair in Oceanside, CA is always neat, dustless, and precise. And we doubtlessly provide a long-term guarantee for each of them. It is 90 days for our labor and 1 year for the details we use.
When you notice any issues with your cooktop, it is crucial not to delay reaching out to specialists for Cooktop Repair in Oceanside Near You. Taking prompt action can help prevent more serious breakdowns and ensure the most effective solution for the current situation. Our skilled specialists excel at swiftly identifying the cause of the breakage through phone consultations and diagnostics. Simply inform us about the issues you face, and we will efficiently assess the situation. Here are some of the most common troubles that can occur with your cooktop:
It is not producing any flame or heat.

You notice gas leaking, as it smells (regardless of if the cooktop is on or off).

The broiler elements, burners, induction or electrical coils, tans, bake elements, grills, or other heating elements do not work, work wrong (too much/too weak/unevenly), or are totally damaged.

The item shuts off abruptly or does not turn on or off.

The flame goes off itself, is flickering, or has a weird color (like red, yellow, or orange).

The item is reaching the needed temperature too slowly or cannot get the proper one at all.

The control panel or its elements (controllers, display board, information screen) malfunction.

The indicators or screens do not glow.

While you try to turn the burners on, they are sparkling, hissing, clicking, or ticking.

Coils or controllers have a loose connection.

The temperature sensors in induction units are flipping because of damaged surfaces.

The heating elements, touchpads, knobs, buttons, switches, thermostats, sensors, thermometers, fuses, ignition, wiring, plug, gas valve, or other parts require replacement.

Troubles with gas or electricity supply.

The appliance produces a burning, gas, or electrical smell.

Gas ports or gas lines are clogged.

The cooktop is humming, knocking, clicking, buzzing, vibrating, or making other weird noises.
Our team has resolved those and other problems many times. They provide the most efficient Oceanside Cooktop Repair and Service. It also means that we do not offer you our work in those cases when it is not recommendable.
With us, you get a clear vision of the situation. We let you know what you pay for and that is always a cost-effective and rational solution. We have the most affordable and reasonable prices for Cooktop Repair in Oceanside, CA. Plus, you pay $25 less if book the order online. For returning clients, we offer a 15% discount. Veterans and seniors get $30 off. We adjust to any budget and never overcharge!
People are looking not only for the best prices but also for the soonest possible result. And we always provide the quickest Oceanside Cooktop Repair! In an absolute majority of orders, we fix your item within a single day. Our department in your area is available 24/7 to assist you in emergencies too. An optional feature of urgent arrival costs slightly more but implies that the technician leaves the office immediately.
Our company provides the best Cooktop Repair in Oceanside, CA in the most comfortable conditions. It means that we adjust to any requirements and make you satisfied with the result. Our clients are happy with our work, the friendly attitude, and the professionalism of our team. Those and other features you can see in numerous positive reviews they leave on the net. Our customers recommend friends apply to us too and return with other issues. That is what shows our reliability the best.
With Oceanside Appliance Repair Service Center, you should never worry about your electronics. Our technicians eliminate any issues swiftly and effectively. Regardless of the complexity of the issue, we make your cooktop perform perfectly again. The highest quality at the most favorable price is what you get with us. Just call us or place an online application. We arrange the best Oceanside Cooktop Repair and Service the way it is suitable for you!
Our specialist carries out repairs, works carefully in the process, so as not to leave behind any traces of equipment repairs, and not to spoil the appearance. After the repair is completed, our company will back it up with a 90-day labor warranty. If you encounter the same problem during the warranty period, rest assured we will return to get an appliance back up to perfectly working condition.
$30 OFF ON FIRST TIME SERVICING
Frequently asked questions
What if I have a complex repair of equipment?
Our specialist will come to your home, conduct diagnostics and offer solutions to the problem. And only after your consent, the repair will begin.
Do you have customer support?
Our managers will always listen carefully to you and give you initial recommendations on the malfunction of your equipment to determine the cost of repair. Call:
(858) 224-0022
Is the expert's visit free of charge?
If you order a call to the master through our website, you are guaranteed to get a free diagnosis of your device, and detection of breakage.