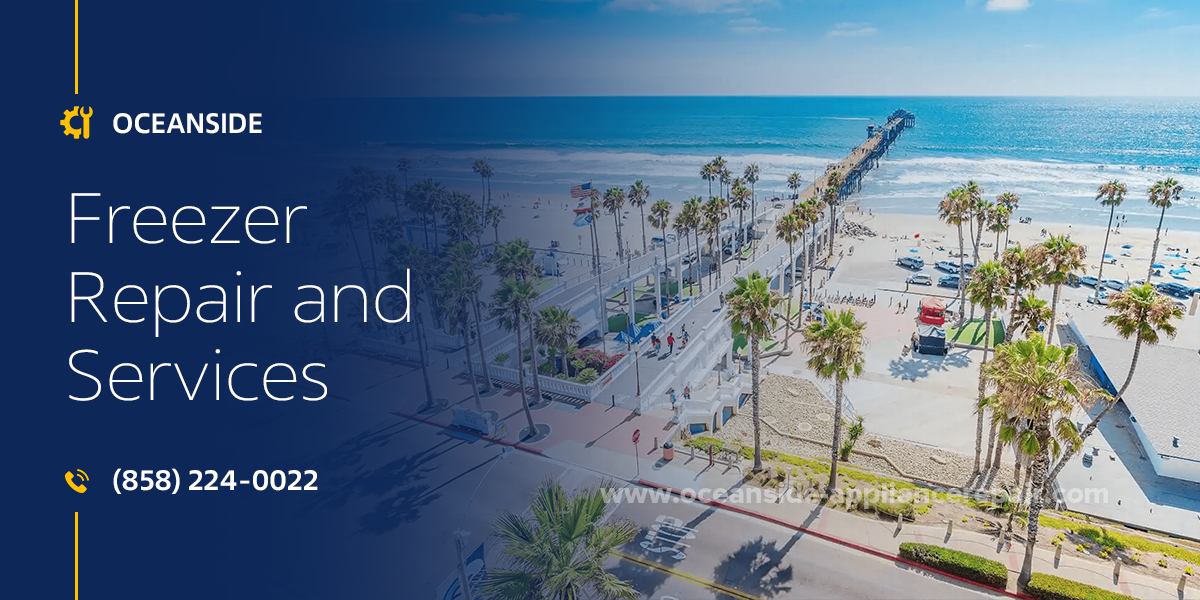 Freezer Repair in Oceanside
Not to get unpleasantly surprised when your freezer stops working normally, you should regularly check its condition. And for both maintenance and fixing, only a reliable service provider can provide effective assistance. It is about Oceanside Appliance Repair Service Center. The quality of our work is always brilliant, as we have the most proficient and responsible team. Since 2001, we provide the best Freezer Repair in Oceanside, CA swiftly and at affordable prices.
The freezer provides special conditions, different from other cooling appliances. Thus, if it works wrong, you not only have a failed item but get your frozen products spoiled. Surely, such a situation should not last long. And if you apply to us, you get the quickest Oceanside Freezer Repair. Your item gets back to normal the same day you apply unless you pick another moment. If you want it even faster, you can request an urgent arrival for a slightly higher price. In this option, the technician leaves the office within 15 minutes! Our local branch is open 24/7, so you can rely on us at any moment. 
We are also always ready to provide you with a free consultation. You can ask anything, tell us what makes you worry, and get useful advice about properly caring for your freezer. Remote diagnostics help find the reason for the breakage even without arrival and indicate the most effective solution. Mostly, it means planning the most suitable Freezer Repair in Oceanside, CA for you. But if we find out that it is not recommendable or rational, we rather recommend you a replacement. 
When it comes to Freezer Repair in Oceanside Near You, our team is well-equipped to handle a wide range of issues that may occur with your freezer. Rest assured that no matter the complexity or puzzling nature of the problem, our experts are up to the task. Here are some of the most common troubles that you may encounter with your freezer:
The freezer's doors do not close tightly, latch, or normally open because of the damaged gasket, joints, springs, interlock, lid switch, latch, or hook.

It does not defrost automatically.

The item shuts off abruptly, goes on and off repeatedly, or cannot turn on.

The refrigerant leaks or drips inside or outside the item.

The freezer is too noisy (gurgling, bubbling, humming, hooting, squealing, grinding, thumping, knocking, buzzing, etc.).

The item is turning on but not freezing.

It freezes unevenly, too much, or insufficiently.

The temperature is not changing as the controllers do not respond.

The software is faulty, and the control module requires recalibration.

The screen is blank or gives you an error warning.

The timer is not working.

The details are spoiled, worn off, or lost (leveling feet, belts, seals, buttons, knobs, switches, fuses, hoses, pipes, compressor mounts, water inlet valves, etc.).

The freezer (and the goods inside of it) got a foul smell.

Surface elements, doors, or shelves are cracked.

Snow or ice appears on the inner walls or coils or clogs the drain tube, drain pan, or defrost drainer.

The water is leaking or condensing inside/under the unit.

The condenser or evaporation coils are obstructed with ice or dust, which affects their functioning.

The lamps are not shining.

Troubles with hardware parts, like defrost timer, defrost heater, coils (condenser/evaporative), fan (condenser/evaporator), compressor motor, compressor relay, relay switch, overload protector, thermostat, icemaker, etc.

Issues with wires or plug, so the electricity supply is troubled.
Our team makes any of those or other problems vanish in no time! We pick the most effective solutions in any case. We also announce the approximate cost of the needed work beforehand. The diagnostic is included in that price if you apply to us for services. Otherwise, you pay a service fee and have 30 days to use it as a part of the work pay. Surely, if the work is recommended. If not, we help you pick a new item according to your needs and budget.
Our rates are always the most reasonable and fair. Our Oceanside Freezer Repair and Service are cost-effective and durable. You never waste money in vain if apply to us. We clearly inform you about the condition of your appliance and how much it costs to fix it. No hidden fees or useless services. With us, you get only the best result at the best price! We also can adjust to any budget and offer pleasant discounts. The deals are 15% off for returning clients, $25 off for online booking, and $30 off for returning clients.
Our customers come back to us not only because of a good price. They know that our company is a trustworthy and client-focused service provider, as they see the results of our work. They are happy for picking us up for all services, including Freezer Repair in Oceanside, CA. Their opinion is the main indicator of our reliability. And it is reflected in a huge number of 5-star reviews on our Google page. Our friendliest attitude, comfortable conditions, and proficiency make our clients come back with other issues and recommend us others.
The highest quality of our Oceanside Freezer Repair is reached owing to a complex approach. It is a perfect combination of outstanding skills, knowledge, and the best equipment. Our team goes on developing and picking the best solutions. They perfectly know all the subtleties of all commercial and household freezers. Having regular training, they are always up-to-date and qualified. Our technicians also have insurance and licenses for coping with all electronics, including the latest and luxury ones.
We have a vast variety of original and alternative parts in stock. Thus, our specialists use matching details for freezers of all brands and models. Together with proper tools and materials, we conduct each procedure neatly and precisely. It also means a smooth and long performance of your appliance without any tottering and squeaking. Our team is responsible for providing the most effective and durable Freezer Repair in Oceanside, CA. We back up each work with a 1-year guarantee for details and a 90-day one for our labor.
Oceanside Appliance Repair Service Center has the best professionals. Their experience exceeds 20 years so far, so there is nothing they cannot deal with. Our team offers the most effective solutions to any issues you face. We are the best choice if you need the swiftest high-quality Oceanside Freezer Repair and Service at a favorable price. Just call us or place an online application. With us, your freezer will perform perfectly again shortly.
Our specialist carries out repairs, works carefully in the process, so as not to leave behind any traces of equipment repairs, and not to spoil the appearance. After the repair is completed, our company will back it up with a 90-day labor warranty. If you encounter the same problem during the warranty period, rest assured we will return to get an appliance back up to perfectly working condition.
$30 OFF ON FIRST TIME SERVICING
Frequently asked questions
What if I have a complex repair of equipment?
Our specialist will come to your home, conduct diagnostics and offer solutions to the problem. And only after your consent, the repair will begin.
Do you have customer support?
Our managers will always listen carefully to you and give you initial recommendations on the malfunction of your equipment to determine the cost of repair. Call:
(858) 224-0022
Is the expert's visit free of charge?
If you order a call to the master through our website, you are guaranteed to get a free diagnosis of your device, and detection of breakage.