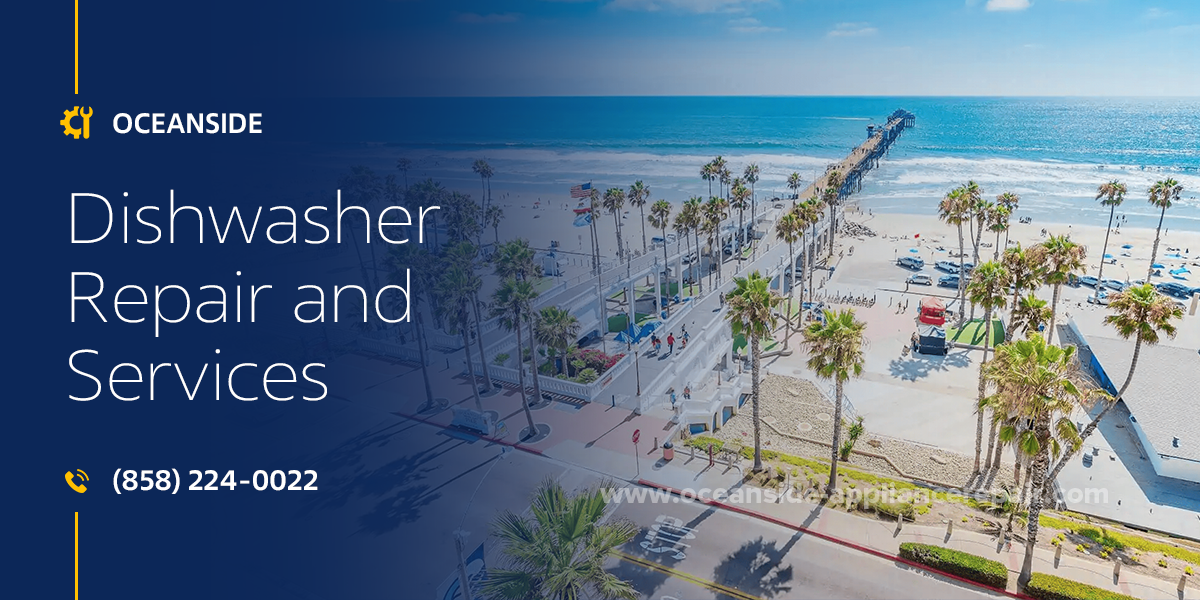 Dishwasher Repair in Oceanside
Using a dishwasher instead of washing dishes by hand is a timesaving, pleasant, and hygienic solution. To have it always cope with this task properly, you should know where to apply to maintain and fix it. Oceanside Appliance Repair Service Center is definitely the best solution! We are serving dishwashers of all types for over 20 years so far. Regardless of the complexity of the issue, our team swiftly brings your appliance to perfect condition. Our company is the most reliable provider of top-quality and fair-priced Dishwasher Repair in Oceanside, CA.
As soon as your appliance shows the first sign of malfunction, the best reaction is to apply to specialists. The longer you postpone it, the higher the chance of facing a serious breakage soon. Here you can see a list of issues that you should not ignore in your dishwasher.

The appliance cannot turn on or it shuts off abruptly.

The wash cycle cannot start, complete, or stop.

It washes too long or goes on and off repeatedly.

The cutlery baskets, holders, bearings, belts, leveling feet, fan blades, baffles, flaps, filters, drum support rollers, drawer mechanism, slide arm, hoses, controllers, handles, or other details are damaged, lost, or worn off.

Ruined or unstable electricity supply (spoiled wiring, isolation, or plug).

The item is not heating water.

It does not wash/dry dishes properly, so they remain dirty, covered with leftovers or foam, or too wet.

The dishwasher is not draining.

The tub is covered with mold and has a foul smell.

The water inlet valve is defective, so the appliance cannot fill with water or fills non-stop.

The body of the dishwasher gets extremely hot when it is working.

Foam or water is leaking out and making a puddle under the appliance.

The item is making loud distinctive noises while on (vibrating, humming, thumping, squealing, buzzing, knocking, grinding, etc.).

You notice a burning or electrical smell from your dishwasher.

Buttons, knobs, switches, or touchpads have a loose connection, do not respond, or are damaged.

The control module requires recalibration.

The display board or information screen is blank or shows improper information/error.

The timer, heating element, thermostat, pump, motor, or other component is dysfunctional.

The float switch is out of order.

Filters, sump strainers, hoses, pipes, or spray arms are blocked and dirty.

The door is not latching, closing, or opening normally, as it has deformed hinges, springs, joints, lid switches, latches, interlocks, or gaskets.

The detergent cannot reach the tub.
Our technicians make any of them vanish in the shortest terms! They are ready for anything, as have vast experience, outstanding knowledge, and refined skills. Our team provides the most effective Oceanside Dishwasher Repair for household and commercial items of all brands and models. We care for constant development, so our staff regularly gets training and gets qualification licenses. Thus, they conduct the highest quality services even to the most delicate luxury and the latest appliances.
Our proficient specialists can find the problem even without touching your dishwasher! It means that you can save much time and swiftly clarify its condition by just calling us. We offer free consultation and remote diagnostics which help detect the most suitable repair plan for you. We announce the approximate cost of the needed Dishwasher Repair in Oceanside, CA beforehand, unless it is not rational. Or we can instruct you by phone on resolving some minor issues. But mostly, after that, you name the wanted time and we arrive exactly when needed.
Having our local department open 24/7, we confidently claim that can assist you at any needed moment. Thus, if you require any Oceanside Dishwasher Repair and Service right now, we rush to you immediately. It costs slightly more but means that we resolve any issues without delay even during days off and non-working hours. We finish regular orders in the fastest way too. An absolute majority of tasks take less than a single day to complete. The reasons for that are the brilliant management and the outstanding proficiency of our team.
We find the quickest solutions and the most efficient approaches in any situation. The big value has a correct choice of spare parts. We have various original and alternative details in stock, so have matches for any dishwasher. For all details, we provide a 1-year warranty. Our technicians also use top-rank equipment, tools, and materials. Thus, we conduct any type of Dishwasher Repair in Oceanside, CA neatly and precisely. And we back up our labor with a 90-day guarantee.
We are responsible for what we do, so never doubt the highest quality of our work. And our clients think the same! They rate our Oceanside Dishwasher Repair with 5 stars and post tons of positive reviews on the net. Our customers get brilliant results without any stress, so apply to us again and recommend us to other people. We have gained their trust because of our client focus, friendly attitude, and outstanding professionalism. That is the main reason why our company goes on successfully developing even having harsh competition around.
Our main goal is to provide you with the most efficient solutions. It means that we never make you pay for useless services or offer not cost-effective repairs. Our company sets the most affordable rates for Dishwasher Repair in Oceanside, CA. We are honest about the condition of your unit and about the real expenses for fixing it. Thus, the cost of our work is always the most reasonable. And we also have some special offers for you! If you book the order online, you get a $25 discount. For veterans and seniors, the price is $30 less. And our regular customers have 15% off when applying to us again.
An affordable price, the soonest solution, and flawless quality – that is what people seek when their electronics fail. And that is just part of the benefits of Oceanside Appliance Repair Service Center! Our reliable team provides the most effective Oceanside Dishwasher Repair and Service since 2001. And we carefully listen to any of your requirements to make it in the most convenient way. All you need to do is just call us or place an online order on our website.
Our specialist carries out repairs, works carefully in the process, so as not to leave behind any traces of equipment repairs, and not to spoil the appearance. After the repair is completed, our company will back it up with a 90-day labor warranty. If you encounter the same problem during the warranty period, rest assured we will return to get an appliance back up to perfectly working condition.
$30 OFF ON FIRST TIME SERVICING
Frequently asked questions
What if I have a complex repair of equipment?
Our specialist will come to your home, conduct diagnostics and offer solutions to the problem. And only after your consent, the repair will begin.
Do you have customer support?
Our managers will always listen carefully to you and give you initial recommendations on the malfunction of your equipment to determine the cost of repair. Call:
(858) 224-0022
Is the expert's visit free of charge?
If you order a call to the master through our website, you are guaranteed to get a free diagnosis of your device, and detection of breakage.