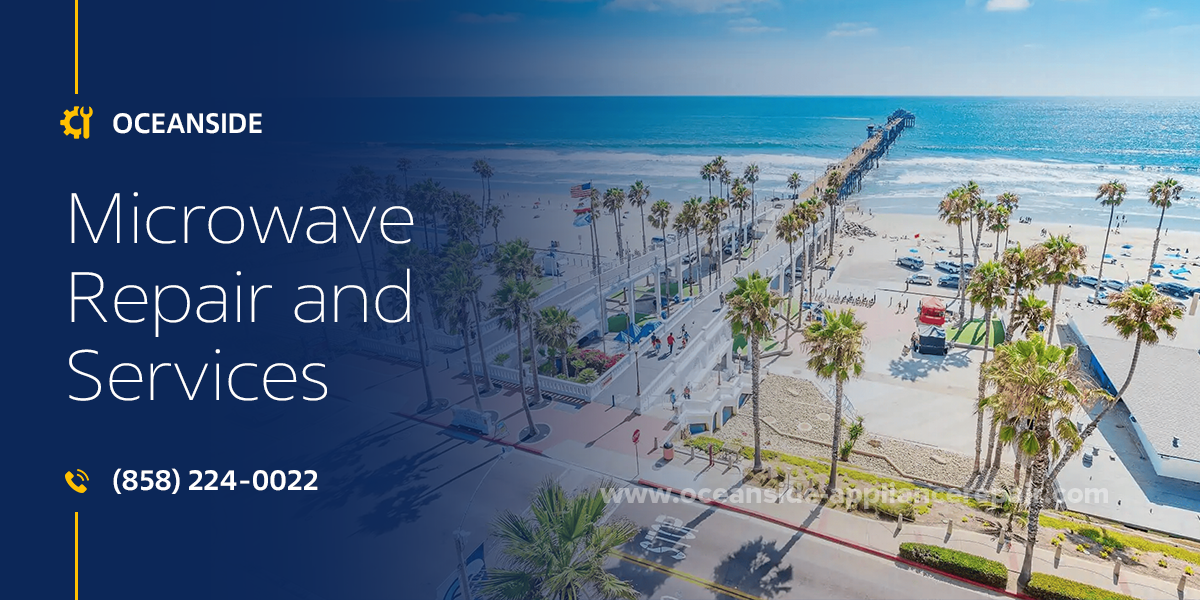 Microwave Repair in Oceanside
There is no need to explain how convenient, timesaving, and compact the microwave is. It is a perfect appliance for various places and can be used even by kids. But it can fail at any moment because of various reasons. What to do in such a situation? Just call Oceanside Appliance Repair Service Center! We make any issues vanish in the shortest terms. Our team provides the best Microwave Repair in Oceanside, CA since 2001. We offer the highest quality at the most reasonable price.
Do you still think that dealing with service centers is a stress? It means that you have not applied to us yet. Our team arranges the most comfortable conditions for you in any situation. It all starts with your application. We have the quickest callback, so you do not have weary from the answering machine for a long. Our polite and friendly specialists carefully listen to you and answer any of your questions. We offer free consultations and remote diagnostics. They help us quickly detect the issue and announce the price of the needed Oceanside Microwave Repair. 
There are many issues that may occur with your microwave, and we provide reliable Microwave Repair in Oceanside Near You to address them. Even if the problem may seem minor, it is crucial not to ignore it. We strongly advise you to pay attention to any wrong signs or malfunctions to prevent potential total failure. Some of the most common troubles that can happen to microwaves include:
A burned-out lamp.

Flickering or failed indicators.

Obstructed heating element, air vent, or waveguide cover.

Impossibility to turn the microwave on or off.

Troubles with the electricity supply.

Dysfunctional hardware (drive motor, thermal fuse, thermal protector, cooling fan, heating element, magnetron, diode, main control board, air vent, waveguide, high-voltage capacitor or transformer, etc.).

Burning or electrical smells, sparks, arcs, or smoke when the item is heating.

Lack of heating.

Too slow, insufficient, too strong, or uneven heating.

Troubles with timing, so it stops midway or heats after the timer goes off.

Troubles with control module, screen (blank, shows an error), controllers (do not respond, have a loose connection, are damaged), or software (needs recalibration).

The roller ring is not spinning.

The need to replace rack mount, waveguide cover, coupler, turntable ring, leveling feet, knobs, buttons, switches, leveling feet, or other details.

Cracked door glass.

Improperly loud noises, like buzzing, humming, grinding, squealing, hooting, gurgling, etc.

Impossibility to close, open, or latch the door due to deformed hinges, springs, joints, latches, lid switches, interlocks, hooks, or gaskets.
If work is not advisable, we do not offer it. Or we instruct you on solving the issue quickly if it is safe and possible. In any case, the solution we pick is the most effective. And mostly it means that we swiftly arrive and make any issues vanish. As our local office is open round the clock, you can rely on us whenever needed. Thus, we are available for urgent Microwave Repair in Oceanside, CA during non-working days and hours too. For a little additional payment, we rush to your address within 15 minutes anytime. And an absolute majority of normal orders take less than a single day to complete.
The quickest arrival is the consequence of brilliant management and logistics. And the quickest proceeding with any Oceanside Microwave Repair and Service is the result of experience and development. Our specialists fluently eliminate any issues, as they know everything about microwaves! In over 20 years, they fixed tons of commercial and household units of any brand and model. And our staff stays up to date with all the newest technologies, having regular training. We have licenses for serving luxury and the latest microwaves too. You should never doubt that we reach flawless results!
Providing the highest-quality Microwave Repair in Oceanside, CA is a major rule for us. Thus, we keep track of the proficiency and qualification of our staff. We also select the best manufacturers of details, equipment, and materials. Working with the best tools, our technicians precisely and neatly conduct procedures of any complexity. And to make you calm about the future functioning of your item, we provide a long-term guarantee for all orders. It is 90 days for our labor and 1 year for spare parts. We use perfectly fitting details to ensure the smooth and durable performance of your item.
An important note: sometimes we have to recommend you a replacement instead of a repair. It happens only when it is not cost-effective, or your microwave is beyond the repair. Thus, we do not try to cheat you by charging you for useless or not durable services. With us, you clearly know what you pay for, and it is always the fairest price. We have the most affordable rates for any Oceanside Microwave Repair. Book an order online and get $25 off the price! We have a 15% permanent discount for returning clients. For veterans and seniors, we have $30 off.
Our company offers the best Microwave Repair in Oceanside, CA for over 20 years so far. We have made thousands of clients happy for picking us. Our team is friendly and proficient, thus we have the best approach both to people and electronics. It helps us successfully withstand competition with other service centers around. Our customers confidently recommend us to other people and return to us again. They know firsthand that with us, the result is always perfect!
If you are looking for the most reliable provider of top-quality Oceanside Microwave Repair and Service, we are here! Just call Oceanside Appliance Repair Service Center or fill in the contact form on our website. Our specialists swiftly find the best way to make your item back to normal. We offer only the most effective solutions at the most favorable prices!
Our specialist carries out repairs, works carefully in the process, so as not to leave behind any traces of equipment repairs, and not to spoil the appearance. After the repair is completed, our company will back it up with a 90-day labor warranty. If you encounter the same problem during the warranty period, rest assured we will return to get an appliance back up to perfectly working condition.
$30 OFF ON FIRST TIME SERVICING
Frequently asked questions
What if I have a complex repair of equipment?
Our specialist will come to your home, conduct diagnostics and offer solutions to the problem. And only after your consent, the repair will begin.
Do you have customer support?
Our managers will always listen carefully to you and give you initial recommendations on the malfunction of your equipment to determine the cost of repair. Call:
(858) 224-0022
Is the expert's visit free of charge?
If you order a call to the master through our website, you are guaranteed to get a free diagnosis of your device, and detection of breakage.