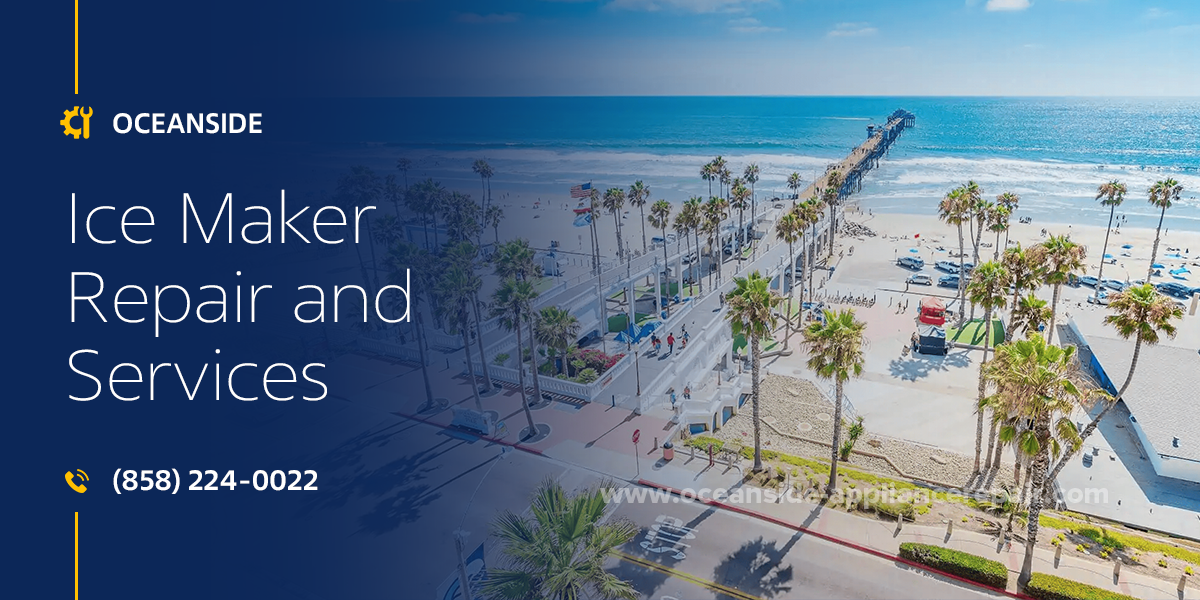 Ice Maker Repair in Oceanside
When your electronics require professional assistance, Oceanside Appliance Repair Service Center is always around. Regardless of how delicate the appliance is or how complex is the issue, we know what to do. We offer the best Ice Maker Repair in Oceanside, CA in the conditions that are suitable for you! Flawless quality, reasonable price, and the shortest terms are reasons why our clients trust us since 2001. With us, your ice maker runs like a clock for a long!
Ice maker is a pretty specific appliance with narrow functionality, but it is still useful and popular. And the same as any other electronic, it has plenty of details that are important for its proper functioning. When any of them is damaged or dysfunctional, the whole unit fails soon. Thus, we recommend you contact us for consultation as soon as you notice any wrong signs. The most common troubles with ice makers you can see in the list below.

The electricity supply is damaged.

The water supply is unstable.

The ice maker does not produce any ice cubes anymore.

You cannot turn the appliance on, or it shuts off itself.

You cannot easily eject the cubes, or they do not fall into the ice basket as they are covered with ice mold.

The cubes keep falling even when the ice basket is full.

The ice is not falling into the ice basket.

Dysfunctional control arm, fan, gearbox, ice-cutting mechanism, compressor, thermostat, sensors, or motor.

The cubes smell or taste badly.

The water filter, supply valve, pipe, water line, water reservoir, or water pump is dirty or obstructed.

It has the wrong temperature.

Water drops are collecting under the ice maker or water is leaking.

The item is knocking, humming, gurgling, buzzing, bubbling, hooting, squealing, vibrating, or making other unusual sounds.

Cubes are too soft, too solid, too big, too small, or have the wrong shape.

The freon (coolant liquid) is leaking or dripping.

The water filter, inner tube, supply valve, inlet pipe, power switch, bearings, belts, leveling feet, fan baffles, flaps, seals, buttons, handles, knobs, doors, or other details are damaged or lost.

The control module is faulty.

The screen shows an error or is blank.

The controllers do not react to your commands.

The door gaskets, springs, joints, hinges, hooks, latches, lid switches, or interlocks are out of shape.
When you tell us which of those or other issues you face, we swiftly find the solution. While a remote diagnostic our specialists find the reason for breakage in minutes even without touching your appliance. This way we plan and arrange the most effective Oceanside Ice Maker Repair for you. 
During the consultation and diagnostic process, we aim to provide you with transparency regarding the cost of the needed services, including Ice Maker Repair in Oceanside Near You. In some instances, it may become apparent that the cost of repairing the ice maker is higher than the price of a new one. In such cases, we will be straightforward and recommend a replacement. 
Similarly, if we determine that the item is beyond repair, we will also advise you accordingly. Our commitment to honesty and integrity ensures that we always prioritize your comfort and satisfaction. Rest assured that our main goal is to provide you with the best solution that meets your needs and ensures your convenience.
The same is why we have the most affordable rates for any Ice Maker Repair in Oceanside, CA. We aim to help many people and make you benefit from your electronics. Thus, we are not interested in overcharging or cheating you. Our clients appreciate the fairest prices we have. Especially with the fact that regular customers get a 15% discount! We also offer $25 off for online booking and $30 off for veterans and seniors.
A low price does not mean poor quality. Each item performs perfectly when we finish our Oceanside Ice Maker Repair and Service. Our technicians care for providing the best solutions for over 20 years so far. They are real professionals in this field and never stop developing. Our team regularly undergoes training, so their qualification is always up to date. Thus, they perfectly know how to deal properly with luxury and the latest units too. We reanimate any commercial and household ice makers fluently and neatly.
Dustless and precise conducting of any procedure is the result of the craftsmanship of our technicians and using top-rank equipment. With the best professional tools and materials, we provide the most accurate and reliable Ice Maker Repair in Oceanside, CA. Plus, we get original and alternative details from the best manufacturers. It lets us pick the best-fitting ones for any budget and appliance of any brand and model. The highest quality of our work is solidified with a long-term guarantee. It is 1 year for details and 90 days for labor. We are responsible for everything we say and do.
And even better proof of our reliability is time. We successfully withstand competition with other companies because we gain the trust of our clients. Our Google page is filled with tons of 5-star reviews from our customers. They return to us with other tasks as are fully satisfied with all aspects of our work. We provide the most comfortable conditions for each client. With us, you get the best Oceanside Ice Maker Repair the way it is convenient for you.
You can rely on our assistance at any moment of day or night. We are situated conveniently to reach any needed address in the shortest term. Thus, when you apply for urgent Ice Maker Repair in Oceanside, CA, we swiftly come to your place. The specialist leaves the office within 15 minutes for just a small emergency fee. In over 90% of regular orders, we make your item back to normal the same day you apply. 
Our team is the friendliest and the most proficient. Therefore, Oceanside Appliance Repair Service Center resolves any issues in the most stressless and effective way. We react to your call or online application immediately. You get the quickest Oceanside Ice Maker Repair and Service if apply to us. Our work has the highest quality and the most favorable price!
Our specialist carries out repairs, works carefully in the process, so as not to leave behind any traces of equipment repairs, and not to spoil the appearance. After the repair is completed, our company will back it up with a 90-day labor warranty. If you encounter the same problem during the warranty period, rest assured we will return to get an appliance back up to perfectly working condition.
$30 OFF ON FIRST TIME SERVICING
Frequently asked questions
What if I have a complex repair of equipment?
Our specialist will come to your home, conduct diagnostics and offer solutions to the problem. And only after your consent, the repair will begin.
Do you have customer support?
Our managers will always listen carefully to you and give you initial recommendations on the malfunction of your equipment to determine the cost of repair. Call:
(858) 224-0022
Is the expert's visit free of charge?
If you order a call to the master through our website, you are guaranteed to get a free diagnosis of your device, and detection of breakage.