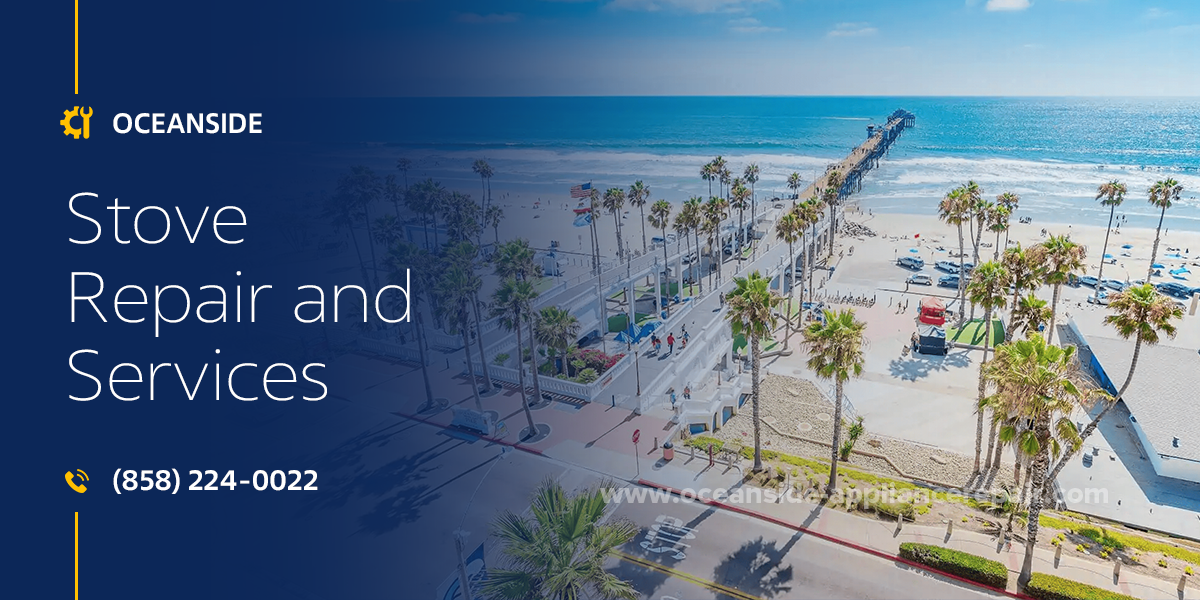 Stove Repair in Oceanside
People cannot survive without eating, so we have to cook almost every day. And even if you get pre-made food or go out to a restaurant, someone has cooked those dishes for you. This task gets much harder if your stove stopped working. To prevent or eliminate such a situation, get in touch with Oceanside Appliance Repair Service Center. Our team, having 20+ years of experience, knows how to maintain and fix any items. We swiftly provide you with the highest-quality Stove Repair in Oceanside, CA at the fairest price.
Speed is one of our major priorities. Having your stove failed for a long, you can face many inconveniences and stress. Thus, we offer the quickest Oceanside Stove Repair. Our specialists are responsible and perfectly organized. They find and eliminate any issues in minutes. The arrival does not take long, as our local office is situated in a convenient place. We complete over 90% of orders within a single day. And if it is an urgent one, then the assistance comes even sooner! The technician sets off immediately for just a little additional payment. It is available even at night or on days off.
Another important factor is the affordability of our Stove Repair in Oceanside, CA. We do not overcharge you as believe that your electronics should not bring you even more negative emotions. Our team makes your appliance back to normal at the most favorable and reasonable price. You know what you pay for and see an efficient result. We can adjust to any budget and also have special deals for you! The returning clients get a 15% discount, veterans and seniors – $30, and for booking online it is $25 off.
Since 2001, our team finds the best solutions for any situations when commercial or household stoves need help. We offer the best Oceanside Stove Repair and Service. It means that our technicians fix, install, and maintain electronics accurately and fluently. The highest quality of our work is a must and often even exceeds your expectations. Our team has excellent skills and knowledge, so proceeds with anything on the top level. Their qualification is solidified with licenses. It lets them successfully deal with stoves of all brands and models, including luxury and the latest ones.
Regardless of the complexity of the issue, we always know what to do. And we recommend you not wait before the breakage gets even more serious. To make your stove back to normal, pay attention even to the smallest changes in its behavior. Here are some of the most common troubles that you may face with this appliance.
Difficulty in turning the stove on or off.

Burners produce clicking or hissing sounds during ignition.

Induction or electrical coils, tans, broiler elements, bake elements, tans, or burners fail to heat, so require replacement or fixing.

The flame flickers, sparkles, or goes out on its own.

Problems with gas or electricity supply, wires, plugs, igniters, or gas valves.

The flame is red, orange, or yellow.

Burners produce heat that is either too weak or too strong, making it difficult to set them to the desired level.

The gas is leaking, so you smell it, regardless of if the stove is on or off.

You notice a burning or electrical smell from your stove.

Damaged, broken, or lost parts require replacement (leveling feet, belts, bearings, flaps, fan blades, burner covers, grates, knobs, switches, buttons, handles, drawer mechanisms, etc.).

The control module needs recalibration.

It is impossible to see or change any settings because the information screen is not working.

You see an error message.

The controllers do not respond.

Door springs, joints, hinges, gaskets, interlocks, hooks, lid switches, gaskets, or glass are broken.

The exterior or interior lights are faulty.

Clogged gas ports, gas lines, vent tubes, or convention fans with dirt or grease affect stove performance.

Pans and pots get black bottoms after cooking on or on the stove.

Thermostat, convention fan, motor, or other part is dysfunctional.

The stove is making loud weird noises, like clicking, buzzing, humming, squealing, grinding, hooting, gurgling, thumping, etc.
We use only the best tools, materials, and parts to ensure the effectiveness, durability, and precision of work. The proper choice of details for every single appliance defines its future. 
Thus, we pick perfectly fitting, high-quality ones from a vast choice of spare parts we have in stock. Together with the outstanding proficiency of our technicians, it always means brilliant results. And we are in charge of each Stove Repair in Oceanside, CA we conduct. Thus, we provide them with a long-term guarantee: 1 year for details and 90 days for labor.
Providing a warranty is just one of our reliability indicators. Another one is a successful development in conditions of constant competition with other service centers. But the most significant is the trust of our clients. Those who apply to us for Oceanside Stove Repair, never regret this choice! 
They return to us to fix other units too, as they get even better results than expected! Our customers recommend others to apply to us, as our company is a reliable provider of the best services. This and other positive opinions they share in tons of 5-star reviews on the net.
Whenever you have any questions or want to apply for Stove Repair in Oceanside, CA, just contact us. Our friendly managers gladly provide you with a free consultation. We also offer remote diagnostics to clarify what causes the breakage and how to eliminate it. 
We announce the approximate cost of the needed work beforehand unless it is not cost-effective. We also do not pretend to fix your stove if it is beyond repair. If so, we honestly recommend you a replacement. Our team never offers irrational solutions!
You can count on Oceanside Appliance Repair Service Center in any situation! We adjust to any of your requirements to offer you the most comfortable and stressless solution. Just call us or place an online application and we call you back immediately. Our team of professionals provides the swiftest Oceanside Stove Repair and Service of the highest quality at the best price!
Our specialist carries out repairs, works carefully in the process, so as not to leave behind any traces of equipment repairs, and not to spoil the appearance. After the repair is completed, our company will back it up with a 90-day labor warranty. If you encounter the same problem during the warranty period, rest assured we will return to get an appliance back up to perfectly working condition.
$30 OFF ON FIRST TIME SERVICING
Frequently asked questions
What if I have a complex repair of equipment?
Our specialist will come to your home, conduct diagnostics and offer solutions to the problem. And only after your consent, the repair will begin.
Do you have customer support?
Our managers will always listen carefully to you and give you initial recommendations on the malfunction of your equipment to determine the cost of repair. Call:
(858) 224-0022
Is the expert's visit free of charge?
If you order a call to the master through our website, you are guaranteed to get a free diagnosis of your device, and detection of breakage.