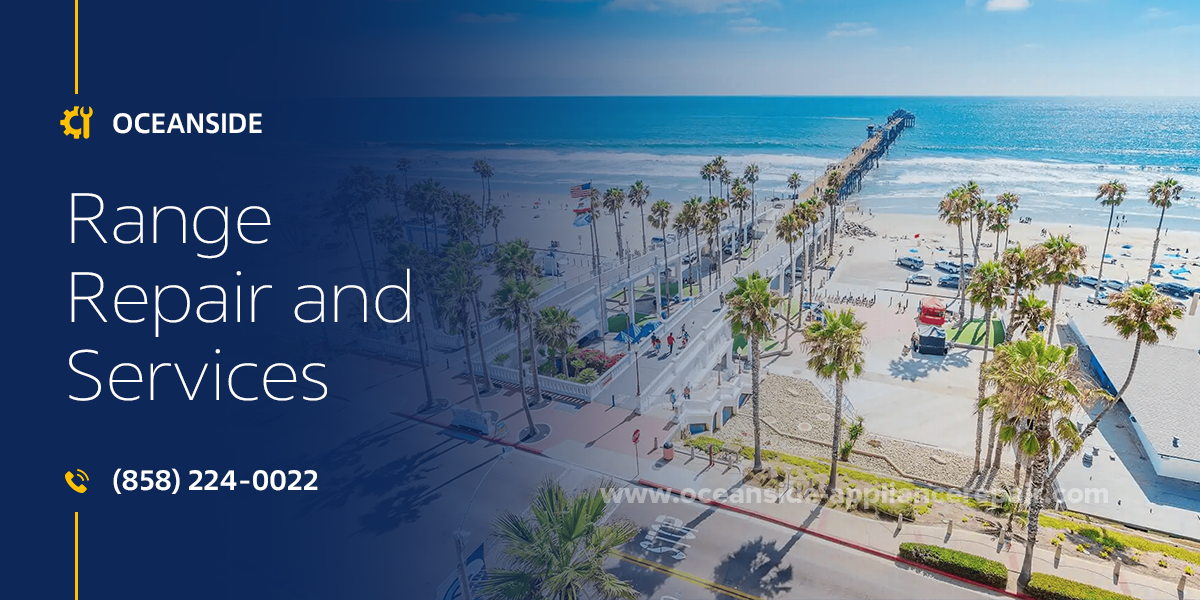 Range Repair in Oceanside
The best provider of Range Repair in Oceanside, CA is always around! You can be calm about the condition of your kitchen appliances with the Oceanside Appliance Repair Service Center. Our company offers the best maintenance and fixing services for any commercial and household ranges. We quickly make your unit run properly for a long at the most affordable price.
When it comes to your range, caution is always advised due to its potential for high temperatures and flames. To ensure safety, it's a great idea to have regular checkups for your appliance. However, if you notice any issues or malfunctions, it is crucial to reach out to specialists promptly. 
We offer a free consultation and remote diagnostic service to help you understand the situation clearly. Simply let us know what is wrong, and we will swiftly assess the problem. Here are some of the most common troubles you may face with your range:
Components such as thermostats, convection fans, heating elements, ignitors, or motors may be faulty.

The range does not turn on or off or it shuts off unexpectedly.

The induction coils, electrical coils, broiler element, bake element, tan, burners, or other heating parts fail to heat.

The bulb inside or the LED indicator outside is burned out or flickering.

The range is buzzing, grinding, thumping, squealing, humming, knocking, or making other unusual noises.

The display boards or information screens do not work or work wrong.

Timers and controllers' malfunction.

The electronics/control module is failed and requires recalibration.

Knobs, buttons, switchers, or touchpads are damaged, have a loose connection, or are lost.

The item cooks/heats too long, insufficient, too much, or not evenly.

You cannot change the temperature which is too high or too low.

The door has cracked glass or deformed hinges, springs, gaskets, latches, interlocks, lid switches, or hooks, so it loses heat and cannot close/open/latch normally.

The surfaces are damaged (for induction ones it causes sensors to flip).

The burners make clicking, ticking, or hissing sounds when you are turning them on.

The appliance produces a burning, gas, or electrical smell.

The drawer mechanism is damaged, so the racks cannot roll out.

Wiring, isolation, plug, fan blades, baffles, belts, leveling feet, seals, light assembly, burner caps, grates, safety valves, or other details are broken, worn off, or missing.

The flame has the wrong color (yellow, orange, red), sparkles, or flickers.

Lack of electricity or gas supply or it is unstable.

Bottoms of pans and pots get black.

The ventilation, gas ports, gas lines, or convention fan is clogged with dust, debris, or crumbs.
Remember, addressing these issues promptly through professional Range Repair in Oceanside Near You can help maintain the safety and functionality of your range.
After diagnostics, we can announce the approximate cost of the needed Oceanside Range Repair and plan the best timing. 
You name the time, and we arrive exactly when needed. As we have many departments in different areas, we never make you wait long. Plus, our technicians always know what to do and resolve any issues quickly and fluently. Thus, completing any Range Repair in Oceanside, CA takes less than a single day in over 90% of cases. We are 24/7 available for urgent orders for a small additional payment. In such cases, the specialist rushes to your address immediately!
Our Oceanside Range Repair and Service are always the most effective. With us you get your item to perform perfectly for a long. The reason for being confident in that is the outstanding proficiency and responsibility of our technicians. They have over 20 years of experience in fixing ranges of all brands and models. And they go on developing their skills and knowledge, having regular training. Their qualification is proven with licenses for dealing with all types of items, including luxury and the latest ones.
If our technicians tackle the problem, it vanishes without a trace. With the best professional tools and materials, they provide dustless, neatest, and most accurate Range Repair in Oceanside, CA. We guarantee the highest quality of each procedure, as we are in charge of our actions. Thus, we provide a 1-year guarantee for the details and a 90-day one for our labor. Picking the best original or alternative spare parts, we ensure the smooth and durable performance of your range.
Another proof of the flawless quality of our Oceanside Range Repair is the opinion of clients. They post many positive reviews about us on the net, which means that they are fully satisfied with picking us. Our friendly attitude and professionalism make our customers return to us with other issues too. They also recommend us to friends, which is a great motivation for us to get even better daily!
We gained the trust of many clients also because we are always honest. We clearly report the condition of your item and do not offer you useless services. With us, you pay the fairest price for the best Range Repair in Oceanside, CA. And this cost is always affordable, as we can adjust to any budget. For booking online, the price is $25 lower. We also have 15% off for returning customers and $30 off for veterans and seniors.
Oceanside Appliance Repair Service Center cares for your comfort and time. Our reliable team offers the highest quality work of any type in the best conditions. We complete any Oceanside Range Repair and Service swiftly and at the most reasonable price. All you need to do is just call us or place an online application. With us, your range will run like a clock soon again!
Our specialist carries out repairs, works carefully in the process, so as not to leave behind any traces of equipment repairs, and not to spoil the appearance. After the repair is completed, our company will back it up with a 90-day labor warranty. If you encounter the same problem during the warranty period, rest assured we will return to get an appliance back up to perfectly working condition.
$30 OFF ON FIRST TIME SERVICING
Frequently asked questions
What if I have a complex repair of equipment?
Our specialist will come to your home, conduct diagnostics and offer solutions to the problem. And only after your consent, the repair will begin.
Do you have customer support?
Our managers will always listen carefully to you and give you initial recommendations on the malfunction of your equipment to determine the cost of repair. Call:
(858) 224-0022
Is the expert's visit free of charge?
If you order a call to the master through our website, you are guaranteed to get a free diagnosis of your device, and detection of breakage.