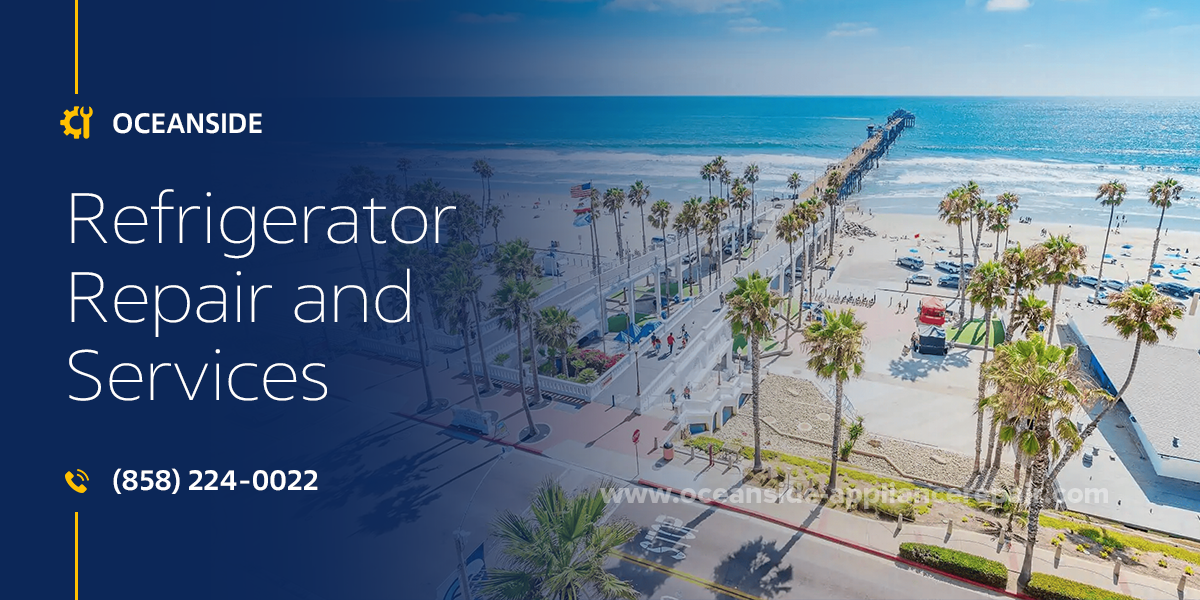 Refrigerator Repair in Oceanside
The refrigerator is the most widespread appliance. Therefore, it is one of the most popular patients of repair centers as well. Not a wonder if after years of constant working, without proper care, or after negative impacts, your fridge fails. To avoid or eliminate such an issue effectively and swiftly, just apply to Oceanside Appliance Repair Service Center. We fix breakages of any complexity in the most comfortable conditions for you. With us, you get the most fair-priced and swift Refrigerator Repair in Oceanside, CA of the highest quality!
For many people, broken electronics is not just a temporary loss of their functions. People also often stress about queueing on the phone, waiting for arrival for days or weeks, and wasting money. Our company prevents you from any of those! We call you back in a minute and arrange the swiftest Oceanside Refrigerator Repair! You never wait long for talking to us and getting your appliance back to normal. 
We take pride in our efficient services, including Oceanside Refrigerator Repair Near You, as we aim to complete over 90% of orders within a single day. We understand the urgency of refrigerator repairs, and for those requiring immediate assistance, we offer the option to request an urgent arrival for a small additional payment. Our specialists are available to set off to the needed address immediately, ensuring prompt service 24/7. Rest assured that we prioritize timely and reliable repairs to minimize any inconvenience caused by a malfunctioning refrigerator.
To make it even more effective, you can get a remote diagnostic and clarify the situation in a few minutes. For that, just let us know what unpleasant signs your fridge shows. The most common troubles with these appliances are…
The temperature is insufficient or too low.

The inner walls or coils have a layer of snow, ice mold, or pieces of ice.

The fridge runs non-stop, goes on and off repeatedly, shuts off itself, or cannot turn on at all.

The control panel malfunctions and requires recalibration.

The controllers (buttons, switches, knobs, touchpads) do not respond or are damaged/lost.

You cannot set the temperature, time, or other settings as needed.

The display board/information screen is not glowing or shows an error.

Dysfunctional hardware (thermostat, motor, control board, timer, control relay, evaporator, condenser, compressor, coils/tans, fans, defrost heater or timer, expansion device, etc.).

Freon is leaking or requires refilling.

Water is dripping inside/outside the unit or collecting underneath.

The door cannot close, open, or latch properly because of spoiled interlocks, lid switches, hoods, latches, joints, gaskets, springs, or hinges.

The interior or exterior lamps are faulty.

Shelves, doors, or body surfaces are cracked or spoiled.

Handles, controllers, belts, fan blades, bearings, screws, belts, leveling feet, or other details are worn off or damaged.

Water dispenser, ice maker, or freezer malfunctions.

The fridge produces awkward noises, such as humming, buzzing, squealing, popping, grinding, thumping, gurgling, bubbling, vibrating, etc.

It makes out an electrical or burning smell.

The item has issues with the electricity supply or worn-off wiring.
When you explain the issues you face, our specialist quickly understands what the reason for the breakage is. This way, we indicate the best solution and arrange the most convenient Refrigerator Repair in Oceanside, CA for you. In some cases, we do not have to arrive. If the work is not cost-effective or advisable, we save your time and money and honestly recommend you a replacement. 
And if we have safe and simple instructions, we help you eliminate the issue remotely. But mostly, the best solution is to let the specialist deal with it. We arrive and fix your item exactly when it is suitable for you!
A responsible attitude to our work means both perfect management and constant development. Our fluent team never wastes time or gets puzzled with any tasks. Our technicians deal with all issues fluently and provide the most effective Oceanside Refrigerator Repair and Service. 
Each of them has over 20 years of experience in reanimating various commercial and household fridges. The skills, knowledge, and qualification of our specialists are at the highest level. They get training from the best manufacturers and have licenses for serving luxury and the latest units too.
We guarantee the highest quality of each Refrigerator Repair in Oceanside, CA we provide. Our specialists reach a flawless and durable performance of your electronics due to their outstanding proficiency and perfectly fitting parts. We have gathered a huge variety of original and alternative details for fridges of all brands and models. With top-notch professional tools, equipment, and materials, we proceed with all procedures neatly and swiftly. A 1-year guarantee for details and a 90-day one for our labor go without saying!
Our team offers only effective Oceanside Refrigerator Repair. While some companies try to charge for useless services, we honestly inform you what your appliance needs. With us, you clearly know the condition of your fridge and the expenses for its repair. You can clarify all this information during a free consultation by just calling us. We always have the most affordable and reasonable rates for our work. Plus, we have discounts for booking online, returning clients, veterans, and seniors.
All aspects of our work and attitude make our clients happy for picking us. Since 2001, we have been providing the best Refrigerator Repair in Oceanside, CA in the most comfortable conditions. We successfully compete with other companies owning to the most reliable and proficient team and client focus. Our customers post tons of 5-star reviews on our Google page. Their opinion is the best sign of our reliability. They recommend us to friends as a provider of the most effective services for any electronics.
If you apply to Oceanside Appliance Repair Service Center, your fridge always runs smoothly and properly. Regardless of the situation, our friendly and professional specialists find the way out. We care for your comfort, so offer the quickest high-quality solutions at the most affordable prices. Just call us or place an online application at any needed moment. We provide you with the best Oceanside Refrigerator Repair and Service in the most stressless way!
Our specialist carries out repairs, works carefully in the process, so as not to leave behind any traces of equipment repairs, and not to spoil the appearance. After the repair is completed, our company will back it up with a 90-day labor warranty. If you encounter the same problem during the warranty period, rest assured we will return to get an appliance back up to perfectly working condition.
$30 OFF ON FIRST TIME SERVICING
Frequently asked questions
What if I have a complex repair of equipment?
Our specialist will come to your home, conduct diagnostics and offer solutions to the problem. And only after your consent, the repair will begin.
Do you have customer support?
Our managers will always listen carefully to you and give you initial recommendations on the malfunction of your equipment to determine the cost of repair. Call:
(858) 224-0022
Is the expert's visit free of charge?
If you order a call to the master through our website, you are guaranteed to get a free diagnosis of your device, and detection of breakage.