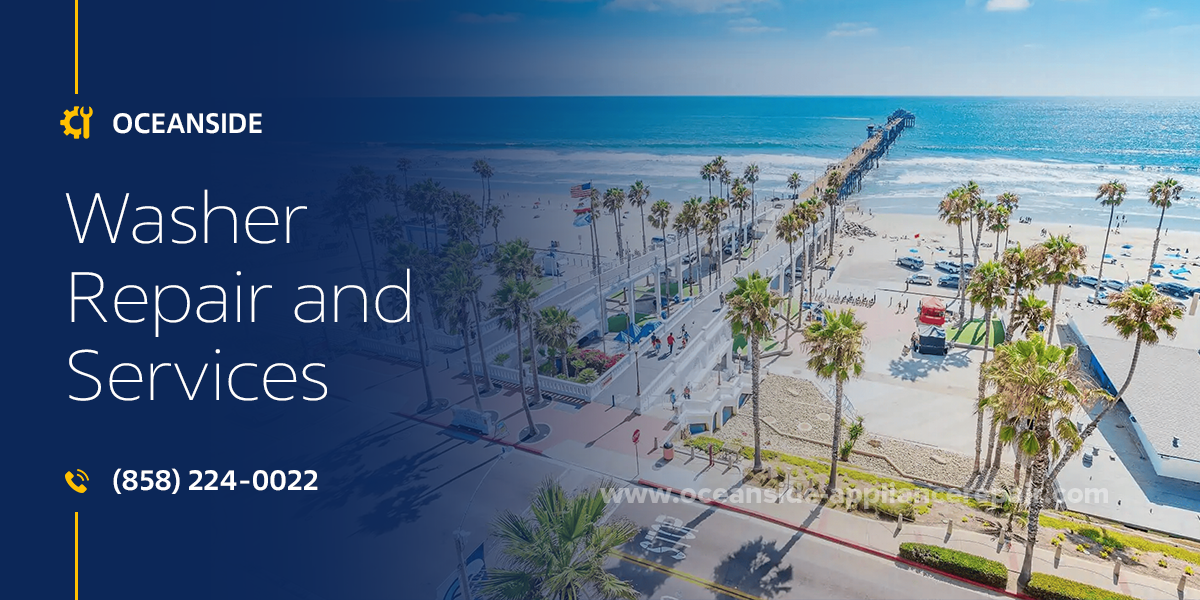 Washing Machine Repair in Oceanside
A washing machine is broken not only when it does not wash your clothes. If it jumps like crazy or creates a puddle on the floor, things go bad. Many people ignore those signs and, as the result, wait until the item totally fails. But there is a much smarter and more rational solution. Oceanside Appliance Repair Service Center offers the most effective and swiftest services at the best prices. Our team makes any items perform like brand new ones again owning to outstanding responsibility and experience. If you are looking for the best Washing Machine Repair in Oceanside, CA, you can get it with us!
Many people have already faced stress while calling customer care and waiting for weeks or more. But by applying to us, you get a solution sooner than feel inconvenienced without the possibility to wash clothes. In over 90% of orders, we finish work the same day you apply! We are always around and available, so you can rely on us whenever needed. Even at night or on a day off our technicians are ready to come and fix your appliances. When you request an urgent Oceanside Washing Machine Repair for a small additional payment, the specialist sets off immediately. 
As soon as our technician arrives, you have nothing more to worry about. Our team provides the most efficient Washing Machine Repair in Oceanside, CA regardless of what happened. They honestly estimate the situation and inform you about the most cost-effective way out. If the work is not recommendable, you pay a small service fee and get recommendations for picking the best replacement. That happens if the item is beyond repair, or the cost of the work is too high to be advisable. For all other cases, we gladly find the best solution.
You can get a free consultation and remote diagnostics for Washing Machine Repair in Oceanside Near You to swiftly find a solution to your concerns. By informing us about the issues you're experiencing, we can provide you with guidance on the problem, its solution, and an approximate cost of the necessary repair work. We understand that there are various common troubles that can arise with washing machines, and we are well-equipped to address them. Don't hesitate to reach out and let us know what makes you worry, and our experts will assist you in resolving the issue promptly and efficiently.
The item is tripping the power while working.

It has a faulty agitator, motor, pump, transmission, heating element, thermostat, timer, or other parts.

The unit was installed wrong, moved, or bumped.

The drum/tub is broken or is not spinning.

The door glass is cracked or the whole assembly is damaged.

You cannot close, open, or latch it due to deformed or damaged hooks, latches, lid switches, interlocks, joints, hinges, springs, or gaskets.

The tub has a filthy smell and mold.

Clothes are dirty, smell bad, or are covered with foam after washing.

It is not wringing the clothes or does it bad, so they remain wet.

The water level control assembly, water inlet valve, off-balance switch, wiring, or other components are worn off, or broken.

The body of the washer is heating too much while it is on.

The appliance is moving, jumping, or bouncing when working.

The item produces a burning or electrical smell.

It is vibrating, buzzing, humming, grinding, thumping, squealing, clicking, knocking, hooting, gurgling, bubbling, or making other weird noises.

The software requires recalibration or updating.

The control panel or its elements (controllers, screen) work wrong.

The timer, wash selector, water level control, time control, or temperature control are faulty.

The washing machine cannot turn on, goes on and off repeatedly, or shuts off itself.

The wash cycle takes too long, pauses midway, goes non-stop, or cannot start.

The electricity, water, or detergent supply is unstable or disturbed.

The washer fills with water non-stop or cannot fill with it.

It is not draining.

Some details are lost, damaged, or worn off (buttons, knobs, switches, belts, filters, pipes, hoses, leveling feet, bearings, handles, connectors, seals, etc.).

The LED indicator is faulty or burned out.

The dispenser, valves, tub seal, drain hose, pipe, or filter is clogged or dirty.

Foam or water is leaking outside the unit.
Our team reaches brilliant results for each task they are dealing with. Their experience exceeds 20 years, and, in this term, they have reanimated tons of commercial and household washing machines. Owing to outstanding knowledge, amazing skills, and constant development, we conduct the highest quality Oceanside Washing Machine Repair and Service. Regardless of the brand, model, year of issue, or rareness of your appliance, we find the best approach. For any of them, we pick perfectly fitting details from numerous original and alternative ones we have in stock.
Besides the best spare parts, we also carefully select top-rank equipment and materials. It lets us proceed with any procedures neatly, precisely, and dustless. Even the most delicate luxury and the latest washers perform smoothly for a long after the caring touch of our specialists. We provide the most reliable Washing Machine Repair in Oceanside, CA, as our team is responsible and proficient. The qualification of our technicians is proven with time and licenses from the best manufacturers. We also back up our labor with a 90-day guarantee and the details with a 1-year one.
Offering the best quality and adjusting to all requirements of clients, we gained the trust of many people since 2001. Most of our customers return to us again, because applying to us means the most comfortable and efficient solutions. They recommend our Oceanside Washing Machine Repair to other people, which shows our reliability. There are tons of positive reviews on our Google page, where customers note our friendly attitude, professionalism, and responsibility.
Another point, highly appreciated by our clients, is our honesty. It means that we clearly inform you about the condition of your washer and the real cost of fixing it. Thus, you exactly know what you pay for. We offer the most affordable and fair-priced Washing Machine Repair in Oceanside, CA. Our customers never overpay or face hidden fees. Your appliance and wallet are safe with us! Plus, we have some pleasant special deals. The discounts are $25 for online booking, $30 for veterans and seniors, and 15% for returning clients.
To get the quickest Oceanside Washing Machine Repair and Service, just apply to our local department. The Oceanside Appliance Repair Service Center team is 24/7 ready to eliminate any troubles. We make your washer perform like a brand-new one again for a long. With us, you get the best result of flawless quality at the most favorable price.
Our specialist carries out repairs, works carefully in the process, so as not to leave behind any traces of equipment repairs, and not to spoil the appearance. After the repair is completed, our company will back it up with a 90-day labor warranty. If you encounter the same problem during the warranty period, rest assured we will return to get an appliance back up to perfectly working condition.
$30 OFF ON FIRST TIME SERVICING
Frequently asked questions
What if I have a complex repair of equipment?
Our specialist will come to your home, conduct diagnostics and offer solutions to the problem. And only after your consent, the repair will begin.
Do you have customer support?
Our managers will always listen carefully to you and give you initial recommendations on the malfunction of your equipment to determine the cost of repair. Call:
(858) 224-0022
Is the expert's visit free of charge?
If you order a call to the master through our website, you are guaranteed to get a free diagnosis of your device, and detection of breakage.