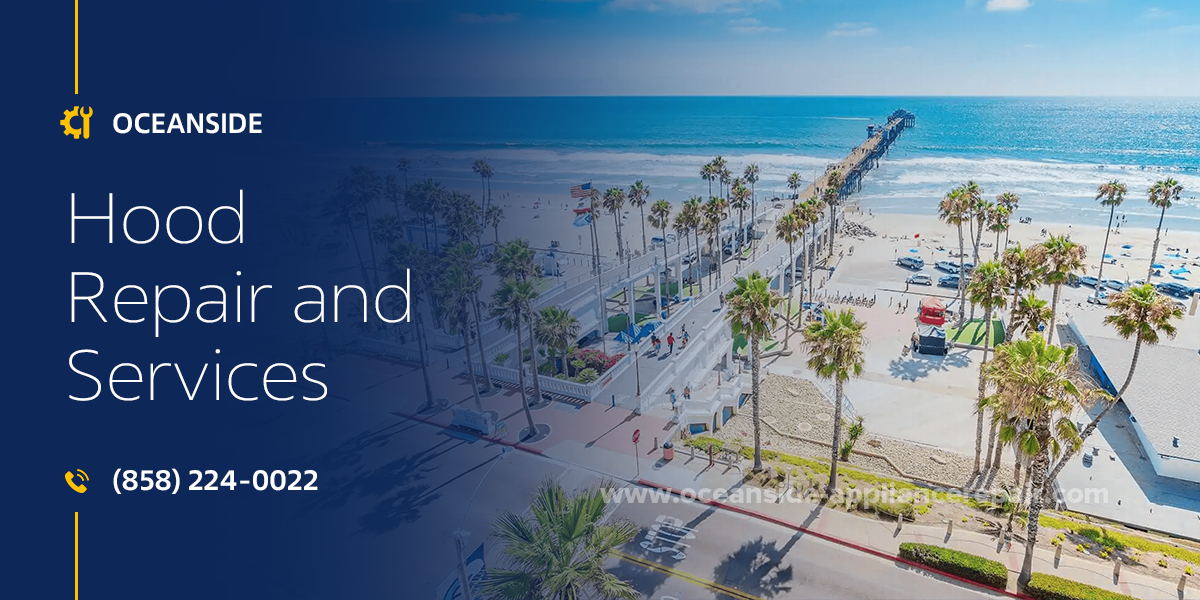 When that bad moment comes and your hood fails, you need to apply to a reliable company. A decent service provider should offer fast and efficient solutions at an affordable price. Oceanside Appliance Repair Service Center has over 20 years of experience in it. We have the most comfortable and suitable conditions for each client. Our team provides the best Hood Repair in Oceanside, CA, caring for the highest quality and durability. Regardless of the complexity of the trouble, it vanishes as soon as we start working!
Our team has the necessary skills and knowledge to diagnose any problem swiftly even without touching your hood. Thus, we offer a remote diagnostic as a quick way to clarify the condition of the appliance. It helps decide the best way to fix your item and find the approximate cost of it. You can also request a free consultation and ask anything about Oceanside Hood Repair you are interested in. We gladly help you arrange the most effective and convenient solution.
We easily eliminate any troubles that happen to hoods. And the variety of them is pretty wide! Here are the most common issues you may face with these units.
Buttons, knobs, switches, or touchpads do not respond, have a loose connection, are damaged, or are lost.

The lamps or light assembly are faulty (flickering or not glowing).

The downdraft does not go up, stay up, or shift down.

The hood is not absorbing the dirty air.

The airflow is poor, so it absorbs the smoke, smells, and moisture insufficiently.

The filter, grate, motor shaft bearings, blower wheel, ducting system, fan blades, flaps, baffles, belts, light sockets, or other parts are worn off or damaged.

The appliance produces a filthy, electrical, or burning smell while working.

It gives out wet or dirty air.

The moisture is condensing on the hood or under it.

The display board is blank or shows an error.

The control panel is out of order.

Fans, blower motors, drivers, starters, fuses, or other hardware are not functioning properly.

The item is going on and off repeatedly, shuts off itself, or does not turn on/off.

The hood is hooting, popping, pinging, rattling, thumping, buzzing, gurgling, squealing, humming, vibrating, or making other wrong noises.

It was installed improperly.

Spoiled wiring causes issues with the electricity supply.

Ventilation, grate, or filter is blocked with dust or debris.
Regardless of the problem, we have the best solution for you!
For those situations when the repair is not advisable or cost-effective, we only recommend you a replacement. If we indicate it when arrive, we also take a small service fee. You know what you pay for in any case, and this price is always reasonable. We know that an unexpected breakage may put a strain on your budget, so we offer the most favorable rates. We also have special deals! Book a Hood Repair in Oceanside, CA online and get a $25 discount! For returning clients, we have a 15% discount, and it is $30 for veterans and seniors.
The hood has an important mission of making your air clean. Thus, we cannot let you wait long before this failed appliance gets back to normal. We complete over 90% of orders the same day you apply. To minimize downtime, we also offer urgent Oceanside Hood Repair and Service for a small extra payment. In such cases, the technician arrives at your address as soon as possible, even on days off or after hours. Our local department is open 24/7 to be available whenever you need us!
Offering low prices and high speed, we do not sacrifice quality. Our proficient specialists have exceptional knowledge and honed skills. Thus, they conduct each procedure precisely and fluently. With us, you get the most effective and durable Hood Repair in Oceanside, CA. It does not matter what is the brand or model of your item. We cope with any of them, including luxury and the latest ones. 
When it comes to Hood Repair in Oceanside Near You, our team is not only responsible and reliable but also holds the necessary licenses that validate their qualifications in dealing with all types of household and commercial hoods. The combination of experience, skills, and knowledge possessed by our technicians is the foundation for delivering work of impeccable quality. 
We take pride in ensuring that the repairs we carry out on hoods are always perfect, meeting the highest standards of excellence. You can trust our qualified team to handle your hood repair needs with professionalism and expertise.
Another reason why your hood behaves perfectly after our interruption is the proper usage of the best equipment. Quality of materials and tools has a big value for reaching a durable and effective result. Thus, we have picked the best ones and always take perfectly suitable parts for each unit we work with. It ensures that our Oceanside Hood Repair is the most effective and solid. Plus, we add a long-term guarantee to each order. It is 1 year for used details and 90 days for our labor.
Happy clients are the best reward for us. Thus, we always strive for providing the best Hood Repair in Oceanside, CA in the most comfortable way for you. Our customers know that they can rely on us anytime and get the result that satisfies all their requirements. Thus, after facing our professionalism, client focus, and reliability, they return to us. We offer not only repair but also installation and maintenance. Thus, they apply to us for various tasks and recommend the same to friends. Just visit our Google page and check yourself: our customers post tons of 5-star reviews there!
Our company is dedicated to providing exceptional quality work at the best prices and the shortest terms. Making each customer feel comfortable is the main goal for each member of the Oceanside Appliance Repair Service Center team. With us, you get brilliant results in the most comfortable way for you. Just call us or place an online application and our friendly managers instantly help you arrange the best solution. After our Oceanside Hood Repair and Service, your unit will soon run like a clock for a long!
Our specialist carries out repairs, works carefully in the process, so as not to leave behind any traces of equipment repairs, and not to spoil the appearance. After the repair is completed, our company will back it up with a 90-day labor warranty. If you encounter the same problem during the warranty period, rest assured we will return to get an appliance back up to perfectly working condition.
$30 OFF ON FIRST TIME SERVICING
Frequently asked questions
What if I have a complex repair of equipment?
Our specialist will come to your home, conduct diagnostics and offer solutions to the problem. And only after your consent, the repair will begin.
Do you have customer support?
Our managers will always listen carefully to you and give you initial recommendations on the malfunction of your equipment to determine the cost of repair. Call:
(858) 224-0022
Is the expert's visit free of charge?
If you order a call to the master through our website, you are guaranteed to get a free diagnosis of your device, and detection of breakage.