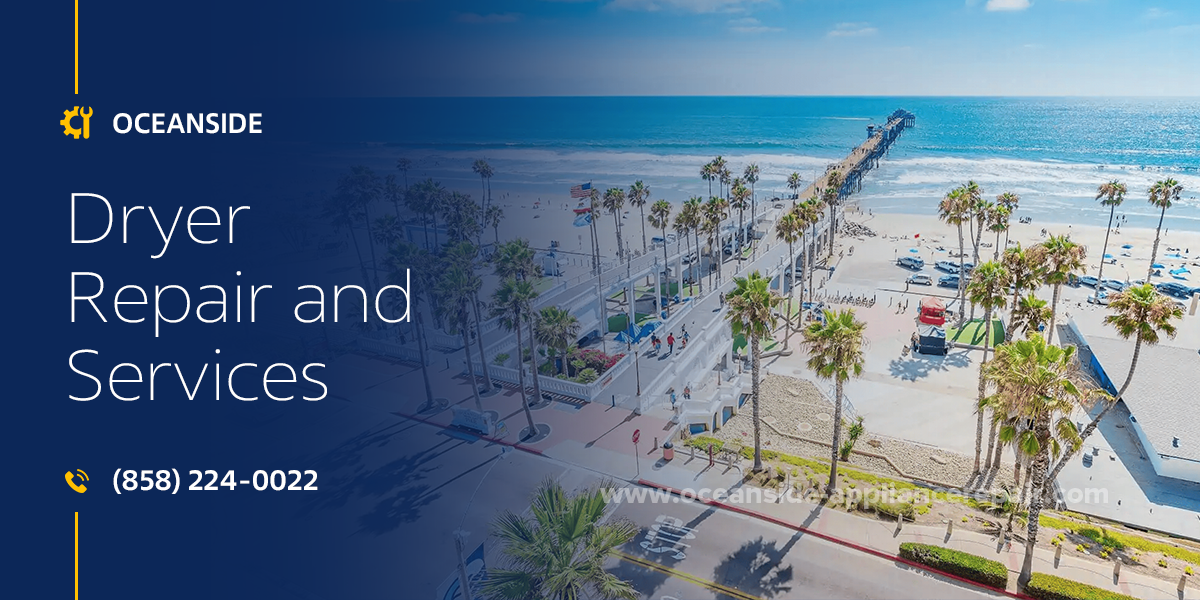 Dryer Repair in Oceanside
Reading this, you can be sure that you have found the best Dryer Repair in Oceanside, CA. The highest quality result at an affordable price and in the shortest terms – an exact description of perfect services. And that is what Oceanside Appliance Repair Service Center offers to each client. Since 2001, we maintain and fix various appliances and make our customers happy for picking us!
The opinion of customers is the main indicator of a reliable service provider. As a client-focused and responsible company, we always offer the most comfortable conditions. Thus, our customers are fully satisfied with each Oceanside Dryer Repair we conduct. You can see their honest thought about us on our Google page, where we have tons of positive reviews. They come back to us with other tasks and recommend us to others. Why it happens this way? There are many reasons.
Brilliant quality
The durable and solid result is the main aspect of each repair. Thus, we pay much attention to providing each Dryer Repair in Oceanside, CA at the highest quality level. Our technicians have over 20 years of experience in this field, so their skills and knowledge are excellent. They perfectly know the subtleties of dryers of all brands and models. Our team also has regular training to raise the qualification all the time. They have insurance and licenses, so serve all commercial and household items properly, including luxury and the latest ones.
Your room remains clean, and your dryer performs properly for a long with us. We complete all tasks with the best professional equipment and tools. The result is always neat and precise, and we are in charge of it! We provide a long-term guarantee for everything we do.
Friendly attitude and honesty
Our polite and stress-resistant specialists provide you with any information. You can ask us anything about the maintenance of your dryer and get a free consultation. And we also offer remote diagnostics. This way helps quickly clarify the condition of your unit and plan the most effective Oceanside Dryer Repair and Service. But if we indicate that it is not advisable, we do not waste your time and money. In some situations, we can give you helpful instructions. We honestly recommend you a replacement, if the dryer is beyond repair or the work costs more than replacing it.
The fairest prices
You always know what you pay for. We announce the cost of work and extras beforehand. For example, the price for emergent arrival is a bit higher than for a regular one. No hidden fees or useless services to charge more. With us, you get only cost-effective, reasonable-priced, and efficient Dryer Repair in Oceanside, CA. If you apply to us again, you get a 15% discount. The price is also $25 lower for booking online. And for veterans and seniors, it is $30 off.
The highest speed
No queuing on phone to apply to a service center if you call us! We get in touch with you in counted minutes! To complete any Oceanside Dryer Repair swiftly, we have perfectly customized logistics and management. We are ready for anything and never waste time. With a convenient location, we reach any needed address quickly. Thus, you do not have to wait long for us. Our fluent specialists resolve an absolute majority of issues within a single day! And in urgent cases, the technician departs at your address immediately!
Ability to adjust
Your comfort is our main goal. Thus, we not just resolve any of your issues professionally, but also listen to your wishes. Sometimes, you need us to fit a certain budget. We can do that, as have not only original but also alternative details and materials. But we use only high-quality and perfectly fitting ones in any case. You also can pick any moment when we provide you with Dryer Repair in Oceanside, CA. Being open 24/7 and always around, we are available at any moment of day and night.
Regardless of the complexity of the issue, our expertise in Dryer Repair in Oceanside Near You ensures that we always know what to do. We strongly advise against ignoring even the smallest change in the behavior of your dryer. If you notice any unusual behavior, it is better to let us know immediately. Taking proactive action can help you avoid more serious consequences down the line. To give you an idea of the most common troubles with dryers, here is a list of some common issues our expert handle:
It stopped heating at all, so the clothes remain wet.

The drum does not spin.

The tub is cracked and is tearing clothes.

The drying cycle cannot start, stops without completing, takes too long, or goes endlessly.

The installation was not correct.

The controllers (buttons, knobs, switches, touchpads) function wrong or are damaged.

The screen shows an error, is blank, or does not glow.

The control board requires recalibration.

The springs, hooks, interlocks, latches, lid switches, hinges, or gaskets are out of shape, so the dryer's door is not latching, closing, or opening properly.

The door glass or body surface is cracked.

The light indicator is flickering or not working.

The ducting system, pipe, hose, lint filter, exhaust vent, or moisture sensor strips are clogged or obstructed.

The unit gets too hot while working.

The clothes and tub smell filthy.

The item gives out a burning or electrical smell.

Damaged details require replacement (glides, drum support roller, baffles, fan blades, bearings, belts, leveling feet, controllers, handles, etc.)

Spoiled ignition or safety valve causes troubles with the gas supply.

It cannot get an electricity supply because of faulty wiring.

Timers, fuse or circuit breakers, start switches, motors, fans, blower wheels, thermal resistors, cycling or high-limit thermostats, heating elements, or other hardware are dysfunctional.

You cannot turn the dryer on or off.

It shuts off itself.

The unit makes wrong noises, like loud vibrating, squealing, popping, knocking, rumbling, grinding, thumping, buzzing, humming, gurgling, etc.
Oceanside Appliance Repair Service Center is a reliable service provider. Our staff cares for your comfort and the proper performance of your electronics. Thus, we offer the quickest solutions at the most favorable prices. Just make one call or apply online and we arrange the best Oceanside Dryer Repair and Service for you. With us, you get only the best result of the highest quality!
Our specialist carries out repairs, works carefully in the process, so as not to leave behind any traces of equipment repairs, and not to spoil the appearance. After the repair is completed, our company will back it up with a 90-day labor warranty. If you encounter the same problem during the warranty period, rest assured we will return to get an appliance back up to perfectly working condition.
$30 OFF ON FIRST TIME SERVICING
Frequently asked questions
What if I have a complex repair of equipment?
Our specialist will come to your home, conduct diagnostics and offer solutions to the problem. And only after your consent, the repair will begin.
Do you have customer support?
Our managers will always listen carefully to you and give you initial recommendations on the malfunction of your equipment to determine the cost of repair. Call:
(858) 224-0022
Is the expert's visit free of charge?
If you order a call to the master through our website, you are guaranteed to get a free diagnosis of your device, and detection of breakage.