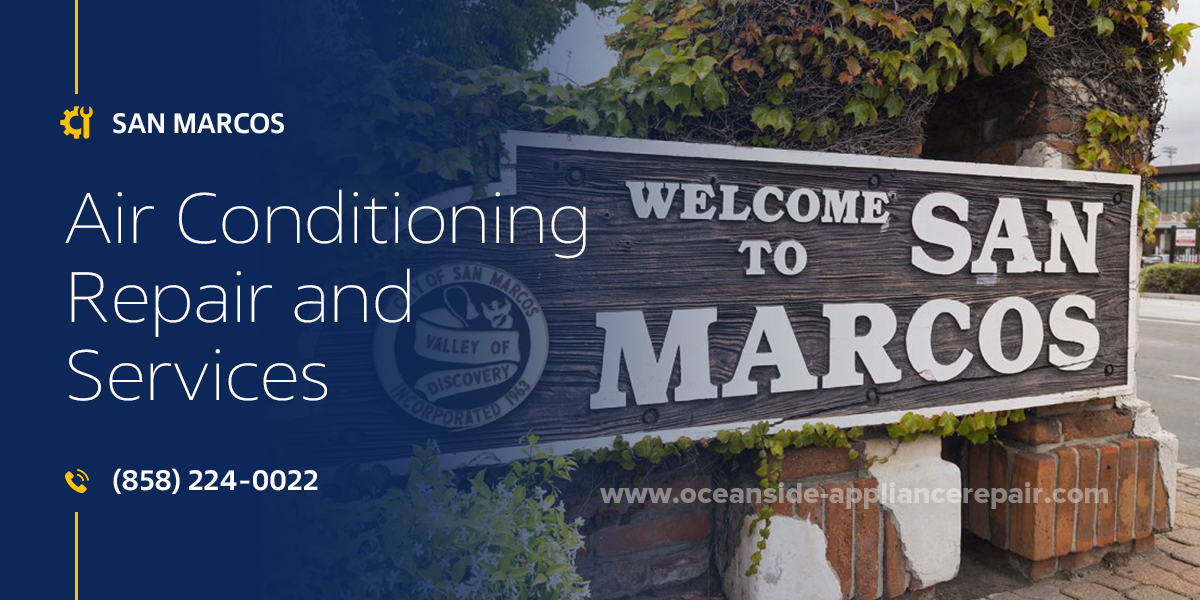 Air Conditioning Repair in San Marcos
A malfunctioning AC cannot save your room from being an uncomfortable and sweltering environment during hot summer days. Not to suffer from heat, delegate caring for your cooling appliance to highly qualified specialists. The Oceanside Appliance Repair Service Center team helps with maintaining, fixing, and installing your electronics in the swiftest way. We are always ready to restore your comfort without adding any stress. Our professionals conduct the most cost-effective and high-quality Air Conditioning Repair in San Marcos, CA.
To deliver durable and efficient San Marcos Air Conditioning Repair, we use professional tools and equipment from the best manufacturers. Together with a vast experience, which exceeds 20 years, and refined skills, we diagnose and eliminate issues in no time. When replacing failed parts with perfectly fitting new ones, we ensure the smooth and long functioning of your item. 
We stock various original and alternative details to pick a match for any AC. And you can be sure of flawless results, as we provide a long-term guarantee for it. It lasts 90 days for labor and 1 year for the details.
Proper materials and components matter much for the highest quality of our Air Conditioning Repair in San Marcos, CA. But the main reason for that is the outstanding proficiency of our team. Our team knows how to provide you with the best services, as they are specialists in this field. Since 2001, our team offers flawless solutions and develops all the time to be always useful for you. Regardless of the model or brand of your household or commercial AC, we restore its perfect functionality. 
The qualifications of our technicians are rising all the time. They are licensed for dealing with luxury and the latest units too. With their responsibility, knowledge, and stress resistance, they easily make any troubles vanish. We make your item run like a brand-new one and leave your room tidy and dustless!
To assess the condition of your conditioner swiftly, we offer you to call us for a consultation and diagnostic. When you need advice, our specialists gladly provide you with any needed information and instructions. And if your item shows signs of malfunction, we can find the reason for the breakage after a quick talk. Explain what makes you worry, and we plan the most effective San Marcos Air Conditioning Repair and Service for you! The most common troubles that you may face with your AC are…

The item gives out humid or filthy air.

The airflow from the registers is too weak or is lacking.

The appliance does not cool or heat the room at all.

The AC is going on and off, runs non-stop, shuts off itself, or does not turn on.

It is changing the temperature too slowly, too much, insufficiently, or unevenly.

The condenser, condensate pump, start capacitor, thermometer, compressor, motor, control board, thermostat, or other hardware is faulty.

The water is dripping inside the room or drops are condensing under the unit.

The refrigerating liquid requires refilling, or it is leaking.

The thermostat batteries, fuses, safety switches, relay switches, power switches, contactors, bearings, belts, leveling feet, registers, baffles, fan blades, buttons, ductwork, or other details are worn off and require replacement.

The item produces a burning or electrical smell.

The outdoor unit fan is not turning as it is broken or obstructed with grease, sticks, leaves, etc.

The indicator is blinking red, flickering, or not working at all.

The item does not react to the remote control.

You cannot set the temperature as needed.

The screen is blank or shows an error.

The AC is buzzing, grinding, hooting, squealing, rattling, humming, popping, vibrating, etc.

The electricity supply is disrupted as the wiring, isolation, or plug is damaged.

The condensate pump reservoir, condenser drainpipe, filters, coils, or evaporators are blocked with dust and dirt.

The item was installed wrong.
And our team knows what to do in any of those or other cases. When the situation gets clear, we also announce the approximate cost of such work beforehand, unless it is not recommendable.
With us, you get only effective services. And our pricing structure is transparent, so you always know what you pay for. We offer our Air Conditioning Repair in San Marcos, CA at affordable prices without compromising on quality. Each customer is special to us, so we offer the most affordable and suitable conditions personally for you. We also have special deals, like a $25 off price for online booking. Returning clients pay 15% less the next time, and for veterans and seniors, we offer a $30 discount. Our rates are always the fairest and most favorable for everyone!
When talking about the best San Marcos Air Conditioning Repair, we mean a reliable and reasonable-priced one. You can count on getting the fastest services if apply to us. Our fully equipped team arrives at your address exactly when you need us ready to resolve any type of issues. In over 90% of orders, we make any AC perform like a brand-new one the same day you apply. And for urgencies during days off and non-working hours, we also have a special offer. The specialist rushes to your address immediately, and the cost of it is just slightly higher than for regular orders.
We have earned a reputation as a decent provider of high-quality services, as we make clients happy for picking us. They leave tons of 5-star reviews that speak about the best conditions and professionalism we have. Getting the best Air Conditioning Repair in San Marcos, CA, our customers confidently entrust all their appliances to us. They recommend us to others as we cope with anything from routine maintenance to resolving complex breakages.
Your local branch of Oceanside Appliance Repair Service Center is 24/7 ready to resolve any AC-related issues. We provide the most reliable solution and always are honest with our clients. Our qualified and responsible team offers the quickest arrival and the best prices for each order. Picking us, you get top-quality San Marcos Air Conditioning Repair and Service stressless and easily.
Our specialist carries out repairs, works carefully in the process, so as not to leave behind any traces of equipment repairs, and not to spoil the appearance. After the repair is completed, our company will back it up with a 90-day labor warranty. If you encounter the same problem during the warranty period, rest assured we will return to get an appliance back up to perfectly working condition.
$30 OFF ON FIRST TIME SERVICING
Frequently asked questions
What if I have a complex repair of equipment?
Our specialist will come to your home, conduct diagnostics and offer solutions to the problem. And only after your consent, the repair will begin.
Do you have customer support?
Our managers will always listen carefully to you and give you initial recommendations on the malfunction of your equipment to determine the cost of repair. Call:
(858) 224-0022
Is the expert's visit free of charge?
If you order a call to the master through our website, you are guaranteed to get a free diagnosis of your device, and detection of breakage.