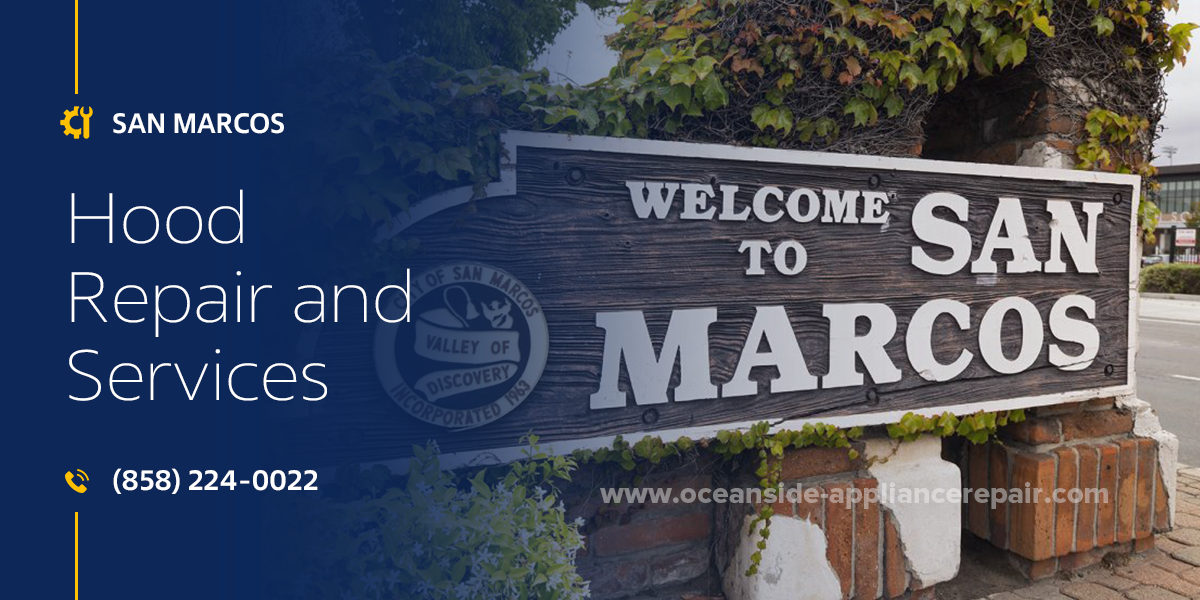 Hood Repair in San Marcos
The hood in your home or workplace is a guard of clean air and normal breathing. The best gratitude you can give it is applying to Oceanside Appliance Repair Service Center for maintenance and timely fixing. This appliance will serve you perfectly for a long if you entrust it to our reliable and proficient hands. We offer the highest quality services and fixing at reasonable prices. You can rely on us when you need an effective and swift Hood Repair in San Marcos, CA.
We are confident in coping with tasks of any complexity, as our team has over 20 years of experience in it. They know the construction and subtleties of the functioning of hoods of all types, brands, and models. As technologies are developing all the time, we also care about having up-to-date qualifications. Thus, our technicians conduct the most proper San Marcos Hood Repair even to luxury and the latest items. With perfectly refined skills and broad knowledge, our team provides all services at a flawless quality level. The guarantee for our labor lasts for 90 days.
Most often, the hood starts working worse when some details get worn off or broken. Thus, we pay much attention to using the best replacement parts. We stock many original and alternative details, which let us swiftly pick a perfect match for your hood. Our specialists also have the best professional tools, materials, and equipment. Thus, each Hood Repair in San Marcos, CA they conduct is accurate and tidy. Altogether, it brings a smooth and durable performance for your appliance. We back up the details we pick with a 1-year warranty.
To ensure the easiest and most efficient resolution of troubles with your hood, check its condition regularly. You can schedule regular maintenance or repair by calling us. We offer free consultations to answer and give you useful advice. When the item already functions wrong, we conduct remote diagnostics and swiftly find the reason for the breakage. The most common troubles you may face with your hood are listed below.
The item stopped absorbing any smells, smoke, and moisture.

It is absorbing the dirty air too weakly, as the airflow is poor.

The hood is giving out a humid air or foul smell.

The light assembly is faulty, or the lamps are flickering/burned out.

The hood is humming, buzzing, vibrating, grinding, squealing, gurgling, knocking, or making other indistinctive noises.

The downdraft does not go up, stay up, or shift down.

The controllers (keys, buttons, knobs, switchers, touchpads) do not react, function wrong, have a poor connection, or are damaged or lost.

The control module failed and required recalibration or replacement.

The display board/information screen is not glowing, shows an error, or provides incorrect information.

The moisture is condensing on the item or under it.

The hood produces a burning or electrical smell while working.

Motor shaft bearings, ducting system, damper, fan blades, baffles, grates, blower wheel, or other details are worn off and require replacement.

The cord, isolation, or plug is damaged, which causes troubles with the power supply.

Hardware components are out of order (blower motor, fan, driver, main control board, etc.).

The hood goes on and off repeatedly, shuts off abruptly, or cannot turn on at all.

The filters, grates, ventilation, or duct are clogged or obstructed with debris, dust, and dirt.

The item was installed improperly.
We can eliminate any of those and other issues easily. But sometimes, it is enough to provide you with simple instructions and the problem vanishes. Or we may indicate that serving the item is not cost-effective or rational. In such cases, the only honest and recommendable solution is to replace it. After clarifying the situation, we announce the approximate cost of the needed San Marcos Hood Repair and Service. And the only thing left is to pick the most suitable time for you.
The local department of our company is open 24/7. Plus, our team is greatly managed, and we have a convenient location and organized logistics. With those factors and the fluency of our technicians, we offer the quickest Hood Repair in San Marcos, CA! In an absolute majority of cases, we make your hood able to serve you perfectly again within a single day. Is your situation urgent? Not a problem. For a small additional payment, the specialist sets off to the needed address immediately. You can count on us on after-hours and days off too!
The financial aspect should never worry you if you apply to us. We have a transparent pricing system, so you know what you pay for. Our San Marcos Hood Repair is affordable and fair-priced, plus we can adjust to any budget and have special deals. We do not overcharge our clients as aim to provide more of them with our reliable and effective services. Applying to us again, our clients get a 15% discount. The price of our work is $30 lower for veterans and seniors. And booking online, you save $25.
Our comfortable conditions of cooperation, responsibility, and proficiency bring flawless results. Since 2001, we have provided tons of clients with top-level Hood Repair in San Marcos, CA, and other services. And they trust us, as know firsthand that we can handle anything without adding any stress. 
Our customers gladly recommend us to other people and post tons of 5-star reviews on the net. Serving the best results and caring for the comfort of clients, we successfully compete with other companies and keep developing.
Your household or commercial hood deserves the best. And you can provide it with high-quality care with Oceanside Appliance Repair Service Center. Our friendly team finds the most effective way to make your item function effectively for a long. All you need to do is just contact us and schedule our visit. We provide the best San Marcos Hood Repair and Service swiftly and at affordable prices.
Our specialist carries out repairs, works carefully in the process, so as not to leave behind any traces of equipment repairs, and not to spoil the appearance. After the repair is completed, our company will back it up with a 90-day labor warranty. If you encounter the same problem during the warranty period, rest assured we will return to get an appliance back up to perfectly working condition.
$30 OFF ON FIRST TIME SERVICING
Frequently asked questions
What if I have a complex repair of equipment?
Our specialist will come to your home, conduct diagnostics and offer solutions to the problem. And only after your consent, the repair will begin.
Do you have customer support?
Our managers will always listen carefully to you and give you initial recommendations on the malfunction of your equipment to determine the cost of repair. Call:
(858) 224-0022
Is the expert's visit free of charge?
If you order a call to the master through our website, you are guaranteed to get a free diagnosis of your device, and detection of breakage.