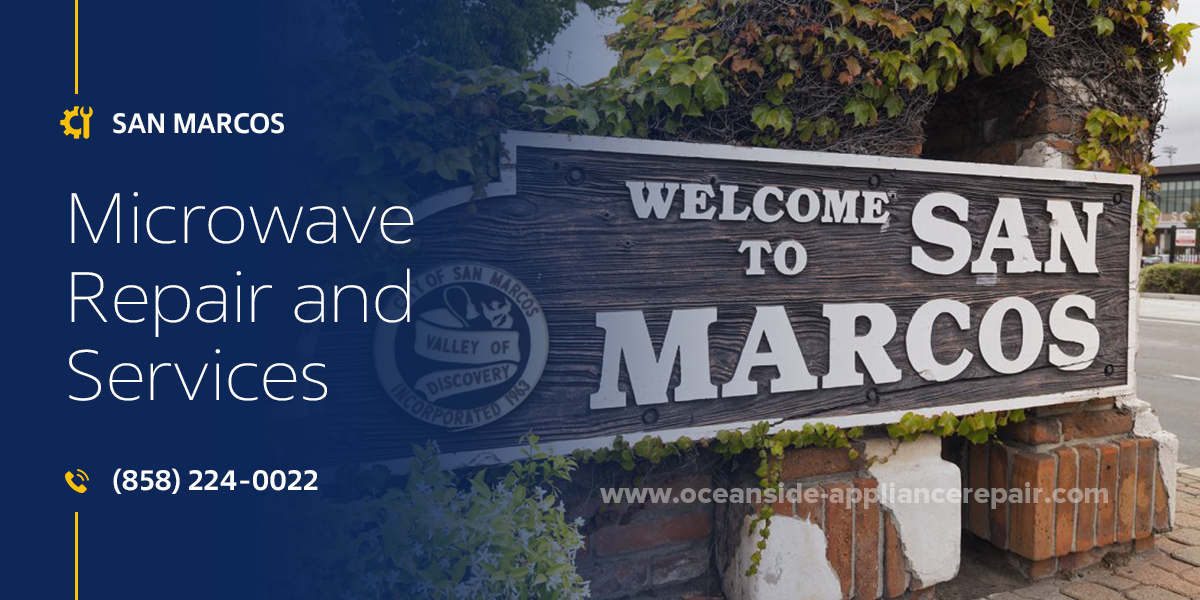 Microwave Repair in San Marcos
If you do not have time or wish to cook, it does not mean staying hungry or eating out. To get a warm meal swiftly, we have microwaves in almost any flat, office, and public place. Unfortunately, this small and convenient item may perform worse with time, frequent or wrong usage, or for other reasons. But do not worry! By applying to us, you can get the quickest and most high-quality Microwave Repair in San Marcos, CA! Our proficient team resolves any issues at the most affordable prices. With Oceanside Appliance Repair Service Center, you get the best solutions in the most comfortable conditions.
To keep your microwave in good condition, contact specialists before it is too late. This item requires attention not only when it totally fails and stops heating. And you can anytime get a free consultation with our specialist about anything you want to find out. Feel free to ask our advice if notice any of these or other issues…

The turntable is not rotating.

The item stops heating before the timer goes off, does not start heating/spinning at all, or keeps heating endlessly.

The roller ring is rotating, but the item is not warming up food at all.

It heats unevenly, insufficiently, or too much.

The control panel failed and required recalibration, so you cannot pick the needed power and time or start the heating process.

The screen is blank or shows an error message/code.

The indicator, touchpad, controllers, timer, or another part of the control panel is faulty, has a loose connection, or does not respond.

The appliance cannon turns on or it shuts off itself.

Some of the components require replacement as they are damaged or lost (buttons, knobs, keys, switchers, leveling feet, coupler, waveguide cover, turntable ring, wiring, plug, isolation, rack mount, etc.).

The glass plate or door glass is cracked.

The item is buzzing, humming, grinding, gurgling, squealing, knocking, thumping, or making other weird noises or vibrations.

The electricity supply is disrupted.

The heating tan and air vent are blocked with debris or pieces of food.

A high-voltage capacitor, transformer, thermal fuse, waveguide, thermal protector, cooling fan, drive motor, diode, heating element, vent, or magnetron is out of order.

The appliance is sparking, arcing, or smoking.

It produces a burning or electrical smell.

The bulb inside the microwave is not glowing.

The door cannot close, latch, or open due to deformed hinges, springs, joints, gaskets, lid switches, interlocks, latches, or hooks.
When you tell us about these or other issues during remote diagnostics, we swiftly detect the reason for the breakage. Thus, we can announce the approximate cost of the needed services and plan efficient San Marcos Microwave Repair. But if we indicate that the work is not recommendable or cost-effective, we honestly tell you.
Regardless of the complexity of the issues, our team has enough knowledge and expertise to help you. Working with microwaves of any brands and models for over 20 years so far, we deal with anything. Our specialists are highly skilled and qualified, plus they have regular training to stay up-to-date and always useful. They have insurance and licenses for dealing with any items. Thus, they know how to serve luxury and the latest units as well. Any Microwave Repair in San Marcos, CA we conduct is reliable and high-quality.
Having extensive experience fixing commercial and household microwaves, we also know what equipment the best is. We provide our team with top-rank professional tools and materials. It helps conduct each San Marcos Microwave Repair and Service accurately and neatly. To make the result durable and solid, we also carefully select the best components. We keep a vast choice of original and alternative details in stock to use perfectly fitting ones for your appliance. To make you calm about the future functioning of your microwave, we add a 1-year detail and a 90-day labor guarantee.
Responsibility and honesty are our core values. We offer transparent services to our clients, without hiding any fees or overcharging. Unlike some other companies that prioritize profit over trust, we always provide our clients with honest information about their appliances. Thus, our Microwave Repair in San Marcos, CA is always fair-priced. You pay the most favorable cost for an effective job. And if you do an online booking, you also get a $25 discount. For veterans and seniors, we have $30 off, and for returning clients – 15% off.
If a low price makes you hesitate, visit our Google page. We have tons of positive reviews from our satisfied customers there. They return to us because experience friendly attitude, professional approach, and client focus. Thus, they also confidently recommend us to other people. The trust of our customers means much to us. And it makes us successfully compete with other local service centers since 2001. You can be sure that by picking us, you apply to the best provider of San Marcos Microwave Repair.
You can rely on us in any situation. We arrange the arrival exactly when it is convenient for you. Even if you need us right now and it is a non-working day or hour, we are available for you. An option of urgent arrival means a little additional payment and an instant departure of our specialist. 
As our local office is conveniently situated and our team has the greatest management, we swiftly reach any address. And thus, the regular orders take us less than a single day to complete. We conduct the best Microwave Repair in San Marcos, CA in the shortest terms!
Getting the most reliable and effective San Marcos Microwave Repair and Service is easy! All you need to do is just call Oceanside Appliance Repair Service Center or place an online application on our webpage. We make your microwave perform perfectly again swiftly and at a reasonable price. Our proficient team of high-level professionals conducts all procedures with the highest quality. We provide the best solutions in the most stressless way!
Our specialist carries out repairs, works carefully in the process, so as not to leave behind any traces of equipment repairs, and not to spoil the appearance. After the repair is completed, our company will back it up with a 90-day labor warranty. If you encounter the same problem during the warranty period, rest assured we will return to get an appliance back up to perfectly working condition.
$30 OFF ON FIRST TIME SERVICING
Frequently asked questions
What if I have a complex repair of equipment?
Our specialist will come to your home, conduct diagnostics and offer solutions to the problem. And only after your consent, the repair will begin.
Do you have customer support?
Our managers will always listen carefully to you and give you initial recommendations on the malfunction of your equipment to determine the cost of repair. Call:
(858) 224-0022
Is the expert's visit free of charge?
If you order a call to the master through our website, you are guaranteed to get a free diagnosis of your device, and detection of breakage.