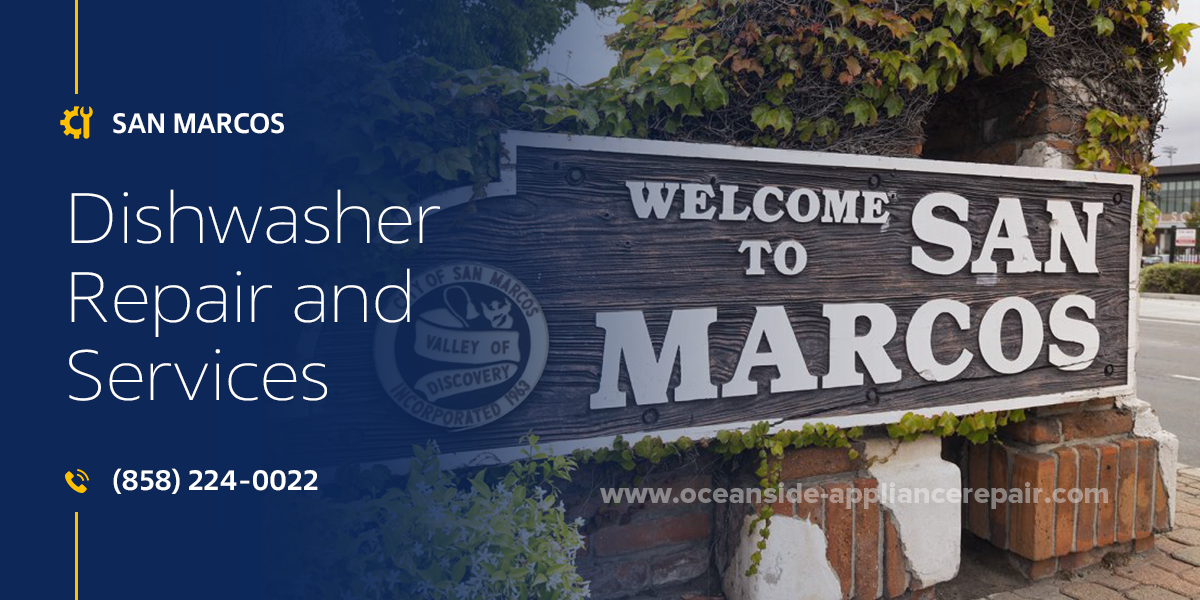 Dishwasher Repair in San Marcos
For many people, a dishwasher is a favorite appliance. It makes the process of cleaning kitchenware and utensils easier, more hygienic, and quick. And it motivates owners of this unit to look for a decent company when require Dishwasher Repair in San Marcos, CA. For the most effective, high-quality, and swift services, you can rely on us. Oceanside Appliance Repair Service Center offers the best prices for durable and reliable results since 2001.
Our team of experts is highly skilled and experienced. In over 20 years they have reanimated tons of household and commercial dishwashers. Regardless of the brand and model of your item, we find the best approach to any. Our technicians are up to date with the newest technologies and have regular training. Their skills and knowledge are outstanding and get even better daily. They are licensed for dealing with luxury and the latest items too. Thus, we provide proper and high-quality San Marcos Dishwasher Repair for any item!
The same is why, our team knows what to do in any situation. It means that you can call us anytime and get an answer about the solution for your dishwasher. If the talk is about installation, maintenance, or fixing these items, we provide the best assistance and advice. Let us know what you are interested in, and we recommend you the best way to get it. The consultation is free and a useful way to clarify the situation. For a failed item, the best idea is to get a remote diagnostic. When we know the condition of your item, we can announce the needed services and their approximate cost.
Mostly, to make the issue vanish, you need to appoint the Dishwasher Repair in San Marcos, CA with us. But if the solution is different, we honestly tell you about it. It may appear that we can give you several free instructions by phone. Or your dishwasher may be beyond repair. If fixing it is not cost-effective or recommendable, we do not try to cheat you. With us, you always clearly know everything related to your electronics.
The best way to extend the lifetime of your dishwasher is to care for it properly. It means not only cleaning but also paying attention to any changes. Once your item stopped working the way it should, just get in touch with us and tell us what happened. The most common troubles with dishwashers are…

The door fails to close, open, or latch, as its interlocks, lid switches, joints, hinges, springs, or latches are damaged.

The door glass or other surface is cracked. 

The dishwasher fails to turn on or start/complete the wash cycle.

The item stops midway or shuts off itself.

It is washing too long or goes non-stop.

The cleaning process goes inadequately or unevenly, so dishes remain oily, dirty, partially cleaned, or covered with leftovers or foam.

The body of the appliance gets extremely hot while it is working.

Leaks or water/foam pooling around the dishwasher.

Malfunctioning detergent dispenser.

Error code on the screen or indicator flashing red, which means issues with software (control panel).

The slide arm is defective, so the racks cannot roll out.

Insufficient or lacking drying/draining, so dishes remain wet, and the tub has too much moisture.

Electrical issues (tripped breakers, blown fuses, faulty wiring).

It is not possible to adjust any settings, like wash mode, temperature, duration, etc., as the controllers perform improperly, do not respond, or the screen is blank.

The item cannot supply the water or fills it non-stop due to a defective water inlet valve.

The dishwasher's operation is too loud, as the item is buzzing, humming, vibrating, squealing, popping, rattling, thumping, squealing, hooting, knocking, etc.

The timer, motor, thermostat, pump, or the heating element is dysfunctional.

Worn-off or damaged components require replacement (racks, rollers, utensil holders, cutlery baskets, leveling feet, seals, belts, connectors, knobs, buttons, switchers, keys, handles, valves, float switches, filters, plugs, pipes, hoses, etc.).

The item is producing a burning or electrical smell.

Spray arms, sump strainers, pipes, hoses, and filters are clogged.
To eliminate those and other issues, we use the best equipment, tools, and materials. We carefully select the best-fitting original or alternative details to match any appliance. Your unit will perform smoothly for a long if you apply for San Marcos Dishwasher Repair and Service to us. And you have no reason to doubt it, as we back up our work with a long-term guarantee. It is 90 days for our labor and 1 year for the details we use.
That is not the only proof of our reliability. The main one is the opinion of our clients. They are absolutely satisfied with our attitude, professionalism, and the results of our work. Thus, they recommend us to others as the best provider of Dishwasher Repair in San Marcos, CA. Our customers return to us for serving other units too and leave tons of positive comments on our Google page. Their trust motivates and helps us go on developing!
Owning thoughtful management and logistics, we are able to spend minimum time arranging our arrival. It is especially useful for those cases when you require emergent San Marcos Dishwasher Repair. The specialist sets off immediately and reaches the needed address in the shortest terms. This option is available during days off and after hours too for a small additional payment. We complete an absolute majority of regular orders swiftly as well. Mostly, we make your appliance back to normal the same day you apply! 
While we offer the highest speed for resolving your issues, we cannot say the same about our prices. On the contrary, our rates are the most favorable and affordable, as we do not overcharge our clients. With us, you get the most efficient and fair-priced Dishwasher Repair in San Marcos, CA. Plus, we have pleasant discounts. They are 15% for returning clients, $25 for online booking, and $30 for veterans and seniors. We concentrate on making many clients happy with reasonable prices instead of serving a few at a high price.
To get a high-quality result in comfortable conditions, get sure that you apply to a proper company. Oceanside Appliance Repair Service Center is exactly a match! Our friendly, competent, and responsible specialists always find the most suitable way to help you. We offer the best San Marcos Dishwasher Repair and Service of any type. Contact us whenever needed and we provide you with cost-effective and swift solutions in any situation!
Our specialist carries out repairs, works carefully in the process, so as not to leave behind any traces of equipment repairs, and not to spoil the appearance. After the repair is completed, our company will back it up with a 90-day labor warranty. If you encounter the same problem during the warranty period, rest assured we will return to get an appliance back up to perfectly working condition.
$30 OFF ON FIRST TIME SERVICING
Frequently asked questions
What if I have a complex repair of equipment?
Our specialist will come to your home, conduct diagnostics and offer solutions to the problem. And only after your consent, the repair will begin.
Do you have customer support?
Our managers will always listen carefully to you and give you initial recommendations on the malfunction of your equipment to determine the cost of repair. Call:
(858) 224-0022
Is the expert's visit free of charge?
If you order a call to the master through our website, you are guaranteed to get a free diagnosis of your device, and detection of breakage.