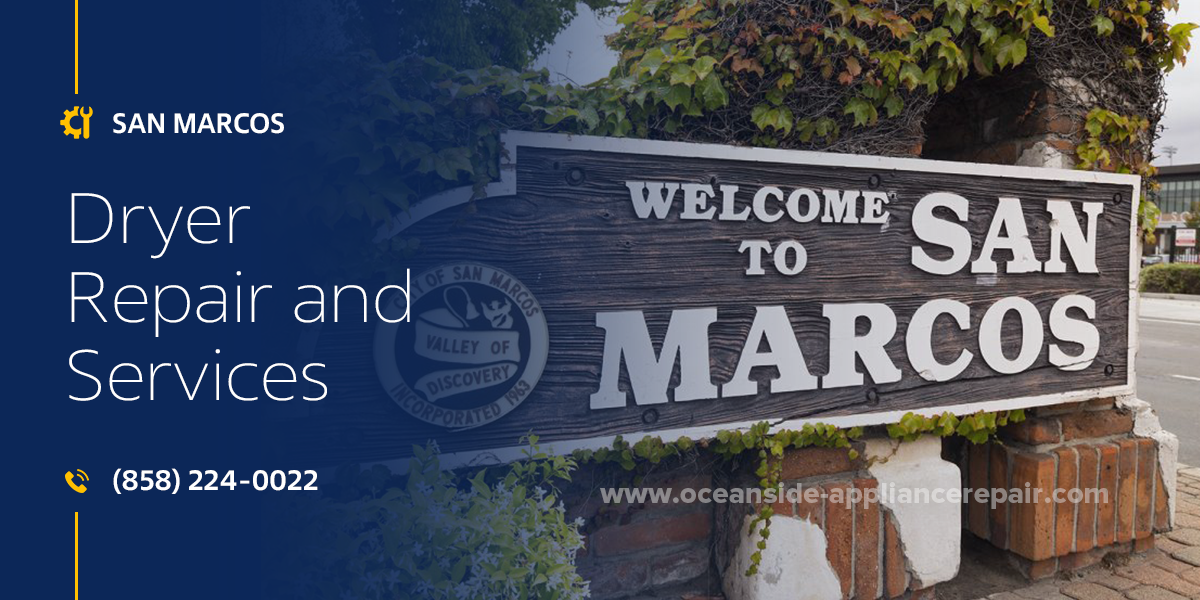 Dryer Repair in San Marcos
Here is the best offer for everyone who seeks the best Dryer Repair in San Marcos, CA. High-quality, affordable, and swift services are what we offer to each client. To get the most effective results, just apply to Oceanside Appliance Repair Service Center. Our friendly and proficient team knows everything about dryers, so they install, maintain, and fix any of them perfectly. With us, you can be sure of getting the best solution regardless of the complexity of the issue.
We believe that the quality of work is the most important aspect. Thus, we pay much attention to the durability and reliability of each San Marcos Dryer Repair we conduct. Doing it for over 20 years so far, our team perfectly knows the functioning and structure of these appliances. Their qualification lets them easily deal with dryers of all types, brands, and models. Our team is insured and licensed, so we are useful even if your item is a delicate luxury or the latest one.
Another important aspect of high-quality service is the usage of proper materials and tools. Our team uses the best equipment and consumables. It helps proceed precisely and tidily with the Dryer Repair in San Marcos, CA of any type. We pick perfectly fitting original or alternative spare details for each appliance, ensuring its long and proper functioning. Our approach is complex and effective, and we are responsible for our own actions. Thus, we back up each procedure with a 1-year detail guarantee and a 90-day one for our labor.
But our clients rarely even recall having a warranty for the job we do for them. It happens because the result of our San Marcos Dryer Repair and Service is always perfect. Customers are happy for picking us, as we make their items perform perfectly and offer them the most comfortable conditions. 
Thus, they entrust all other electronics to us and recommend the same to other people. You can see their honest opinion in tons of positive reviews they leave on the net. They appreciate our attitude towards clients, appliances, and the very work process. 
Making our customers feel comfortable is one of our main goals. For that, we adjust to all your requirements, including pricing. We have the most favorable offers for any wallet and have pleasant special deals. Returning clients get a 15% discount when come back to us again. A discount for veterans and seniors is $30. And if you book the Dryer Repair in San Marcos, CA online, the price gets $25 lower. Our rates are always the fairest and each of our solutions is cost-effective.
With us, you can easily find out exact information about the condition of your dryer in minutes. We provide free consultations and remote diagnostics to give you advice or clarify the situation. 
Our team may help you eliminate the smallest issues by phone instructions if it is appropriate. We pick only the most effective solutions even if they do not bring us much profit. And if we indicate that the repair is not recommendable or cost-effective in your case, we clearly inform you. With us, you get only rational and reliable San Marcos Dryer Repair.
The list of issues that may happen to dryers is pretty wide. And for having this appliance working properly for years, you should not ignore any of them. Below, you can see the list of the most common troubles with these items.
The item is not heating at all.

It is heating too weakly, not evenly, or too much.

The drum is not spinning, is unbalanced, or is cracked.

The clothes remain wet, partially dry, or become damaged.

The appliance produces rumbling, buzzing, thumping, humming, knocking, squealing, hooting, knocking, vibrating, gurgling, clicking, or other weird noises while working.

The tube has a foul smell and mold inside.

The entire control panel or its parts malfunction (blank information screen, dysfunctional controllers, faulty software), so you cannot use or control the item normally.

The gas or electricity supply is disrupted.

The igniter, wiring, fuses, breakers, timers, start switches, thermal resistor, thermostat, motor, blower wheel, heating element, or other components are out of order.

The appliance cannot turn on or off or it shuts off itself.

It is drying too long, cannot start or complete the cycle, pauses midway, or runs non-stop.

The controllers (keys, buttons, touchpads, knobs, switchers) do not respond, have a loose connection, or are lost or damaged.

The screen is blank, shows an error, or is not glowing.

The ducting system, pipes, hoses, moisture sensor strips, lint filters, or exhaust vents are obstructed with grease, dust, or lint.

The indicator is blinking red, flickering, or not shining.

Worn-off, lost, or damaged details require replacement (handles, belts, leveling feet, controllers, drum support rollers, wiring, isolation, plug, glides, safety valves, etc.).

The body of the item gets excessively hot.

Troubles with closing or opening the door, as it has spoiled gaskets, springs, hinges, joints, lid switches, lathes, or interlocks.

The door glass is cracked.

While drying, the item produces a burning, gas, or electrical smell.

The appliance was installed improperly.
Any of those and other issues cannot puzzle us. Since 2001, our team deals with breakages of any complexity in household and commercial dryers. Thus, we eliminate any issues fluently and easily.
It also means that we are always ready for anything and do not waste time on arriving and completing the task. We customized all work processes, logistics, and management perfectly. Together with a convenient location and outstanding professionalism, it lets us provide the swiftest Dryer Repair in San Marcos, CA. In over 90% of orders, we finish with your order the same day you apply. And you can also rely on us if need assistance urgently. For a small additional payment, we depart at your address immediately even on a day off or late at night.
With Oceanside Appliance Repair Service Center, any troubles with electronics vanish sooner than become inconvenient for you. Our specialists are the most proficient and reliable, so they always reach top-quality results. Applying to us, you get a brilliant San Marcos Dryer Repair and Service at a reasonable price. Just make a call or place an online application on our website. We will make your dryer will perform like a brand-new one shortly!
Our specialist carries out repairs, works carefully in the process, so as not to leave behind any traces of equipment repairs, and not to spoil the appearance. After the repair is completed, our company will back it up with a 90-day labor warranty. If you encounter the same problem during the warranty period, rest assured we will return to get an appliance back up to perfectly working condition.
$30 OFF ON FIRST TIME SERVICING
Frequently asked questions
What if I have a complex repair of equipment?
Our specialist will come to your home, conduct diagnostics and offer solutions to the problem. And only after your consent, the repair will begin.
Do you have customer support?
Our managers will always listen carefully to you and give you initial recommendations on the malfunction of your equipment to determine the cost of repair. Call:
(858) 224-0022
Is the expert's visit free of charge?
If you order a call to the master through our website, you are guaranteed to get a free diagnosis of your device, and detection of breakage.