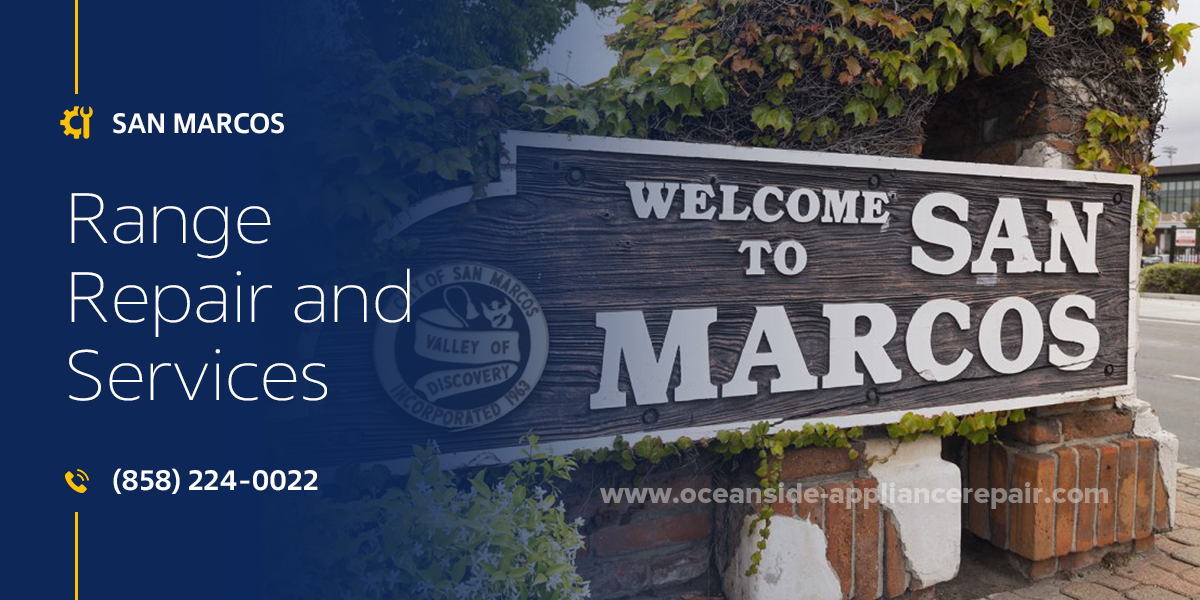 Range Repair in San Marcos
Properly functioning ranges provide us with tasty meals at home and in restaurants. But when they perform wrong, it may cause inconveniences or even dangerous situations. But no need to worry, as you can just apply to Oceanside Appliance Repair Service Center anytime. Our team consists of top-rank experts in maintaining, installing, and fixing electronics. We offer high-quality, swift, and fair-priced solutions regardless of the complexity of the issue. With us, you can be sure of getting the most effective Range Repair in San Marcos, CA!
It is important to apply to a reliable company if you want to get decent services for your electronics. Our company is the greatest option for this. And we have many reasons to claim so!
Our clients trust us
The opinion of our customers is the main reliability indicator. They rate our San Marcos Range Repair and other services with the best marks. You can see tons of their positive comments and reviews on our Google page. It often happens that new clients come to us because their friends recommended them to. And we are motivated to become even better for our customers all the time.
Time proves our professionalism
Our company provides the best services since 2001. And all this time we go on developing and opening new branches. We successfully compete with other local companies, as give the best results in comfortable conditions.
We have a huge experience in serving various ranges
Each of our technicians has over 20 years of experience, insurance, and licenses for dealing with any electronics. Thus, they know what to do with commercial and household ranges of all types, brands, and models. Our team provides the best Range Repair in San Marcos, CA to luxury and the latest items too. As our specialists know all the subtleties of these appliances and have outstanding skills, we always offer top-quality services.
We pick the best equipment and details
The professionalism of our team is brilliant. But it is not the only reason for the most effective results of our work. To make your range run smoothly for a long, it is essential to use proper details instead of spoiled ones. We stock a variety of original and alternative spare parts, so use perfectly fitting components. The usage of top-notch professional tools and materials helps us conduct accurate and tidy San Marcos Range Repair and Service. Thus, when we finish, your item performs like a brand-new one, and your room remains clean.
We are in charge of what we do
It is okay if you worry that something breaks again soon. But you do not have to think about it if apply to us. We are responsible and never doubt the professionalism of our technicians and the solutions they pick. Thus, we provide a long-term guarantee for everything we do. It is 90 days for our labor and 1 year for the details.
Our team provides the quickest solutions
While many people wait for weeks to get their ranges back no normal, our clients never face such a problem. When we accept the order, we complete it on the same day in the absolute majority of cases. Our local branch is open 24/7 and offers the swiftest Range Repair in San Marcos, CA. It also means that you can request an instant departure at any moment of day and night. For a small urgency fee, we rush to your address immediately whenever needed!
We set the most affordable prices
The price you pay for our work is the most reasonable. We prefer charging a fair money and making many people apply to us instead of taking much from a few. Thus, you always know what you pay for and clearly see the result of your investment. We offer only cost-effective San Marcos Range Repair. Thus, if the work is not advisable or its cost is too high, we recommend you a replacement. If it happens when we arrive, we have to take a small service fee.
We also have discounts for our customers. They are $25 for online booking, $30 for veterans and seniors, and 15% for returning clients.
With us, you can clarify the situation for free
We are always happy to answer any of your questions. Call us when want to ask for advice, find out the condition of your range, or apply for the repair. The consultations are free and useful for you. And when there is something wrong with your item, we offer a remote diagnostic. It is the quickest way to find the reason for the breakage and plan the solution. After, we announce its approximate cost and arrange the most suitable Range Repair in San Marcos, CA for you. 
In the cases when our arrival is not needed, we offer another way out. It may be instructing you on eliminating an issue easily or picking an appropriate replacement. The sooner you inform specialists about your problem, the lower the chance of having a serious breakage. The list of troubles that happen to ranges is pretty wide. Below, you can see the most widespread ones.

The item does not turn on or off.

The indicator shows it is on, but the item does not heat at all.

Some of the heating elements or all of them do not work, work wrong, heat unevenly, or turn off themselves.

You cannot change the temperature or flame to the needed level.

The burners make clicking, hissing, or ticking sounds while you are igniting them.

The flame is flickering, sparkling, arcing, or has a red, orange, or yellow color.

Thermostats, convection fans, timers, thermometers, or heating elements (bake elements, broiler elements, burners, induction surfaces, electrical coils, grills, or tans) malfunction or are damaged.

While the range is working, you notice a gas, burning, or electrical smell.

The gas is leaking, so you smell it even if the appliance is off.

Spoiled or malfunctioning buttons, switches, keys, knobs, or touchpads are bothering proper usability or causing unsafe situations.

The display board or information screen shows an error or is not working.

The control panel is totally failed so you cannot control the appliance.

The software requires recalibration.

The appliance is making unusual or too loud noises, like thumping, grinding, knocking, squealing, humming, buzzing, vibrating, etc.

The inner or outer lights/lamps/indicators are going on and off or not glowing.

The door glass or body surface is cracked.

The door cannot properly open, close, or latch (due to deformed gaskets, hinges, springs, joints, interlocks, latches, or lid switches), which causes loss of heat or other problems.

The electricity supply is disrupted because of spoiled wiring, plug, or isolation.

Troubles with gas supply owing to the faulty igniter or gas valves or clogged gas lines or gas ports.

The vent tube or convection fan is obstructed with dust or grease.

The burner covers, grates, leveling feet, belts, screws, fan baffles, blades, light assembly, or other details are damaged or worn off.

The drawer mechanism is faulty, so the racks cannot roll out.
No matter how complex is the issue, Oceanside Appliance Repair Service Center deals with anything! Our technicians are the most reliable, friendly, and proficient. They find cost-effective, high-quality, and swift solutions in any situation! To get the most effective San Marcos Range Repair and Service, just call us or place an online application. We assist you in the most comfortable and convenient way!
Our specialist carries out repairs, works carefully in the process, so as not to leave behind any traces of equipment repairs, and not to spoil the appearance. After the repair is completed, our company will back it up with a 90-day labor warranty. If you encounter the same problem during the warranty period, rest assured we will return to get an appliance back up to perfectly working condition.
$30 OFF ON FIRST TIME SERVICING
Frequently asked questions
What if I have a complex repair of equipment?
Our specialist will come to your home, conduct diagnostics and offer solutions to the problem. And only after your consent, the repair will begin.
Do you have customer support?
Our managers will always listen carefully to you and give you initial recommendations on the malfunction of your equipment to determine the cost of repair. Call:
(858) 224-0022
Is the expert's visit free of charge?
If you order a call to the master through our website, you are guaranteed to get a free diagnosis of your device, and detection of breakage.