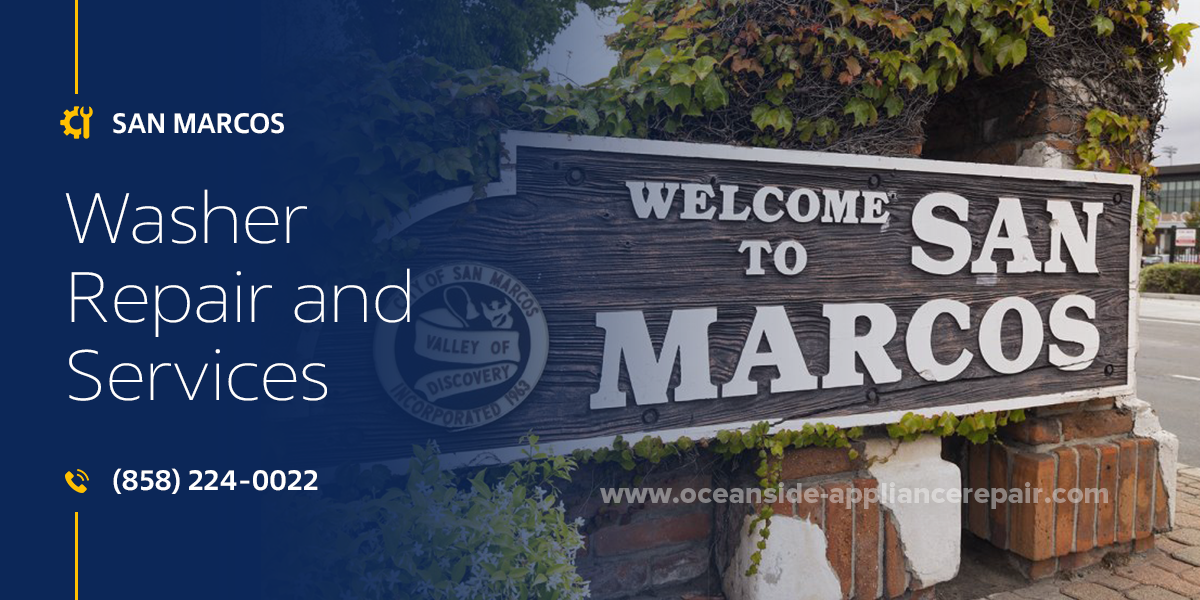 Washing Machine Repair in San Marcos
A rare person can imagine a daily routine without using a washing machine. We are used to benefiting from it and saving much time and effort. Oceanside Appliance Repair Service Center is always ready to help you have your washer in a proper condition. Since 2001, we have offered a wide range of services for these items. If you apply to us, you get the highest quality Washing Machine Repair in San Marcos, CA at the fairest price and in the shortest terms.
Whenever you need to install, check, or fix your washer, we are always ready to help you. Our technicians are dealing with any tasks flawlessly for over 20 years so far. Their skills are perfectly honed, and their knowledge covers all aspects and subtleties of the functioning and construction of washing machines. They also go on developing all the time and have training from the best manufacturers and experts. Our specialists have insurance and licenses for their highest qualification. Thus, they cope safely and effectively with any items, including luxury and the latest ones.
Regardless of the type, brand, and model of your appliance, with us, you get the best San Marcos Washing Machine Repair. We stand behind the brilliant quality of our work. Thus, we provide a 90-day guarantee for our labor and a 1-year one for the details we use.
The quality of spare parts plays a significant role in the proper functioning of your item. We have stocked a vast variety of original components and their analogs. Therefore, we use the best matches for any commercial and household washer and can fit any budget. Caring for the most precise and neat completion of any task, we also use top-rank equipment. With the best professional tools, materials, and details, we proceed with any Washing Machine Repair in San Marcos, CA flawlessly!
So, how can you get timely services and the best solutions when anything is wrong with your washer? Get in touch with us! If you care for checking its condition or need advice, we offer you free consultations and provide you with any information. And if the appliance already shows any wrong signs, we offer a remote diagnostic. Any issues, even the smallest ones, require attention. Here is the list of the most common issues that you may face with your washer.
The hardware is worn off, damaged, or defective (pump, timer, motor, agitator, transmission, heating element, thermostat, off-balance switch, water level controller, etc.).

The tub is uncentred, misplaced, or cracked or it is not spinning.

The clothes become torn or damaged after washing.

The appliance does not wash or wring the clothes out.

Worn-off, spoiled, or lost parts require replacement, like pipes, hoses, water inlet valves, seals, belts, connectors, drum support rollers, leveling feet, filters, handles, controllers, switchers, etc.

The appliance is not draining, so got mold and a foul smell inside.

It has issues with the water supply, so cannot get the water in, or fills it non-stop.

Water or foam is leaking outside, making a puddle under the washer.

The controllers (buttons, knobs, keys, touchpads, switchers/water level control, temperature control, timer control, wash selector) do not respond, have a poor connection, function incorrectly, or are damaged or lost.

The control module requires recalibration, as has software issues.

The screen is not glowing, or it informs you about an error.

The door glass or body surface is cracked.

The door assembly is damaged, or it has deformed hinges, springs, joints, lid switches, interlocks, gaskets, or hooks.

You cannot turn the item on or off or it shuts off itself.

The wash cycle stops midway, runs on and off repeatedly, takes too long, goes non-stop, or cannot start.

The washer is tripping the power.

While wringing, the item is shaking, bouncing, jumping, or moving around the room.

The appliance was installed improperly.

The detergent cannot reach the tub.

You hear your item knocking, grinding, thumping, humming, buzzing, squealing, gurgling, knocking, vibrating, hooting, bubbling, or making other indistinctive noises.

The LED indicator is red, going on and off, or not shining.

The body of the washer gets extremely hot when it is working.

Valves, dispensers, tub seals, filters, pipes, and hoses are obstructed and require cleaning.

Troubles with the electricity supply due to damaged wiring, isolation, or plug.
Our team finds the most effective solution for any of those and other issues. Sometimes we can even just instruct you and make the issue eliminate immediately! But only if it is safe and easy. In some rare cases, your unit may be better to replace, as the repair is senseless or too expensive. But those things are rare. Mostly, after clarifying the situation, we arrange the best San Marcos Washing Machine Repair and Service conveniently for you.
We can adjust to any time you want us to arrive. As we customized logistics and management perfectly, we never waste time. Thus, we offer the swiftest Washing Machine Repair in San Marcos, CA in any situation. Your appliance performs perfectly again the same day you apply in an absolute majority of orders. And when you want to get urgent assistance during days off or after hours, we are available too. For a little additional payment, the specialist sets off to your address within 15 minutes. 
Our flexibility, client focus, and professionalism are not just nice works to attract you. They reflect the opinion of people who applied to us for San Marcos Washing Machine Repair and other services. Our clients are absolutely satisfied with our approach and the results of our work. That is why they leave many positive reviews on our Google page and recommend us to friends. Our customers also often return to us, as they know that we can serve other appliances perfectly too.
For the next orders, our clients get a 15% discount. Plus, for online booking, the price is $25 lower. We also have a constant $30 discount for veterans and seniors. These deals are just a pleasant addition to the most reasonable and affordable rates we have. Applying to us for Washing Machine Repair in San Marcos, CA, you pay the fairest price for the best result. We offer only cost-effective solutions and always clearly inform you what you pay for.
Applying to Oceanside Appliance Repair Service Center, you get more than a high-quality service. You also get a friendly attitude, honesty, and fulfillment of your requests. Our specialists know how to eliminate any issues in the most comfortable way for you. We provide the quickest San Marcos Washing Machine Repair and Service at the most favorable prices. The highest quality of everything we do is a must! Just call us or place an application online and we arrange the best solution for any task.
Our specialist carries out repairs, works carefully in the process, so as not to leave behind any traces of equipment repairs, and not to spoil the appearance. After the repair is completed, our company will back it up with a 90-day labor warranty. If you encounter the same problem during the warranty period, rest assured we will return to get an appliance back up to perfectly working condition.
$30 OFF ON FIRST TIME SERVICING
Frequently asked questions
What if I have a complex repair of equipment?
Our specialist will come to your home, conduct diagnostics and offer solutions to the problem. And only after your consent, the repair will begin.
Do you have customer support?
Our managers will always listen carefully to you and give you initial recommendations on the malfunction of your equipment to determine the cost of repair. Call:
(858) 224-0022
Is the expert's visit free of charge?
If you order a call to the master through our website, you are guaranteed to get a free diagnosis of your device, and detection of breakage.